Top 5 Immigration Consultants in Winnipeg, MB [Best of 2023]
Take a glimpse at our top picks for the 5 Best Immigration Consultants in Winnipeg, Manitoba providing a full range of immigration-related services in the community.
The Canadian Province of Manitoba is a great destination to relocate to. As the largest city in the Canadian Prairies, Winnipeg is often affectionately referred to as the Heart of the Continent. Its friendly and welcoming reputation is one of the main reasons why a growing number of newcomers to Canada have chosen to make Winnipeg their new home.
These certified Canadian immigration consulting and naturalization firms have been handpicked exclusively based on Business History, Public Reviews, Location, Range of Services, Fees, Paid or Free Consultation, Special Offers, Client Engagement, Awards & Recognition and other rating factors.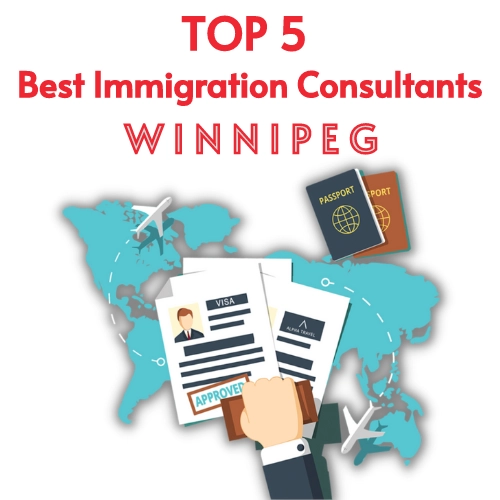 Winnipeg's 5 Best Immigration Consultants
Searching for an immigration consultant near me? Here are the five immigration counsellors that you could find in Winnipeg, Manitoba, Canada:
| S. No. | Immigration Consulting Firms | Ratings |
| --- | --- | --- |
| 1 | World Gateway Immigration | 4.5/5 |
| 2 | Westlink Immigration | 4.3/5 |
| 3 | Verge Immigration Services Inc. | 4.7/5 |
| 4 | Great Start Canada Immigration Consulting Inc. | 4.9/5 |
| 5 | Duque Immigration Services Inc. | 4.8/5 |
5 best immigration consultants near me
1. World Gateway Immigration
| | |
| --- | --- |
| BEST KNOWN FOR | PR, Work, Study, Visitor, Sponsorship, Inadmissibility |
| IMM CONSULTANT | Zora Kainth |
| WEBSITE | https://worldgatewayimmigration.com/ |
| EMAIL | wgimmigration@yahoo.com |
| TELEPHONE | +1 204-295-4449 |
| LOCATION | 678 McPhillips St, Winnipeg, MB R2X 2H3, Canada |
World Gateway Immigration is a reputable consultant in Winnipeg with competence in a number of immigration-related fields, as well as foreign education and career counselling. For the past 11 years, they have continuously provided high-quality services that you can rely on.
In 2010, Mr. Zora Kainth, a member in good standing of the designated regulatory body (ICCRC), founded World Gateway Immigration. He now leads a team of highly motivated experts with extensive knowledge and expertise in the field of immigration practise.
Having helped a wide range of immigration seekers from different countries, this team of experts can help you realise your dream of immigrating to Canada. All you need to do is contact them and sign up for a Free Assessment.
Highlights of the Firm
Has combined experience of over two decades
Deals with an array of immigration application types
Provides FREE initial consultation
Consultancy Reviews
I would like to thank the whole world gateway immigration team that helps me to get my permanent residency. Special thanks to Zora Sir & Ishpreet Mam who provide me with the right guidance. From my work permit to till PR, they handle my case very carefully. The whole staff is very professional, polite & helpful. World gateway immigration is the best consultancy in Winnipeg. I would like to recommend to everyone to visit them, who suffered from their immigration. Thank you very much.

Anmol Deol
CHECK THIS OUT – REVIEWS OF 10 BEST WINNIPEG IMMIGRATION LAWYERS
2. Westlink Immigration
Westlink Immigration is an immigration consultant in Winnipeg that's synonymous with the best client representation in Canada and around the world.
Pragati Sharma is a trusted Regulated Canadian Immigration Consultant and a member in good standing of the Immigration Consultants Regulatory Council of Canada (ICCRC). She can handle every facet of your application process as a professional. Every step of the way, she'll make sure you feel protected and secure.
Take a FREE assessment and Westlink Immigration will help you narrow down your choices for immigration to Canada.
Highlights of the Firm
Specializes in Manitoba Provincial Nominee Program (MPNP)
Committed to providing Ethical, Honest and Reliable service
Provide services in English, Hindi and Punjabi
Consultancy Reviews
I'm grateful to Pragati Sharma and Westlink Immigration for handling my wife's application for a spouse open work permit. Even though there were several obstacles throughout the application process, Westlink Immigration assisted in completing it from the point where I contacted them for aid with the SOWP application to the point where my wife's visa was finally stamped on my passport.

All questions and requests were duly answered. I appreciate your excellent and reasonable service. A special thank you to Pragati Sharma, the consultant for My Case, who went above and above to assist with the application.

Shedi Shah
3. Verge Immigration Services Inc.
| | |
| --- | --- |
| BEST KNOWN FOR | Express Entry, Study Permit, Work Permit |
| WEBSITE | https://vergeimmigration.ca/ |
| TELEPHONE | +1 431-441-7207 |
| LOCATION | 330 St Mary Ave #311, Winnipeg, MB R3C 3Z5, Canada |
Immigration laws and procedures must be thoroughly understood before submitting an application. With prompt service and client counselling, Verge Immigration experts make the Canadian immigration process easy and stress-free.
You may expect immigration specialists with training from recognised institutions to provide you with expert assistance in Winnipeg.
Highlights of the Firm
Has good understanding of different immigration streams
Provides FREE phone consultation
Consultancy Reviews
Jatinder was amazing! My case was complicated, I almost got into big trouble because my student visa was expired and have been dealing with work permit processes by myself and made a few mistakes. I have contact a lot of representatives and they asked for higher cost or rejected my case but Jatinder handled my case amazingly and I finally got my work permit approved! He is polite, calm and keep up with his words and always keeps me updated. I'm very grateful!

Mik Nilmanee
4. Great Start Canada Immigration Consulting Inc.
| | |
| --- | --- |
| BEST KNOWN FOR | Initial Consultation, Temporary/Permanent Residence, Canadian Citizenship, Visa Refusal |
| IMM CONSULTANT | Daniel Peimbert |
| WEBSITE | https://www.greatstartcanada.com/ |
| EMAIL | info@greatstartcanada.com |
| TELEPHONE | +1 204-421-4442 |
| LOCATION | 111A Pilgrim Ave, Winnipeg, MB R2M 0L5, Canada |
Need the best immigration consulting in Winnipeg, Manitoba? Count on Great Start Canada and its team!
Daniel Peimbert is the Founder and CEO of Great Start Canada. He is a Regulated Canadian Immigration Consultant (RCIC) and Certified Education Agent. As an immigrant himself, he has firsthand experience with the Canadian immigration system. So, he pledges to diligently and quickly pursue your case.
Initial Consultation Services, Immigration Services, Education Services, Employer Services, Relocation Service, Translation Service, Emergency Medical Insurance are some major highlights of this local business.
Highlights of the Firm
Deliver prompt updates on your case to keep you informed
Provide services in English & Spanish
Has an informative Youtube channel
Consultancy Reviews
I am pleased to have found Daniel and Alejandro at Great Start Canada Immigration. They are both friendly, professional and eager to help. I was about to file an application on my own when I thought to contact Daniel for a double check. I'm glad that I did; he told me I was on an incorrect path to realize my immigration goals. Both Daniel and especially Alejandro were there for me every step of the way quickly answering my questions and kindly reassuring me that everything would work out well. Great Start saved me lots of time and extra expense with their expert knowledge.

Rick Cull
5. Duque Immigration Services Inc.
Duque Immigration Services Inc. offers wise counsel, effective immigration application management, and respectful advocacy within the confines of Canadian law. Their staff will make every effort to simplify your immigration concerns.
Joel Duque is an excellent choice as a reputable Winnipeg immigration consultant. He has been a member in good standing of the Immigration Consultant of Canada Regulatory Council (ICCRC) since 2016.
His commitment to staying up-to-date in immigration developments puts him among the best in Winnipeg!
Highlights of the Firm
Accomplished and seasoned immigration consultant
Offer 24-hour service to cater for clients that are from different time zones
Consultancy Reviews
Duque Immigration Services was remarkable in handling our visa application and was very supportive to all their clients in making sure that their dream in going to Canada be made possible. Congratulations again and great job to the whole team most especially to Mr. Joel Duque. We will definitely recommend their services.

Carla
FAQs Immigration Consultation Near Me
How do immigration consultants in Winnipeg, Manitoba work?
Though it is not a requirement, working with a Winnipeg immigration consultant or lawyer can assist you through the tedious legal and documentation processes.

They can improve your prospects of immigrating for business, study, or employment purposes by working on your profile and highlighting key points that make you a suitable candidate.
Is Winnipeg good for immigrants?
For immigrants to Canada, Winnipeg is a prominent choice. Compared to other Canadian cities, It is more affordable and provides a better work-life balance.

A record number of immigrants arrived in Canada thanks to the Manitoba Provincial Nominee Program, and Winnipeg became their new home.
What is included in Free Assessment provided by immigration consultants?
Most reputed immigration consulting and naturalization firms in Winnipeg offer "Free Assessment" services to their clients. When you provide them with the required details, they will check your eligibility for different Canadian immigration programs to see where you fit into. All at no cost!
Final Thoughts on Winnipeg Immigration Consultant
In a nutshell, if you're looking for reputable immigration consultancy firms in Winnipeg (Manitoba) and nearby, look no further than these 5 Top Immigration Consultants.
Always make sure to verify that your immigration consultant is authorized—they are licensed and "active"—by using the public search register.
Disclaimer:
The above post is intended for general information only and does NOT constitute legal advice or a solicitation for investment. The information from this website must NOT be taken as personal advice given to the readers. This site or its owners are NOT affiliated, approved or endorsed by IRCC, the Canadian government or any immigration law firm. The official IRCC website is www.cic.gc.ca.