5 Best Immigration Consultants in Ontario, CA (2023)
Embarking on a journey towards a new life in a foreign land is a significant step that requires meticulous planning and expert guidance. For those aspiring to make Ontario, Canada, their new home, the importance of finding the right immigration consultant cannot be overstated.
Navigating the intricate web of immigration laws and procedures can be a daunting task, but with the right professionals by your side, the path to a successful immigration process becomes clearer. So, take a glimpse at our top picks for the 5 Best Immigration Consultants in Ontario providing hassle-free immigration consultancy for Canada.
These certified Canadian immigration and naturalization services have been handpicked exclusively based on Business History, Public Reviews, Location, Range of Services, Fees, Paid or Free Consultation, Special Offers, Client Engagement, Awards & Recognition and other rating factors.
RELATED: 5 Best Immigration Lawyers in Ontario, CA
Ontario's Top 5 Immigration Consultants
Here are the five immigration counsellors we've determined to be the best ones near you in Ontario, Canada:
YES! Immigration Consultancy Services (4.8/5)
RightWay Canada (4.9/5)
Avni Canadian Immigration Consultancy Inc. (4.5/5)
Global Immigration Consultancy Services (4.8/5)
Bright Immigration (4.4/5)
1. YES! Immigration Consultancy Services
YES! IMMIGRATION is a professional Canadian immigration consultant located in Woodbridge (GTA), Ontario, along with associate offices worldwide. They have a team of highly skilled professionals, comprising licensed immigration consultants, paralegals, translators & interpreters.
Raj Narang earned his diploma in immigration services from Humber College in 2002, and he later earned his license as a Canadian immigration consultant.
Moreover, he is quite knowledgeable in Canadian immigration law, policy, procedures for Canadian citizenship, and refugee protection law. He has assisted many people in realizing their goals of immigrating to Canada.
Hours of Business
Monday

9:00 AM – 7:00 PM

Tuesday

9:00 AM – 7:00 PM

Wednesday

9:00 AM – 7:00 PM

Thursday

9:00 AM – 7:00 PM

Friday

9:00 AM – 7:00 PM

Saturday

10:30 AM – 4:30 PM

Sunday

10:00 AM – 6:00 PM
Highlights of the Firm
Provides a professional written evaluation and assessment
Helped hundreds of professionals & business people in a successful transition
Consultancy Reviews
"A big thanks to the YES Immigration team for their excellent services. Especially thanks to Mr. Raj Narang who is so helpful. He always answered my all queries and concerns without getting annoyed. They explained the whole process to me till the date I got my PR and made it a stress-free process throughout. I was blessed to choose them, I highly recommend to everyone to use their services. Keep up the good work YES Immigration and keep helping others to make their dreams be fulfilled in Canada. Thank you so much for everything!" – Ravi Batish
RELATED:
2. RightWay Canada
Some statistics on one of the most demanded PR program in Canada right now. #Cdnimm #ImmigrationMatters pic.twitter.com/BYOG2gpbJG

— RightWay Canada Immigration Services (@RightWayCanada) February 17, 2022
Elina is an amazing Ontario consultant, holding a diploma in Immigration Law from the University of British Columbia, as well as an Honours BA with specialization in Financial and Business Economics from York University. She is an RCIC registered and licensed member of the ICCRC.
At RightWay Canada, they plan their daily routines and become more efficient and organized. Elina and her team provide cutting-edge online services from Toronto, unlike many other immigration consultants, to help you save time and money.
Hours of Business
Monday

9:00 AM – 5:30 PM

Tuesday

9:00 AM – 5:30 PM

Wednesday

9:00 AM – 5:30 PM

Thursday

9:00 AM – 5:30 PM

Friday

9:00 AM – 5:30 PM

Saturday

11:00 AM – 3:00 PM

Sunday

Closed
Highlights of the Firm
Personalized approach
Transparent pricing
Enhanced flexibility
Consultancy Reviews
"I strongly recommend RightWay as they are professionals who are knowledgeable and have Master's in immigration services. They are keen on resolving any queries. To be honest, it is quite arduous to get the appointment slots (a week time) but once you have one, you can shoot your questions, I am sure they will exceed your expectations on clarifying them. This is professionalism and the protocol they follow. But still, you can call them for immediate assistance if you have any and they are there to answer.
I had opted for PR, Spouse open Work Permit and Bridging Work permit unfortunately, my spouse work permit got rejected not their fault but due to financial reasons. But still they never gave up and suggested to do an appeal, as I didn't had time to do so, I continued with PR process. Now I have applied for PR and Bridging Work permit and hopefully this goes through well.
I will review in brief after 6 months about the result. And this will give a clear idea for those who are searching for one of the best immigration consultants." – Marshal
3. Avni Canadian Immigration Consultancy Inc.
Avni Canada is another top-rated Canadian immigration consulting company in Scarborough, Ontario providing immigration consultation and various related services.
Mr Namu Ponnambalam who is a licensed, as well as experienced Immigration consultant personally provides consultation to every client. Namu has also worked with several other immigration attorneys in Ontario for more than 20 years. His extensive training and expertise can aid prospective immigrants in the immigration procedure to Canada.
Hours of Business
Monday

9:00 AM – 6:00 PM

Tuesday

9:00 AM – 6:00 PM

Wednesday

9:00 AM – 6:00 PM

Thursday

9:00 AM – 6:00 PM

Friday

9:00 AM – 6:00 PM

Saturday

10:00 AM – 6:00 PM

Sunday

Closed
Highlights of the Firm
Serve clients from within Canada as well as from abroad
Provide services in English, Tamil and Sinhala
Consultancy Reviews
"I've known Avni Canadian for over 6 years now. My family and I use their services for all our immigration needs. Well-knowledgeable firm, very experienced individuals, very helpful, answered all our questions and capable of getting the job done." – Sachintha
4. Global Immigration Consultancy Services
| | |
| --- | --- |
| BEST KNOWN FOR | Express Entry Program, Provincial Nominee Program, Citizenship, Work Permit, Super Visa |
| IMMIGRATION CONSULTANT | Surajit Bhowmick |
| WEBSITE | https://www.gicscan.com/ |
| EMAIL | info@gicscan.com |
| TELEPHONE | +1 905-789-1380 |
| LOCATION | 30 Intermodal Dr unit # 8, Brampton, Ontario L6T 5K1, Canada |
GICS is a well-run business with a base in Toronto, Canada. Mr. Surajit Bhowmik, the founder and senior immigration consultant, has ten years of experience working in the Brampton immigration consulting industry.
In accordance with the rules and legislation governing immigration to Canada, they offer their clients high-quality services. Their offerings are reasonable, effective, and open. Plus, their top-notch services help clients complete their immigration to Canada goals and reach new heights in order to maintain a higher standard of living and have access to a high-quality education.
Furthermore, they provide hassle-free payment options though PayPal and accept both Credit Cards and Master Cards!
Hours of Business
Monday

10:00 AM – 5:00 PM

Tuesday

10:00 AM – 5:00 PM

Wednesday

10:00 AM – 5:00 PM

Thursday

10:00 AM – 5:00 PM

Friday

10:00 AM – 5:00 PM

Saturday

10:00 AM – 5:00 PM

Sunday

Closed
Highlights of the Firm
Provides fair, efficient and transparent services
100% Customer Satisfaction
Offers affordable and competitive fees
Consultancy Reviews
"I am fortunate to share my experience that I had with Surajit sir, He has helped me in getting me my PR, he is very professional and extremely good at his job. He goes above and beyond to meet his client expectations, he gives his 100% effort and makes himself available for them. What I like most about him is he speaks facts and does his job honestly. His nature is very polite and kind. I would recommend everyone to visit his office for any inquiries related to Canadian immigration." – Arshdeep
5. Bright Immigration
The Toronto immigration advisors at Bright Immigration are committed to assisting clients in achieving their immigration-related goals, including obtaining a super visa, Express Entry PR, a visiting visa for Canada, or any other Canadian immigration services you might want.
Bright Immigration is ahead of its competition when it comes to offering solutions to complex Canadian immigration problems.
Hours of Business
Monday

9:30 AM – 7:00 PM

Tuesday

9:30 AM – 7:00 PM

Wednesday

9:30 AM – 7:00 PM

Thursday

9:30 AM – 7:00 PM

Friday

9:30 AM – 7:00 PM

Saturday

12:00 PM – 6:00 PM

Sunday

Closed
Highlights of the Firm
More than 5 decades of combined Canadian immigration experience
Dealing with Canada's challenging PR, Express Entry, or Citizenship rules on daily basis
Quick response times to any queries
Consultancy Reviews
"Bright Immigration has helped me tremendously throughout my EE PR application process. I came across the firm when searching for a trustworthy representative and Bright Immigration exceeded my expectations. Starting from our first meeting, the consultant listened to my case, provided advice and planned out a course of action to prepare for my application. They are also very transparent about fees and billing. The consultant who was in charge of my application was very attentive and responsive. She carefully guided me through every step of the process, following up and informing me right away of any updates." – Ivy Nguyen
Final Thoughts on Ontario Immigration Consultant
In the pursuit of a new beginning in Ontario, Canada, choosing the right immigration consultant is paramount. The five immigration consultants featured in this article have demonstrated a dedication to their clients' success, offering valuable guidance and support throughout the complex immigration process.
Whether you're a skilled worker, a student, or a family seeking reunification, these consultants have proven themselves as the best in the field, providing the expertise and reassurance you need during this significant life transition.
By making an informed decision and enlisting the services of one of these esteemed professionals, you're not just starting a new chapter in your life – you're embarking on a journey with a trusted partner, confident in your quest to build a brighter future in Ontario, CA.
Always make sure to verify that your immigration consultant is authorized—they are licensed and "active"—by using the public search register.
---
Are you one of the consultants we've been talking about? Congrats on being featured. Feel free to download and proudly showcase this badge on your website, demonstrating your esteemed recognition as one of the top immigration consultants in Ontario, Canada.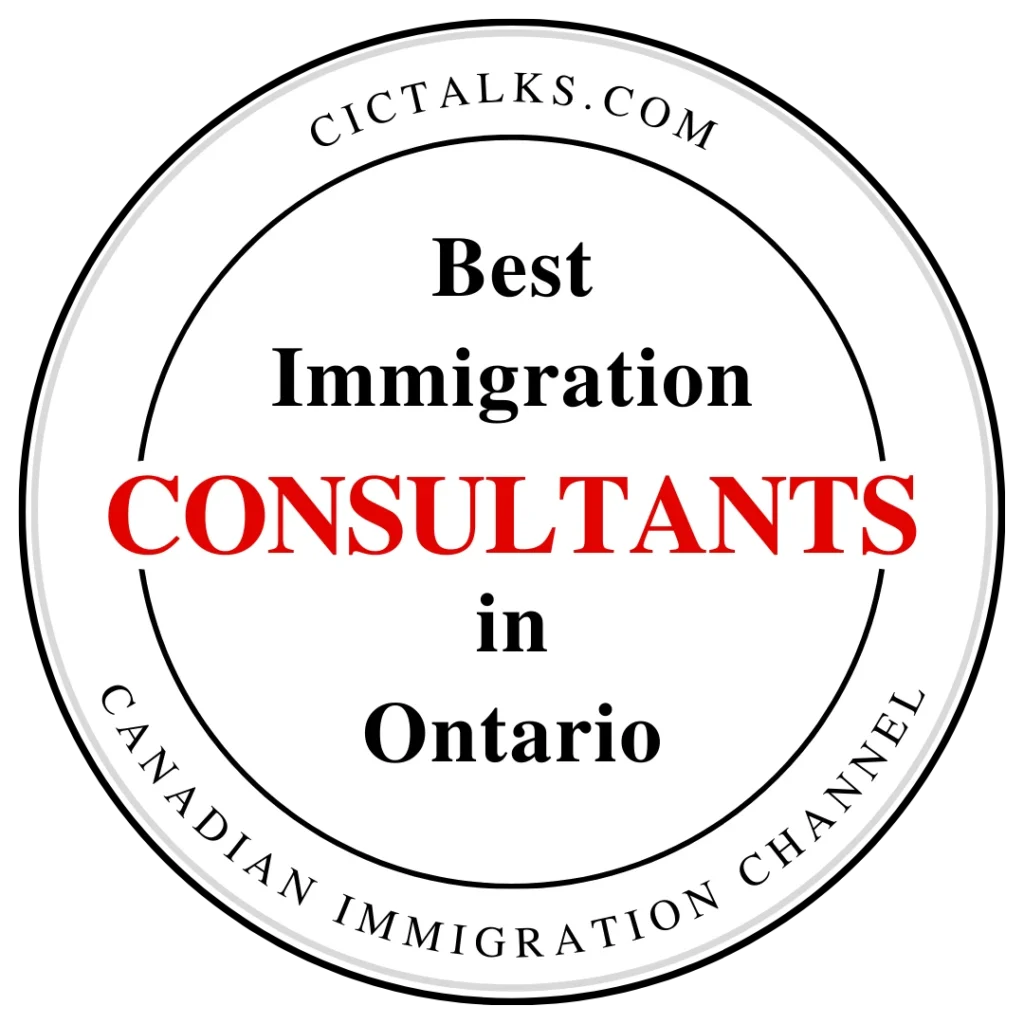 Want your immigration firm to stand out and attract more clients in today's competitive market? Give your business the spotlight it deserves with our exclusive Featured Listings.

For less than $7 a day, you can secure a prime spot at the top of our organic listings for a month, ensuring that your firm is the first thing potential clients see when searching for immigration services in Ontario. This premium placement will increase your visibility and credibility, driving more traffic to your firm's website and ultimately leading to increased client inquiries.

Reserve your Featured Spot today by sending us an email, and make a lasting impression in the minds of those seeking expert immigration assistance!