10 Best Immigration Consultants in Canada (2023)
Take a glimpse at our top picks for the 10 Best Immigration Consultants in Canada who provide reliable services to their clients at every single stage of the immigration process; right from consultation to the stage of application and processing.
Canada has a long history of immigration. Generations of new Canadian citizens were born as a result of the post-World War II immigration policy, which also contributed to the development of our social fabric.
Moreover, the benefits of moving to Canada are endless. It's no surprise that Canada is considered one of the best countries in the world given its high standard of living, famous multiculturalism, and vast wilderness.
These certified Canadian immigration and naturalization services have been handpicked exclusively based on Business History, Public Reviews, Location, Range of Services, Fees, Paid or Free Consultation, Special Offers, Client Engagement, Awards & Recognition and other rating factors.
But before we move ahead, let's first have an idea of how much an immigration consultant will charge you in Canada.
Cost of Hiring an Immigration Consultant in Canada
Immigration to Canada can be a challenging procedure. There are various programmes, each with its own requirements. It's easy to be overwhelmed.
For this reason, thousands of immigrants to Canada use licensed immigration experts every year to guide them through the procedure. These professionals could mean the difference between getting your immigration request approved or not.
The estimated professional fee for various Canadian immigration support services are detailed below:
| Application Types | Consultant Fees |
| --- | --- |
| Consultation | $170 – $450 (for up to 1 hour) |
| Express Entry Profile | $1,000 – $1,500 |
| Provincial Nomination | $3,500 – $5,000 |
| CEC | $4,000 – $5,000 |
| FSW | $4,500 – $5,000 |
| Study Permit | $1,500 – $2,500 |
| Spousal Open Work Permit | $750 – $1,500 |
| Visitor Visa | $700 – $1,500 |
| Visitor Visa Extension (inside Canada) | $350 – $600 |
Canada's Top 10 Immigration Consultants
Searching for an immigration consultant near me? Here's the list of ten top-rated licensed immigration advisors that you could find in Canada:
| S. No. | Immigration Consulting Firms | Ratings |
| --- | --- | --- |
| 1 | Axis Immigration Consultants | 4.9/5 |
| 2 | Chitra & Associates | 4.7/5 |
| 3 | CICS Immigration Consulting Inc. | 4.8/5 |
| 4 | PATEL CANADA VISA | 4.6/5 |
| 5 | Immigration Consultants Group Canada Inc. | 4.4/5 |
| 6 | RightWay Canada Immigration Services | 4.9/5 |
| 7 | Root On Immigration Consultants Inc. | 4.2/5 |
| 8 | Time Immigration | 4.5/5 |
| 9 | Jeremie Misquitta Immigration Consultancy | 4.6/5 |
| 10 | Elaar Immigration | 4.3/5 |
10 best immigration consultants near me
1. Axis Immigration Consultants
Axis Immigration is a certified Canadian immigration consultant in Canada that is permitted to assist both individuals and organisations in all facets of Canadian immigration by the College of Immigration and Citizenship Consultants (CICC). In addition to Express Entry, Provincial Nominee Programs, Family Sponsorship, Labour Market Impact Assessment (LMIA), Work Permits, Visitor Visas, and Study Permits, they have experience with a wide range of immigration issues.
Apart from this, employers in Canada seeking to engage international workers can also use the recruitment services provided by Axis Immigration. They offer applicant sourcing, candidate screening, and hiring process assistance as part of their services.
Sukhjinder Sidhu is the Director of Axis Immigration and a highly regarded immigration consultant. Having spent more than 8 years working only in Canadian immigration, he has a comprehensive understanding of the system. In addition to speaking English well, he has a Master's in Management from the University of Alberta and is also proficient in Punjabi, Hindi, and Urdu.
Highlights
More than 6 years of experience
Offer personalized service, helping those already in Canada or overseas
Clients from Australia, New Zealand, Dubai, India, the Philippines, and China among others
Consultation Reviews
Big thanks to the team. I hired 'Axis Immigration' to get help with my spousal application.

From the very first day they handled our file so well, took care of all the hurdles and provided great advice throughout the case. They delivered the result that reflects their expertise. Special thanks to Harry & Damini. Awesome team, friendly staff. Highly recommended. Best service in Edmonton👍

Manpreet
CHECK THIS OUT – 10 BEST IMMIGRATION LAWYERS IN CANADA
ALSO READ – 10 BEST IMMIGRATION CONSULTANTS IN TORONTO
2. Chitra & Associates
| | |
| --- | --- |
| BEST KNOWN FOR | Study Visa, Work Visa, Visitor Visa, Business Immigration |
| IMM CONSULTANT | Chitra Bhatia |
| WEBSITE | https://www.canadaimmigrationxperts.com/ |
| EMAIL | contact@canadaimmigrationxperts.com |
| TELEPHONE | +1 604-484-9474 |
| LOCATION | 777 Hornby St #600, Vancouver, BC V6Z 1S4, Canada |
Finding it difficult to comprehend all the immigration requirements? Call Chitra & Associates to find out where you fit in.
With its main office in Vancouver, British Columbia, Chitra & Associates Immigration Consultants Inc. is a Canadian immigration consulting business that offers one of the best immigration counselling and representation services.
By advising you on the evidence you need to gather to create a strong file with facts and evidence, their knowledgeable Regulated Canadian Immigration Consultants are fully committed to increasing your chances of success. Furthermore, the team can help you prepare and strategize your case using their years of practice.
Highlights
Clients in more than 30 countries including USA, India, UAE, Australia, UK etc.
Wide range of visa services that suit your needs
Flat Fee, with no hidden charges or hourly billing
Consultation Reviews
Chitra is an epitome of information on Canadian immigration law. I have consulted with her whenever I'm at crossroads regarding any application from visitor visa to Permanent residence and always got the accurate response. The accuracy has always helped us, and I highly recommend her services for immigration applications. The research and experience that she brings to the table definitely adds a lot of value and you should make use of them. Quality consultation, highly informative, result oriented.

Sunil
CHECK THIS OUT – 10 BEST IMMIGRATION LAWYERS IN SURREY
ALSO READ – 10 BEST IMMIGRATION CONSULTANTS IN EDMONTON
3. CICS Immigration Consulting Inc.
Led by Dr. Mo H. Khadempour and Alex Khadempour, CICS Immigration Consulting Inc. has been a leading Immigration and Consulting firm based in Vancouver, Canada.
They can efficiently and accurately finish your application thanks to their two decades of knowledge and specialised visa and relocation services. Moreover, they follow a thorough process to make sure nothing is overlooked, that documentation is required up front and that applications may be submitted swiftly.
As a Canadian immigration consulting firm, their clients include both large multinational corporations and regular people who want to immigrate to Canada temporarily or permanently or who want to stay there.
Highlights
Serving globally in over 65 immigration programs
20+ years of experience in Canadian immigration
Offer tailored advice with a high success rate
Consultation Reviews
I want to thank you Alex and Marjan (CICS) for doing such a wonderful job in getting our family visas for Canada. They are a fantastic team and the best part is that they do not leave any stone unturned in getting deep into every aspect of the application and the required documents. They carry very good experience and have lots of insights into Canada immigration processes. I feel pleasure to recommend their name to anyone who is seeking assistance for Canada visa and immigration.

Naresh
CHECK THIS OUT – 10 BEST IMMIGRATION CONSULTANTS IN VANCOUVER
ALSO READ – 10 BEST IMMIGRATION CONSULTANTS IN CALGARY
4. PATEL CANADA VISA
| | |
| --- | --- |
| BEST KNOWN FOR | Express Entry, PNP, FSW, CEC, FSTP, Temporary Visa, Study Visa, Super Visa, RNIP |
| IMM CONSULTANT | Parulben Patel |
| WEBSITE | https://patelcanadavisa.com/ |
| EMAIL | patelcanimmigration@gmail.com |
| TELEPHONE | +1 587-349-0188 |
| LOCATION | 2137B 4 Ave NW, Calgary, AB T2N 0N6, Canada |
Be sure to check in at Patel Canada Visa Consultancy Inc. for all your immigration matters. It is among Calgary, Alberta's most reliable and best consultancies for Canadian immigration.
Parulben Patel is the Director of Patel Canada Visa Consultancy Inc. She has more than 5 years of experience in all fields associated with Canadian Immigration services and is a licensed Regulated Canadian Immigration Consultant with ICCRC (RCIC R509773).
From student and super visa applications to immigration applications for Permanent Residents; this could be your go-to place for any assistance.
Highlights
Transparent information on the process and eligibility
One-to-one counselling service
Guaranteed job assistance services for immigration seekers
Consultation Reviews
Mrs. Parul is the best in the industry to immigrate to Canada. Her services and relation with Customers is outstanding which eventually makes this process a cake walk.

Tarun
CHECK THIS OUT – 10 BEST IMMIGRATION CONSULTANTS IN BRAMPTON
ALSO READ – 10 BEST IMMIGRATION CONSULTANTS IN MISSISSAUGA
5. Immigration Consultants Group Canada Inc.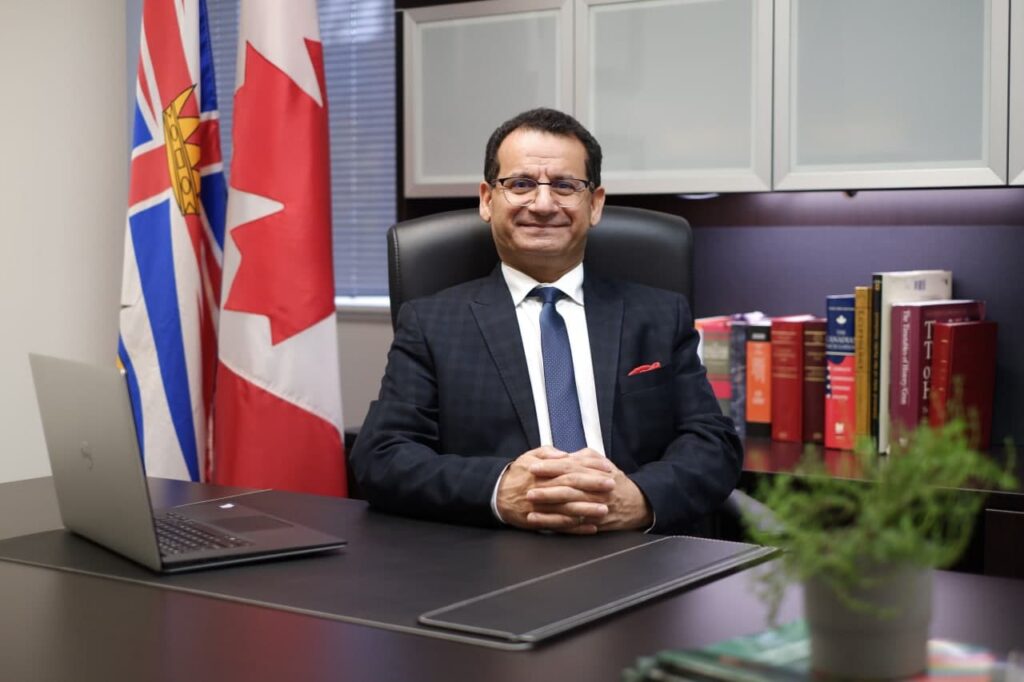 | | |
| --- | --- |
| BEST KNOWN FOR | Canadian Immigration, Work Permits, Business Visas, Spousal Sponsorship |
| IMM CONSULTANT | Hossein Amirahmadi |
| WEBSITE | https://www.icgci.com/ |
| EMAIL | Contact@icgci.com |
| TELEPHONE | +1 604-719-8200 |
| LOCATION | 1861 Welch St, North Vancouver, BC V7P 1B7, Canada |
Immigration Consultants Group Canada Inc. (ICGC) has been a leading immigration consultancy for over many years and is continuing to uphold the title.
Hossein Amirahmadi is a Regulated Canadian Immigration Consultant and Managing Partner/CEO at ICGCI. Besides this, he is also licensed by the Government of British Columbia as a  Commissioner of taking Oaths.
The major highlight of ICGC is their interactive mobile app. The "Canada Visa" app gives you access to the most recent immigration news, as well as useful links to blogs and other resources about Canadian immigration.
Within minutes, you can calculate your Express Entry (CRS) and BC-PNP scores with no hassles involved!
Highlights
Experience in the immigration sector spans over 20 years
Has an immigration app that is available for Apple and Android smartphones
User-friendly consultation booking portal
Consultation Reviews
As a person who received immigration services from ICGC, I can say without question that Hossein and his team are committed to getting the best possible outcome for their clients. They are focused on providing a great experience with the immigration difficulty I've faced! I would absolutely go back if I need any advise.

Maria
CHECK THIS OUT – 5 BEST IMMIGRATION CONSULTANTS IN HALIFAX
ALSO READ – 5 BEST IMMIGRATION CONSULTANTS IN OTTAWA
6. RightWay Canada Immigration Services
The next name on our list of best immigration consultants RightWay Canada Immigration Services.
With a diploma in immigration law from the University of British Columbia and an honours BA with a focus on financial and business economics from York University, Elina is a fantastic Ontario-based immigration consultant.
In contrast to many other immigration experts, Elina and her team offer cutting-edge online services from Toronto to assist you to save time and money in immigrating to Canada.
Highlights
Personalized approach to immigration
All Fees are listed online
Also offer 1-time FREE resubmission
Consultation Reviews
Really professional consultants. They followed up and kept track of everything even when I got lazy and responded late. Highly recommended

Aquib Hussain
CHECK THIS OUT – 5 BEST IMMIGRATION CONSULTANTS IN SCARBOROUGH
ALSO READ – 5 BEST IMMIGRATION CONSULTANTS IN ONTARIO
7. Root On Immigration Consultants Inc.
| | |
| --- | --- |
| BEST KNOWN FOR | Student Visa, Work Permit, PNP, Express Entry, Quebec Immigration |
| IMM CONSULTANT | Ronak Patel |
| WEBSITE | https://rooton.ca/ |
| EMAIL | info@rooton.ca |
| TELEPHONE | +1 438-402-8750 |
| LOCATION | 1800 René-Lévesque Blvd W #706, Montreal, Quebec H3H 2H2, Canada |
When you select Root On to represent you, they fully accept responsibility for having your back throughout the process. Their professional team handle requests for things like student visas, business visas, visitor and work visas, provincial nominee programmes, and temporary resident permits.
With almost ten years of experience in the immigration field, Ronak Patel is a member of the Canadian regulatory council for immigration consultants.
To find out if you are eligible for federal programmes or any of Quebec's immigration programmes, get in touch with him.
Highlights
Complete direction and individualised responses to your questions
Has managed immigration applications for more than ten years
Consultation Reviews
Ronak and his team are very professional in handling all the cases they pickup. They do not rush themselves because of money. They believe in quality work and handle their clients very seriously. I would really like to thank Ronak and his team for all their support and hard work they have put together in my case of getting my gf a work permit while she was studying as it was not an easy task. I really appreciate all their time and do not have enough words to express how happy I am with their service. Special thanks to Anjali, Ronak sir and Shakin.

Vaibhav
CHECK THIS OUT – 5 BEST IMMIGRATION CONSULTANTS IN SASKATCHEWAN
ALSO READ – 5 BEST IMMIGRATION CONSULTANTS IN LONDON
8. Time Immigration
Time Immigration Consultants Inc. has been among the industry leaders for a long time now. They are known to provide a variety of immigration solutions and adopt a special methodology. Their advisors thoroughly examine your application and make effective recommendations that follow the accepted procedures in order to increase your chances of being granted a visa.
They work with all types of visas, including those for visitors, students, federal skilled employees, permanent residents, and spouses with open work permits. Another highlight is their extensive experience managing complicated situations and a stellar track record for approving visas.
Looking for a seasoned immigration consultant in Canada? This could be your go-to place.
Highlights
Offering a full range of services in the field of student visa and skilled worker immigration
Years of experience in handling complex cases
Provide cost-effective solutions to their clients
Consultation Reviews
I applied for my husband 3 times before and then went to Kanwar sir for his case. They studied the case very well and we applied again and got my husband's visa. I am so blessed that I trusted time immigration and the results are so positive. Thank you time immigration. I am truly relying on them for all of my other visas❤️

Kiranjot
CHECK THIS OUT – 5 BEST IMMIGRATION CONSULTANTS IN MONTREAL
ALSO READ – 5 BEST IMMIGRATION CONSULTANTS IN WINNIPEG
9. Jeremie Misquitta Immigration Consultancy
| | |
| --- | --- |
| BEST KNOWN FOR | Immigration, Work Permit, Visitor Visa |
| IMM CONSULTANT | JEREMIE MISQUITTA |
| WEBSITE | https://www.onecanadavisa.com/ |
| EMAIL | info@onecanadavisa.com |
| TELEPHONE | +1 905-820-3924 |
| LOCATION | 4310 Sherwoodtowne Blvd #100, Mississauga, ON L4Z 4C4, Canada |
Based in Mississauga, Ontario, Jeremie Misquitta is a distinguished Canadian immigration consultant who supports and counsels people and families by acknowledging the individuality of every client and treating them with dignity and respect.
He along with his team will discuss your situation with you and let you know how much processing your application will cost. You will receive a price from them along with a breakdown of the cost.
Above all, their professional fees are reasonable.
Highlights
Practices in all areas of Canadian immigration law
Provides FREE assessment within 24-hours
Offer FREE consultations to walk you through your needs
Consultation Reviews
Mr. Miquitta is one of the most talented and well-informed lawyers. He was so amazing and explained every single detail about the study permit application. He went through it with me, and he explains each point with examples. thank you so much for being thorough and for the info you provide me with. Jeremie is a life saviour.

Eny
CHECK THIS OUT – 5 BEST IMMIGRATION CONSULTANTS IN REGINA
ALSO READ – 5 BEST IMMIGRATION CONSULTANTS IN SASKATOON
10. Elaar Immigration
If you are in the search of most friendly, experienced and licensed Canadian immigration consultant in Surrey, BC; Elaar Immigration could be your best bet. With their superior educational and immigration consultancy services, they assist students, skilled employees, entrepreneurs, and investors.
The ELAAR team is made up of experts with the knowledge, experience, and competence to guarantee that everyone involved in the immigration process is handled properly and promptly to get the best possible outcome.
If you have any queries, connect with them on their official number, WhatsApp or email.
Highlights
10 years of exclusive Canadian Immigration expertise
Stay on top of changing immigration laws to ensure you have the most up-to-date information
Bring a personal touch to the process – treating you like the unique individual
Provides FREE Assessment to help you choose the best immigration pathway
Consultation Reviews
Thank you very much for your kind support. The word thank you is not enough because just because of your effort and support our life is going to be changed. I am very glad and happy to tell you that finally, our dream is going to be true. You always helped us with Migration and preparing documents. Especially Mr. Keshav, is one of the most experienced, professional and responsible people with a wide knowledge of immigration. Professionalism at its best. I would highly recommend Elaar Immigration consultancy, Everyone should consult and get their services for immigration from here only.🎉🎉

Kamaljeet
CHECK THIS OUT – 5 BEST IMMIGRATION CONSULTANTS IN KELOWNA
ALSO READ – 10 BEST IMMIGRATION LAWYERS IN EDMONTON
How to Choose an Immigration Consultant?
Too many immigration consultants, both professional and unlicensed, operate in the Canadian industry today. Therefore, selecting an immigration counsellor will be among the most crucial choices you make as you apply for a Canada PR Visa. After all, it could make or break your ability to immigrate to Canada.
Let's examine the various elements that are important to consider when looking for the best immigration consultancy:
1) Registered or Unregistered?
Your immigration consultant's legitimacy is the first thing you need to confirm. He or she must be registered with the ICCRC.
2) Years of Experience
The consultants and other team members handling your profile should be qualified professionals with expertise.
3) Number of Successful Applications
Look at their track record! Since your chances are greatly influenced by the volume of applications that your chosen Canadian immigration consultant has successfully completed.
4) Individualised Attention
Consider carefully whether the business is genuinely looking at your profile or is merely providing you with general information.
An honest consultant won't make any false promises and will thoroughly examine your work description, financial situation, and other facts before giving you a candid assessment of your prospects of being authorised.
5) Social Media & Google Reviews
As part of your web investigation, be careful to read social media posts and google reviews of the potential immigration consultancy. This will provide you with the unfiltered, first-person perspectives of people about the Agency.
FAQs on Immigration Consultation Near Me
How do I get immigration advice?
To begin outlining the actions necessary to finish your immigration journey, schedule a meeting with an immigration specialist.

They will assist you in determining your eligibility and the most effective way to achieve your immigration objectives.
How much does an immigration consultant cost in Canada?
The cost of hiring an immigration consultant for Canada varies depending on the services you are requesting. To know more in detail, look at the fee schedule listed above.
Do Canadian immigration counsellors accept cases from other countries?
Yes, most registered immigration specialists in Canada handle applications for clients from all over the globe. Check their respective websites to know if they serve clients from your country.
Final Thoughts on Canadian Immigration Consultants
For a variety of reasons, people today wish to relocate to Canada from all over the world. When you seek consultancy services for immigrating to Canada, you will avail expert guidance. They know the way and have done this over many years.
These 10 Best Immigration Consultants in Canada are extremely knowledgeable visa advisors who can help you and oversee the entire visa procedure.
Always make sure to verify that your immigration consultant is authorized—they are licensed and "active"—by using the public search register.
Disclaimer:
The above post is intended for general information only and does NOT constitute legal advice or a solicitation for investment. The information from this website must NOT be taken as personal advice given to the readers. This site or its owners are NOT affiliated, approved or endorsed by IRCC, the Canadian government or any immigration law firm. The official IRCC website is www.cic.gc.ca.