10 Top-rated Immigration Consultants in Toronto, ON [2022]
Take a glimpse at our top picks for the 10 Best Immigration Consultants in Toronto, ON who are well-versed on immigration policies, capable of resolving and outfitted to avoid problems that could harm immigration cases and applications.
As one of the most multicultural cities in the world, Toronto welcomes tens of thousands of newcomers each year. The vibrant Greek neighbourhood, Little Italy, and Chinatown are just a few of the diverse and culturally rich residential and business neighbourhoods that make up the city.
For generations, Toronto has been a top choice for immigrants moving to Canada and continues to be today!
These licensed and regulated Canadian immigration and naturalization service firms have been handpicked exclusively based on Business History, Public Reviews, Location, Range of Services, Fees, Paid or Free Consultation, Special Offers, Client Engagement, Awards & Recognition and other rating factors.
But first, have a closer look at how much an immigration consultant will charge you in Toronto so that you can plan your course of action.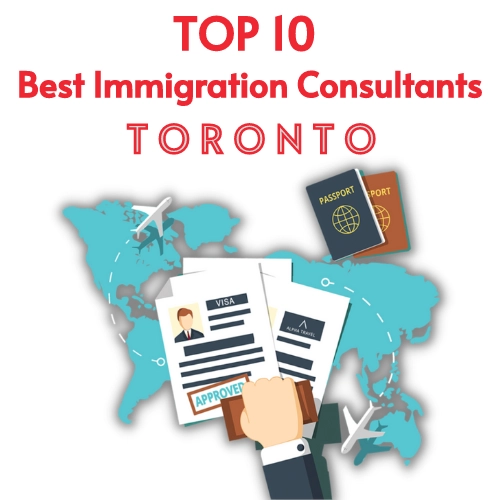 Cost of Hiring an Immigration Consultant in Toronto
Finding the best immigration consultant in Toronto that can work within your budget is important when thinking about hiring one. That being said, you'll be filled with confidence when you are aware of the upfront costs associated with an application, review, or standard support.
Keeping Free initial consultation aside, the average professional fee for various immigration services are detailed in the fee schedule below:
| Application Types | Professional Fees |
| --- | --- |
| Ontario PNP | $4,500+ |
| Canadian Exp. Class Application | $4,000 – $5,000 |
| Express Entry Profile | $1,200 – $1,800 |
| FSW | $4,000 – $5,000 |
| FST | $3,500 – $5,000 |
| Bridging Open Work Permit (BOWP) | $500 – $850 (per applicant) |
| Parental Sponsorship | $2,000 – $3,500 (per parent/grandparent) |
| Overseas Spousal Application | $3,700 – $4,500 |
| Child Sponsorship | $2,000 – $3,000 (per child) |
| Study Permit (with no prior refusal) | $1,500 – $2,000 |
| Study Permit (with prior refusal) | $2,000+ (based on individual circumstances) |
Toronto's 10 Best Immigration Consultants
Searching for an immigration consultant near me?
Here's the list of ten top-rated Canadian immigration experts that you could find in Toronto, Ontario, Canada:
| S. No. | Immigration Consulting Firms | Ratings |
| --- | --- | --- |
| 1 | Euro Immigration Consultants | 4.4/5 |
| 2 | Bright Immigration | 4.7/5 |
| 3 | Canadian Immigration Services | 4.6/5 |
| 4 | Sky Immigration | 4.8/5 |
| 5 | Doherty Fultz Immigration Consultants | 4.9/5 |
| 6 | Green Light Canada | 4.7/5 |
| 7 | Encubate Immigration Services | 4.7/5 |
| 8 | Maple Immigration | 4.5/5 |
| 9 | NextGen Immigration | 4.3/5 |
| 10 | Ferreira-Wells Immigration Services Inc. | 4.8/5 |
10 Best Toronto Immigration Consultants Near Me
1. Euro Immigration Consultants
Looking for a seasoned immigration consultant in Toronto? Mr Ahmad Junaid is legally qualified to represent clients in immigration matters at the federal and provincial levels. He can assist you in achieving your Canadian immigration goals or resolving any immigration issues owing to his vast two decades of experience.
Probably, they are among the best immigration advisors in Toronto. Their One Stop Shop services and online consultations are available to you from anywhere. Both physically and online, they are simple to reach through any electronic medium.
Reach out to them right away to fulfil your Canadian dream.
Highlights
20 years of Canadian immigration experience
SINP licensed Licensed Recruiter and Immigration consultant
Also registered with other Canadian provinces to represent clients for PNP applications
Consultation Reviews
Euro immigration is the best place for solutions regarding any immigration complication. My ever-best experience with Mr Ahmad Junaid, with their consultancy support, got my work permit in less duration. I will definitely go to Euro immigration for my upcoming task.

Diksha
CHECK THIS OUT – 12 BEST IMMIGRATION LAWYERS IN TORONTO, ON
ALSO READ – 10 BEST IMMIGRATION CONSULTANTS IN BRAMPTON, ON
2. Bright Immigration
Bright Immigration's Toronto immigration consultants are dedicated to helping clients achieve their immigration-related objectives, such as getting a super visa, Express Entry PR, a visiting visa for Canada, or any other Canadian immigration services you may require.
When it comes to providing answers to challenging Canadian immigration issues, Bright Immigration consultation can provide services that are second to none!
Highlights
50+ years of combined Canadian immigration experience
Dealing with Canada's challenging PR, Express Entry, and Citizenship rules on daily basis
Quick response times to any queries whatsoever
Consultation Reviews
I am very grateful that I chose the highly professional Bright Immigration team for our PR process. They do great work and make the process very simple. I really appreciate the support of our case manager Mr Jesse who successfully navigated us throughout the process and cleared all doubts in time. A special thanks to Ms Ana for helping us in preparing and reviewing all documents. Thanks to their extremely professional and efficient work we could get our PR in a few month's time.
I would recommend Bright Immigration to anyone who needs efficient immigration consultancy.

Manoj
CHECK THIS OUT – 10 BEST IMMIGRATION CONSULTANTS IN MISSISSAUGA, ON
ALSO READ – 5 BEST IMMIGRATION LAWYERS IN BRAMPTON, ON
3. Canadian Immigration Services
Our Toronto Immigration Consultants will provide you with a free consultation regarding our immigration needs. Need help? #BookNow your Consultation with us 👉 https://t.co/zc4bPQMsH1 #expressentry #canadaimmigration #FamilySponsorship #VisitCanada #StudyInCanada pic.twitter.com/lb1IoGwDGb

— Canadian Immigration (@Come2Canada416) February 28, 2021
Having Competitive and Affordable Fees with Flexible Payment Plans, Canadian Immigration Services are hands down the industry leaders in Toronto when it comes to immigration consulting.
Highlights
Highly rated immigration consultants in Toronto
A+ Rating by Better Business Bureau (BBB)
2-year Consumer Choice Award winner in GTA
Consultation Reviews
Assad was so patient with us and helped us go through the multiple application processes start to finish including a bit of damage control when we missed a deadline.

Ben
CHECK THIS OUT – 5 BEST IMMIGRATION CONSULTANTS IN SCARBOROUGH, ON
ALSO READ – 5 BEST IMMIGRATION LAWYERS IN KITCHENER, ON
4. Sky Immigration
| | |
| --- | --- |
| BEST KNOWN FOR | Express Entry, Provincial Nominees, Atlantic Immigration, Work Permit |
| IMM CONSULTANTS | Ravi Ganger, Amardeep Singh |
| WEBSITE | https://www.skyimmigration.ca/ |
| EMAIL | info@skyimmigration.ca |
| TELEPHONE | +1 416-674-0009 |
| LOCATION | 7003 Steeles Ave W Unit 5, Toronto, ON M9W 0A2, Canada |
Contact Sky Immigration straightaway if you require assistance with any part of Canadian immigration. The immigration consultants will be pleased to talk about your particular issue, provide professional counsel, and render top-notch legal services.
Moreover, their knowledge of Canadian Immigration law, policies, and procedures has helped many individuals and families successfully immigrate to Canada.
Consultation Reviews
It has been a very delightful and pleasant experience with Sky Immigration. As I have applied for spouse Open work permit the entire process was handled very carefully. I was informed about the available options and advised at each milestone of the entire visa process. I will definitely recommend Sky Immigration to all those who are looking for immigration consultancy. Also, I cannot thank Amardeep Sir enough for their helpful guidance, valuable assistance, amiable nature. Thanks to all the team of Sky immigration to make this possible.

Harish
CHECK THIS OUT – 5 BEST IMMIGRATION CONSULTANTS IN OTTAWA, ON
CHECK THIS OUT – 5 BEST IMMIGRATION CONSULTANTS IN LONDON, ON
5. Doherty Fultz Immigration Consultants
The next name on our list of best immigration consultants in Toronto is Doherty Fultz Immigration. The Case Managers of Doherty Fultz Immigration have a combined total of more than 40 years' expertise in Canadian immigration.
Anthony Doherty is the Regulated Canadian Immigration Consultant having prime focus on economic immigration to Canada, including Labour Market Impact Assessments, work permits, and all permanent residence programs under Express Entry.
Furthermore, Anthony has been a member licensed and in good standing with Immigration Consultants of Canada Regulatory Council since 2014.
Highlights
Provide in-depth consultations via phone, video conferencing, or in-person
Has successfully advocated for his clients in appeals
Retains success rate above 96% with both applicants for immigration, as well as employers seeking LMIAs
Consultation Reviews
I had a great experience with Doherty Fultz. My initial email was answered promptly and an appointment was scheduled quickly. I met with senior consultant Cassandra who was extremely knowledgeable. She answered my questions in easy to understand language and was quick to put me at ease. She was clear on what to do and went into lots of detail on how to best prepare. Would definitely recommend.

Katrina
6. Green Light Canada
Green Light Canada provides knowledge of the processes and laws pertaining to immigration. They consistently have a high percentage of success, and as a result, both individuals seeking to immigrate to Canada and businesses looking for potential employees have come to trust their smooth immigration experience.
Another thing is that they always stay current on the most recent developments in immigration rules and processes, keeping their clients in the loop at every step of the route.
Highlights
Provide FREE assessment test
Has over 95% success rate
Licensed to practice immigration law and offer employment services in Ontario, Manitoba, British Columbia, New Brunswick, Prince Edward Island, Alberta, and Saskatchewan
Consultation Reviews
It's been a great experience to work with the green light and team for almost a year. I contacted them in order to ask for their help with my work permit application. While we were working on that, they helped me with my documentation, too. I'm very satisfied with their service as my work permit approval happened within 1 year. I'm pretty sure that it wouldn't have happened that fast if all the technical and formatting requirements of the application hadn't been perfect. Anastasia is very knowledgeable and it was easy to contact her whenever an important question occurred with regard to my application. Their team is very responsible and responsive, too, and without any hesitation, I would work with them again. I strongly recommend them to anyone who is looking for reliable and efficient immigration consulting services in Canada.

Parth
7. Encubate Immigration Services
ENCUBATE is yet another top-rated Toronto immigration consultant. They are a member in good standing of the Immigration Consultants of Canada Regulatory Council (ICCRC) and the Canadian Association of Professional Immigration Consultants (CAPIC).
Mr. Bassel Zoueiter, their principal consultant, is a Regulated Canadian Immigration Consultant (RCIC), and he has assisted several immigrants in beginning a new life in both Canada and the United States.
Highlights
High-level of professional care and attention
Host a series of FREE webinars to answer questions related to Canadian immigration
Has established branch offices in Dubai, United Arab Emirates, and Sao Paulo, Brazil as well
Consultation Reviews
Great service and finally we received our visas and study permit for our son. From the beginning I understood we need a special help. Our agent Spartak did a great job , big plus – he speaks Russian and Ukrainian, so some information was easy to understand. Highly recommended, if you have no time and know it's difficult, go to Encubate. Thank you very much!

Kateryna
8. Maple Immigration
Located in Toronto, Canada yet serving customers and businesses worldwide, Maple Immigration Services is a boutique Canadian immigration consultancy. We offer a Full Service to clients by guiding them through the immigration process in the most efficient and straightforward manner possible.
Their major highlight is their personalized approach to immigration counselling. You can select the degree of service that best suits your needs and budget while still having access to qualified counsel and direction when needed.
Highlights
10+ years of expert experience backed by professionals
Has a proven system that has helped countless people immigrate to Canada
Tailored service options that will fit your budget
Consultation Reviews
It has been amazing working with Brandon and his team to get my PR. Theoretically, I could have done it by myself without a lawyer but I'm so glad I chose to ask for Brandon's help as it saved me a lot of headaches and time to navigate through the uncertain immigration landscape during the pandemic. Brandon and Mariel always make sure that I know what the next steps are, what I need to provide and what the ETA is. Brandon also proactively looks out for potential issues that might come up in my case and helps me to prepare for them in advance.

Jessie
9. NextGen Immigration
| | |
| --- | --- |
| BEST KNOWN FOR | Citizenship, PR Card, Permanent Residence, Temporary Residence, Inadmissibility |
| IMM CONSULTANT | Lauren Shannan |
| WEBSITE | https://www.nextgenimmigration.com/ |
| EMAIL | info@ngilaw.com |
| TELEPHONE | +1 647-797-3351 |
| LOCATION | 2300 Yonge St Suite 1600, Toronto, ON M4P 1E4, Canada |
If you're in Toronto, be sure to check in at NextGen Immigration. NextGen Immigration is a boutique immigration consulting firm that concentrates solely on immigration law and its most recent developments.
Born in Norwich, England, Lauren is currently a regulated Canadian Immigration Consultant in good standing with The College of Immigration and Citizenship Consultants, as well as a licensed Paralegal with the Law Society of Ontario (LSO) and Notary Public. She has represented thousands of clients in all types of unique individual and corporate immigration matters.
Don't take our word for it. Check out the full list of her experience and qualifications on LinkedIn to know it yourself!
When your future is at stake, you can relax knowing that they have an unquenchable desire for success and demand nothing less than the best representation for their clients.
Highlights
Facilitate the temporary and permanent entry of individuals, families and companies to Canada
Provide a direct line to your representative so that you can text, call, email, or tweet as it suits you
Fees are fair and transparent, with no hidden surprises
Consultation Reviews
I came across Nextgen immigration while i was looking to get my PR done. I had first fallen into the hands of some fraudsters who promised me immigration services, used my money and didn't return back. I was REALLY HAPPY the first day I spoke with Lauren about my situation and I knew I was in SAFE HANDS. Lauren and the team were so much involved in the process in each and every step helping me fill out the paperwork and explaining each step of the way. I was very much IMPRESSED by how fast they respond to each of my emails within the hour.

WELL EXPLAINED and EXPERIENCED lawyers. Lauren was there every step of the way until the day I got my PR confirmation about a week back. I cannot be more grateful enough for how much stress free the process was made by them. By far the best immigration consultants I have dealt with. All the best Lauren and team. Looking forward do doing the next paper work for my family PR with you.

Sheby Timothy
10. Ferreira-Wells Immigration Services Inc.
Lastly, we have David LeBlanc, another renowned name in the Toronto immigration consulting industry. David and his team include Regulated Canadian Immigration Consultants RCIC – CICC, Members of the College of Immigration and Citizenship Consultants, former Canada Immigration and Citizenship officer, and associate Canadian Immigration Lawyers.
They have a track record of successfully sponsoring spouses, partners, and family members from around the world, as well as highly qualified professionals and businesspeople.
Highlights
Has been serving clients worldwide since 1995
Selectively pick candidates for representation
Competitive pricing, Superior service
Consultation Reviews
Immigration is a long and stressful process. My partner and I would never have thought that the team at Ferreira-Wells Immigration Services will make this process quick and easy.

Since day one, we felt extremely confident that our PR file was in right hands. The initial consultation with David went amazing. He answered all our questions and even emailed us a summary of our meeting.

Claudia and David G. took care of our application after the consultation. These guys did an amazing job making sure that our application was flawless.

I would recommend them to anyone looking for help with immigration application in a heartbeat.

Neha
FAQs on Immigration Consultation Near Me
How can a Toronto immigration consultant tells me if I qualify for a visa or not?
Whenever you contact any immigration firm in Toronto or wherever in Canada, the first step is a basic assessment of your credentials. Their skilled team will assess your profile and tell you which Canadian visa program best suit your needs.
What is ICCRC?
ICCRC stands for – The College of Immigration and Citizenship Consultants. It is the regulatory body that licenses immigration and citizenship consultants to protect the public.
How can I check whether an immigration consultant near me is licensed by ICCRC?
You can check the status of any immigration consultant by visiting the ICCRC website.
Final Thoughts on Toronto Immigration Consultant
Canadian visa processing is a speciality of immigration consultants. They assist you in completing the process successfully. If you are worried and don't want to waste time and money by going through a lengthy visa application procedure, it is usually advised to use an immigration consultant.
Be it for permanent residence, temporary residence, Study or Visitor Visas; these 10 Toronto Immigration Consultants are THE BEST in the industry.
Always make sure to verify that your immigration consultant is authorized—they are licensed and "active"—by using the public search register.
Disclaimer:
The above post is intended for general information only and does NOT constitute legal advice or a solicitation for investment. The information from this website must NOT be taken as personal advice given to the readers. This site or its owners are NOT affiliated, approved or endorsed by IRCC, the Canadian government or any immigration law firm. The official IRCC website is www.cic.gc.ca.