TOP 12 Best Immigration Lawyers in Toronto, ON (Canada)
Are you looking for the best immigration lawyers near Toronto, Ontario? If yes, then this article is for you.
Moving to a new country like Canada is a time-consuming and difficult procedure that entails dealing with mountains of paperwork for visa applications and residency permits. However, asking for an affordable or free consultation from the top immigration attorneys in Toronto is one method to make the procedure less stressful.
These Toronto-based immigration law firms have been handpicked exclusively based on Business History, Public Reviews, Location, Range of Services, Paid or Free Consultation, Lawyer Fees, Special Offers, Client Engagement, Awards & Recognition and other rating factors.
Toronto's Top 12 Immigration Lawyers
1. Matthew Jeffery Law Firm
Matthew Jeffery is a Toronto-based Canadian immigration lawyer. His law firm handles a wide range of immigration services, including PR renewal, Family immigration and Skilled workers. He is regarded as one of Canada's top immigration lawyers, with over two decades of expertise and a high success record.
The Law Office of Matthew Jeffery has considerable knowledge on matters such as citizenship appeals, sponsorship appeals and residency appeals among others. In addition, clients can also fill out the Free Assessment forms available on the site to have their qualifications assessed, or contact the firm directly with any case-specific inquiries.
Those who wish to start the immigration process through Matthew Jeffery Law Firm will need to sign a written retainer agreement with them. The contract sets out the services provided by the agency and the fees involved. Also, a client can email Mr Jeffery directly as fees are variable and depend on the complexity of the case. 
Highlights
A diverse team of immigration lawyers with 20+ years of combined experience
Specialized in migrating clients from US/UK to Canada
Free assessment forms
Wide service coverage includes areas such as Richmond Hill, North Bay, Oakville, Kingston, Brampton, Scarborough, Toronto, Kitchener etc.
Reviews
"Honestly the best lawyer and law firm in Toronto and surrounding area. Had bad experiences with a few lawyers who promised with words with no proper actions.

Mr. Matthew took good care of my sponsorship case personally himself , to make sure my file and application was completed. Nice, highly professional respectful person, a man of his word. His team are professionals. They have great communication skills and manners. I had the chance to deal with Mrs. Crystal Xu and she was very understanding, supportive and knowledgeable as well as Mrs. Maryam. Always kept me posted and updated.

All the efforts and detailed professional work were successfully and highly appreciated. An honest piece of advice for anyone, don't waste your time with other law firms (as I tried most of them the big names) and just go with Mr Matthew and save your time, money and effort. I can't thank you guys enough. All the best to you all !"

Google Reviews
CHECK THIS OUT – 10 BEST IMMIGRATION LAWYERS IN MISSISSAUGA, CA
2. Bellissimo Law Group
With over forty-five years of expertise, Bellissimo Law Group is one of the leading law firms in Toronto with expertise in Canadian citizenship, immigration, refugee appeals and inadmissibility cases for persons applying for residence in Canada.
In addition to assisting individuals from all over the world every year, many of their clients are other lawyers, consultants and fellow stakeholders. Bellissimo Law Group works with low-income, low-bono, and pro bono immigration matters as well because it is guided by the idea of access to justice.
Another reason it's called one of the top law firms with the best immigration lawyers in Toronto is its multicultural team that encompasses many specialities. Only people who are competent and have extensive knowledge in the industry form part of the team.
Bellissimo Law Group charge fees based upon the nature and complexity of the case.  Once the immigration lawyer carefully assesses the case, specific fees structure gets fixed.
Highlights
Serves clients throughout the world
Experts in handling complex cases
Experience spanning more than 40 years
Works with low-income, low bono and pro bono immigration cases
Reviews
I am really pleased by the results of service provided by Bellissimo Law Group and all of the respected lawyers. Their work, and professionalism are undeniable . They handled our case very professionally and they were responsive throughout the process.

They are very patient, organized, knowledgeable and helpful in every step of the case. We received plenty of guidance from them during the process. They are the best legal team and we had a wonderful experience. I would highly recommend Bellissimo Law Group!

Google Reviews
CHECK THIS OUT – 10 BEST IMMIGRATION LAWYERS IN OTTAWA, CA
3. Matkowsky Immigration Law
Matkowsky Immigration Law is comprised of top immigration lawyers like Sonia Akilov Matkowsky and John Matkowsky. The law firm is one of the highly-rated organizations in Toronto, with an average Google rating of 4.9/5 and an average Facebook rating of 4.8/5 for its services.
To find out if you are a good candidate to immigrate to Canada, you can fill out their form on the website, upload your CV and make a payment of the $300 assessment fee. The firm will perform a detailed assessment within 1 business day, and consult you on the potential options to immigrate to Canada.
Matkowsky Immigration Law is based in Toronto, Canada but serves clients across the globe. With one of the finest lawyers in Toronto, they call themselves SPECIALISTS IN APPEALS & INADMISSIBILITY CASES.
Highlights
Experienced Immigration Lawyers helping with complex and difficult cases
Clients work directly with a lawyer through the entire process because the firm do not employ any legal admins or paralegals
Reviews
Matkowsky Immigration Law is the best law firm for all kinds of immigration cases. Every single lawyer in this firm deserves a Five-Star review. I would specifically like to thank Natalie Sahibi, for being very respectful and understanding throughout the lengthy process of my application. She replied to my emails and answered all my questions even though being on vacation.

Natalie has always helped me to make the right decisions according to my situation. With the help of Matkowsky law firm, I got my post-graduate work permit which was dealing with misrepresentation due to the mistake of the immigration consultant who originally applied it. Sonia and Greg did a great job preparing a strong and detailed response to PFL which lead to the approval of my application. Kriti Gupta helped me to apply for my husband's TRV application. She is also very knowledgeable and would always respond quickly to your emails. Now lawyer Nima is working on our PR application and I am so grateful to have him as he is also a very informative and experienced lawyer.

Google Reviews
CHECK THIS OUT – 5 BEST IMMIGRATION LAWYERS IN HAMILTON, CA
4. Mamann, Sandaluk & Kingwell LLP
Mamann, Sandaluk & Kingwell LLP is a full-service immigration law firm. It has developed a reputation for assisting individuals and families over the last 30 years and as a result, received numerous laurels from government and non-governmental organizations. So if you are looking to remain or reunite with loved ones in Canada or the United States, you might want to check out Mamann, Sandaluk & Kingwell LLP.
Other services provided by Mamann, Sandaluk & Kingwell law firm are visitor visas, study permits, LMIA's, work permits, sponsorships, Express Entry, Provincial Nominee Programs among others. Formal consultations may be provided in person or by telephone based on a questionnaire filled out by the individual. In some cases, a consultation fee may be charged.
Their team of best immigration lawyers in Toronto also provide consultations under cross-border visa services to professionals and corporations seeking to do business or employee transfer to Canada or the United States.
Highlights
Lawyers are licensed to practice in both Canada and the United States
More than 30 years of experience
Wide service coverage includes areas such as Toronto, Scarborough, North York, Thornhill, Markham, Mississauga, Ajax, Aurora, Don Mills, Pickering, Whitby, Oshawa, Vaughan, Woodbridge, East York, Etobicoke, St. Catherines, Barrie etc.
Reviews
I'm so very happy I found These Amazing Lawyers. I will recommend them highly to anyone who is having any difficulties with their Immigration matters. They are professionals who seek the Best for Everyone. Reasonable also. I had the opportunity to have Hermione, Mini also Joel on my case. Excellent job done!!!

Google Reviews
CHECK THIS OUT – 5 BEST IMMIGRATION LAWYERS IN WINDSOR, CA
5. Battista Smith Migration Law Group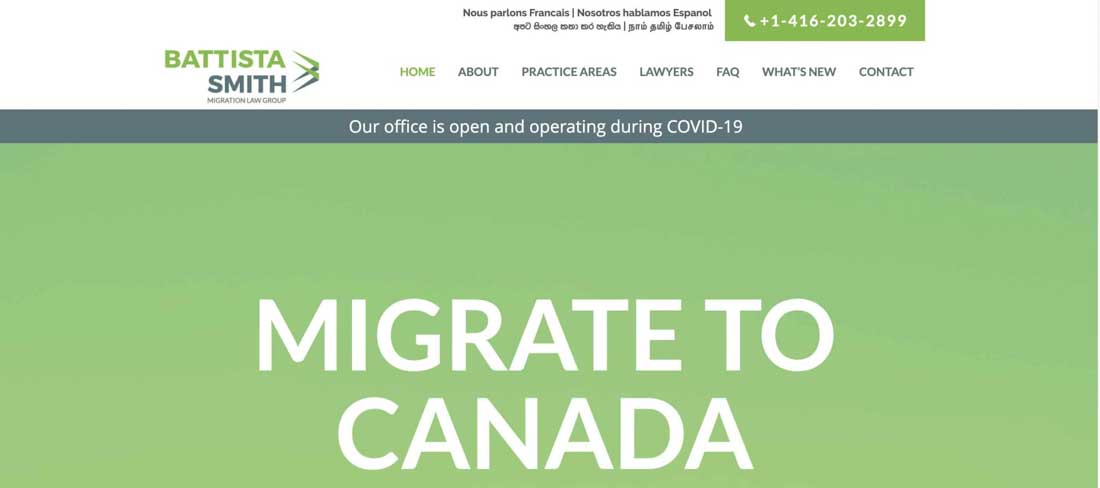 Battista Smith Migration Law Group has over two decades of experience in Canadian immigration law. Whether you are visiting, studying or moving permanently to Canada; the firm can give you practical legal advice to fulfil your immigration goals.
One of the best things about Battista Smith Migration Law firm is that they constantly deal with issues that are challenging for other immigration lawyers, including medical and criminal inadmissibility issues.
Moreover, the law firm is specialized in handling complex and novel immigration topics, including advocating for the LGBTQ+ community both in Canada and abroad. They have a diverse staff who relate to the immigration experience. Battista Smith Migration Law Group work closely with community organizations to lead legal information seminars on issues concerning refugee appeals, sponsorship, risk assessments, removal orders, and other services to new immigrants.
Highlights
Best immigration lawyers in Toronto that will do the high-quality legal work
Over 25+ years of experience
Globally recognised
Reveiws
CHECK THIS OUT – 5 BEST IMMIGRATION LAWYERS IN SCARBOROUGH, CA
6. Abrams & Krochak, Canadian Immigration Lawyers
Since 1996, Abrams & Krochak, a reputable Canadian immigration law firm, has assisted people from all over the world in immigrating to Canada. The best thing about their immigration lawyers is they do free eligibility assessments for Skilled workers, Entrepreneur visas and Family sponsorships.
Abrams & Krochak immigration lawyers are cautious about the types of cases they undertake. That's the reason why the law firm enjoys a near 100% success rate.
All filed paperwork is completed by Jeffrey Abrams & Peter Krochak in compliance with Citizenship and Immigration Canada's stringent criteria. As a result, the majority of their clients get Canadian Permanent Residence without attending any interview or going through any sort of immigration appeals.
Highlights
40 years of combined experience in Canadian immigration
Free eligibility assessment for a wide range of services
Proven success record
Reviews
I worked with Abrams & Krochak to apply as a Federal Skilled Worker (Express Entry), I'm impressed with the high quality of their services; professionalism and integrity of their dedicated lawyers/ legal assistants starting from my profile assessment all the way to the issuance of my immigrant visa.

The extremely personalized, precise, and elaborate replies to my queries stand as proof that my immigration process has been handled with expert knowledge and a comprehensive study of my case. Should I need any legal assistance in the future, I would definitely retain Abrams & Krochak services without hesitation and I highly recommend FSW prospect applicants to do the same.

Google Reviews
CHECK THIS OUT – 5 BEST IMMIGRATION LAWYERS IN LONDON, CA
7. Kaminker & Associates Immigration Law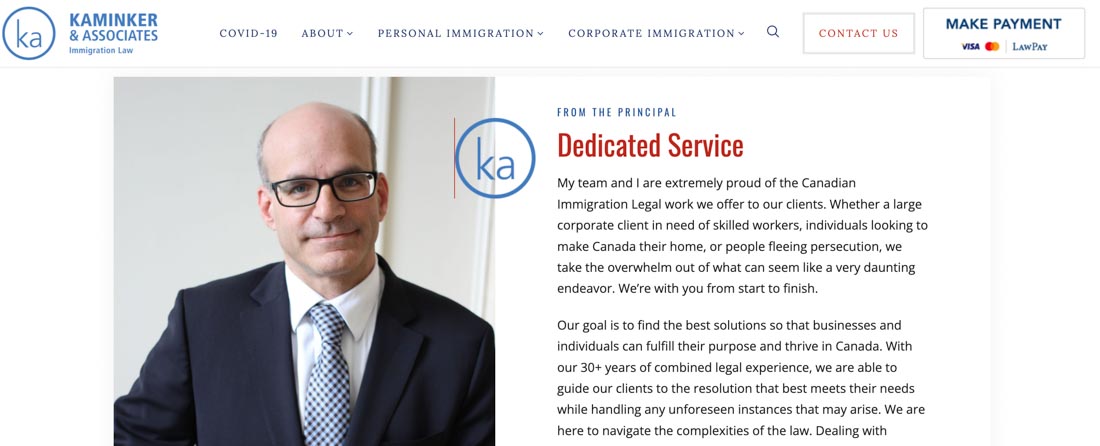 Kaminker & Associates is a full-service immigration law firm with trusted immigration lawyers based in Toronto, Ontario.
Whether you're an individual moving to Canada, a large corporate client in need of skilled workers, or an individual fleeing persecution, Kaminker & Associates delivers individualised, experienced, and trusted legal support throughout the process.
Kaminker & Associates Immigration Law can provide you assistance in many immigration aspects. Their top lawyers can assist you with Personal immigration needs such as Citizenship, Hearings and Appeals, Inadmissibility, Permanent Residence, Refugees, Study in Canada, Visiting Canada, Working in Canada or Corporate immigration needs like Global Talent Stream, Hiring A Temporary Foreign Worker, TFWP, International Mobility Program, Francophone Mobility, Free Trade Agreements, Intra – Company Transfers and International Experience Class.
Highlights
Over 30 years of combined legal experience
4.8/5 average rating on Google based on 126 reviews
Reviews
Ashley and Noemi are amazing people to work with and the office was very professional and careful with all my documentation. My case was hit by the pandemic, however, the office and so Ashley and Noemi were super fast and quick to adjust to the new working home policies. I always had all my questions answered quickly and in a professional way.

They both follow up with me every time there is any news and I'm very pleased with that. I just have good comments throughout this business and perhaps all interactions I had and still have with them. You won't be disappointed to have them taking care of you and your case. They are very fast, responsible, knowledgeable and kind. Thank you all for keeping up such a great company that has been helping Canadian and new Canadian like me with all the legal inquires.

Google Reviews
CHECK THIS OUT – 5 BEST IMMIGRATION LAWYERS IN KITCHENER, CA
8. Rosenblatt Immigration Law
David Rosenblatt and his law firm have assisted thousands of people in immigrating to Canada since 1991. Rosenblatt Immigration Law is best known for providing an exceptionally high level of customer service, legal advice, and diligent representation.
David and a team of lawyers are responsible for winning one of the largest immigration class-action-type cases in Canadian history. Their expertise in Canadian immigration law makes them an excellent and reliable resource when it comes to providing you with top quality services.
Their lawyers devise an appropriate strategic immigration plan that fits your needs. Once you have decided on a plan, the law firm can provide you with an affordable fee quotation with flexible payment arrangements.
Highlights
31 years of exceptional service record
No Wait Guarantee
World-Class Team
Total Client Focus
Reviews
David and his team have a great work permit for PR program. Their team made a very good application for us and were able to get us the WP within 3 weeks, after landing we received solid support and advice on all matters which has been very useful to us. We strongly recommend Rosenblatt Immigration Law firm.

Google Reviews
CHECK THIS OUT – 4 BEST IMMIGRATION LAWYERS IN ETOBICOKE, CA
9. Butkowsky Immigration Law
Larry Butkowsky has been practising immigration and refugee law for more than 20 years. He heads a dedicated team of immigration lawyers, consultants, clerks and office staff who aim to serve clients responsibly and professionally.
So if you need consultations regarding any kind of Canadian immigration process, Butkowsky Immigration Law is a go-to firm for you. For an initial consultation, an individual can call Butkowsky Immigration Law or fill out the contact form available on the website.
What makes them stand out is that Mr Butkowsky also advocates for his clients in immigration litigation, including appeals, judicial reviews, hearings, and deportation proceedings.
Highlights
More than two decades of experience
Accommodating customer service
Highly professional lawyers
Reviews
My husband and I met Larry in 2008-2009 and felt extremely comfortable with using him as our immigration lawyer. He was very straight up with us from the first moment we met in his office. He told us the pros and cons and didn't play around with our future outcome as other lawyers do from our previous experience.

He was friendly and welcoming and told us step by step what would probably happen next in our process which we appreciated very much. We are very happy to have had a positive outcome with our process using Larry to represent us. Thank you so much, Larry. I would recommend you to others in need of an amazing immigration lawyer.

Google Reviews
CHECK THIS OUT – 5 BEST IMMIGRATION LAWYERS IN ONTARIO, CA
10. Ronen Kurzfeld Immigration Lawyer Toronto
Ronen Kurzfeld's team is a group of fully licensed and insured Canadian Toronto immigration law firm professionals focusing on immigration law. Whether you are facing problems with a student visa or there is a complication regarding a family sponsorship, it's better to have an experienced immigration attorney like Ronen by your side.
Based in Toronto, Ontario, the firm delivers client representation at consistently fair costs and payment terms. Individuals can contact the Kurzfeld Law Office of Immigration for an in-office consultation.
In comparison to other lawyers, they have a multilingual staff who is well-versed with English, French, Hebrew, and Tagalog. This allows them to provide immigration consulting to clients from various cultural backgrounds and nationalities. 
Highlights
Over 18 years of combined experience
A strong legal team
Personalised services
Reviews
I am very happy that I chose Ronen Kurzfeld as my immigration lawyer to handle the sponsorship of my wife coming to Canada. From the initial telephone conversation I got a feeling that I would be in good hands. He told me that the process would take up to 9 months and although it looked very positive for success there could be of course no guarantees. The process was very professionally handled.

Either Ronen or his able assistant Joan were always there with immediate responses when I had questions about filling in the elaborate forms involved. To my surprise, it took only 4 months from the time the papers were sent in till my wife received her permanent resident status. Even after the approval, they were still there to offer assistance on the process that needed to be followed –such as medicals etc. His payment scheme is very fair with small monthly payments.

With the successful completion of the process I felt they had more than done their job and opted to pay off the last 5 or 6 payments in one sum. I can highly recommend the immigration law firm of Ronen Kurzfeld to competently guide you to to a successful outcome of an application in the shortest possible time.

Google Reviews
CHECK THIS OUT – 5 BEST IMMIGRATION LAWYERS IN BRAMPTON, CA
11. Abramovich & Tchern Immigration Lawyers
Abramovich & Tchern Immigration Lawyers provide a wide range of corporate and individual immigration services, from student visas, provincial nominees, Express Entry and family sponsorships to refugee claims, inadmissibility, visa refusals, and judicial reviews.
The positive side of working with them is their multicultural, multilingual lawyers and consulting staff that is experienced in working with corporates, professionals, students, immigrants from India, Latin America, the former Soviet republics, and other countries.
Therefore, if you need help with Canadian and cross-border immigration issues, challenging a visa refusal or have any questions about Express Entry, CRS Calculation whatsoever, they're there to help.
Another thing that's worth mentioning here is that Abramovich & Tchern Immigration Lawyers offer two fee options: A flat fee retainer where a client pays a fixed fee for the service and an hourly fee retainer where a client pays strictly for the time spent on his file. If a file takes three hours to complete, you pay for three hours for instance.
Highlights
Full range of personalized immigration services
5/5 average rating on Google based on 68 reviews
Reviews
Abramovich & Tchern Immigration Lawyers are one of the most professional people I have seen in the business.

They helped us with our Immigration case to a final decision and that too smoothly and perfectly. Lev Abramovich is really diligent for every case and he showed the same for ours.

Highly Recommended for people waiting for too long for a decision on their Permanent Residence applications. Specially if you want to file Writ of Mandamus. The firm specializes in perfecting your application to the final stage.

All the best to all the people seeking Immigration procedure, this is the place to go to.

Google Reviews
12. Green and Spiegel LLP
Green and Spiegel LLP has the distinction of being Canada's oldest and largest running immigration law firm. The lawyers are committed to providing outstanding legal advice, good client relations, and personalised service. They deal with clients, colleagues, government agencies with honesty, fairness and confidence that comes from years of legal immigration knowledge.
The law firm is headquartered in Toronto, Canada with U.S. offices in Philadelphia, Pennsylvania, Providence, Rhode Island and Vail, Colorado.
As such, they offer a full range of Canadian and American immigration services for employers, temporary workers, individuals and their families. Whether you are coming to Canada or the United States, to work, sponsored by your family, or seek new opportunities, GANDS can provide you with all needed immigration support.
Highlights
Nearly 60 years of experience exclusively practising immigration law
4.8/5 average rating on Google based on 924 reviews
Reviews
Green and Spiegel is the best law firm for immigration! Ravi Jain is the absolute best lawyer and deserves all the accolades he has and more! We used him for our spousal sponsorship. He cares about his clients and helps them navigate the most complex process with such care and attention.

Google Reviews
How do I choose an immigration lawyer in Toronto?
Without the assistance of an attorney, the immigration process can be complicated and intimidating. So here are five things to think about while choosing a Toronto immigration lawyer:
Rather than opting for the low-cost cheap choice, look for a high-quality lawyer who can handle your case professionally.
Digging into your personal network in Toronto, ON to see if anybody you know has hired an immigration lawyer in the past is a fantastic idea while looking for an attorney for your immigration case.
Hire an immigration specialist law firm instead of a general practitioner.
Determine how much the immigration attorneys services will cost you and if they are inexpensive before signing any contract.
Don't be shy in negotiating the fee.
Lastly, you'll be able to hire a good immigration lawyer to work on your case if you follow the methods outlined above.
How much does an immigration lawyer cost in Toronto?
The cost of both lawyers and consultants varies considerably and is typically related to their level of expertise. An immigration consulting fee might range from $200 for a consultation to $4,000 or more for the entire immigration service. The cost of an immigration lawyer in Toronto varies as well, mainly depending on the type of assistance requested by the client.
FAQ
---
Conclusion
To cut a long story short, if you're looking for reputable immigration law firms in Toronto and nearby, look no further than these 12 Top Immigration Lawyers.