4 Best Immigration Lawyers in Victoria, BC (2023)
Take a glimpse at our top picks for the 4 best immigration lawyers in Victoria who practice exclusively in the areas of immigration and citizenship law in British Columbia.
These Canadian immigration law firms have been handpicked exclusively based on Business History, Public Reviews, Location, Range of Services, Fees, Special Offers, Client Engagement, Awards & Recognition and other rating factors.
RELATED:
Victoria's Top 4 Immigration Lawyers
Here are the four immigration attorneys we've determined to be the best ones near you in Victoria, BC, Canada:
David Aujla (4.8/5)
Crease Harman LLP (4.7/5)
Infinity Law (4.3/5)
JC Immigration Law (4.5/5)
1. David Aujla
David Aujla is among the top-rated immigration lawyers in Victoria, BC. David's sole focus of practice is Canadian immigration law and he advises clients worldwide. He is a member of the Canadian Bar Association (Immigration Sub-section) and the Law Society of British Columbia.
He has made presentations, from time to time, to the Canadian Bar Association's Immigration conferences as well as to civic associations and boards and real estate companies throughout Victoria, Vancouver, Vancouver Island and the Gulf Islands.
Rest assured, you will receive personal attention from David Aujla regarding all of your immigration questions!
Business Hours
Monday

9:00 AM – 5:00 PM

Tuesday

9:00 AM – 5:00 PM

Wednesday

9:00 AM – 5:00 PM

Thursday

9:00 AM – 5:00 PM

Friday

9:00 AM – 5:00 PM

Saturday

Closed

Sunday

Closed
Things We Like
Over 4 decades of Canadian immigration law experience
Help you understand the different processes, the hidden traps, timelines and costs
Prepare and complete all forms, compile all the documents and make comprehensive written submissions to IRCC
Maintain continuous communication with you and IRCC
Local Reviews
"Amazing team here. I got my work permit and PR done with zero problems or hiccups. Sarah Sohn was assigned to my case and was the absolute best immigration lawyer. Always prompt in emailing back for all my questions (there were a lot) and gave great advice and fixes to my application. I thought about trying to do the whole process myself, but I would have screwed up so many parts of the application and it would have been a nightmare. I highly recommend using them if you want great advice and guidance through the complicated process. Thanks again, Sarah and David. I am so lucky to have chosen you and to now be in Canada as a permanent resident!" – Allen
2. Crease Harman LLP

The honour of having handled the first documented immigration and refugee case in British Columbia in 1860 belongs to Crease Harman. Their team of Victoria immigration attorneys has over five decades of combined experience in immigration law, and they collaborate to offer a thorough, flexible, and responsive client experience.
Due to the potential urgency of immigration difficulties, they make sure that their immigration lawyer is available to address your worries promptly. They provide a range of service levels, from brief consultations to full-service representation for your immigration application from start to finish, whether it is for temporary entrance, permanent status, or citizenship.
Business Hours
Monday

9:00 AM – 5:00 PM

Tuesday

9:00 AM – 5:00 PM

Wednesday

9:00 AM – 5:00 PM

Thursday

9:00 AM – 5:00 PM

Friday

9:00 AM – 5:00 PM

Saturday

Closed

Sunday

Closed
Things We Like
With a continuous presence in British Columbia since 1866
Represented clients in various judicial and administrative settings across Canada, including before the Federal Court and Immigration and Refugee Board of Canada
Local Reviews
"We have used Crease Harman for all of our legal work for years and they have always done an excellent job going above and beyond. I would highly recommend them." – David
3. Infinity Law
| | |
| --- | --- |
| BEST KNOWN FOR | Temporary Business Travel, Start-Up Visa Program, Provincial-Nomination Programs for Entrepreneurs, Labour Market Impact Assessments, Judicial Reviews, Stays and Removals and Immigration and Refugee Board Appeals |
| IMMIGRATION LAWYER | Ali Dadkhah |
| WEBSITE | https://www.infinity-law.com/practice-areas/immigration-law |
| TELEPHONE | +1 250-385-6004 |
| LOCATION | 200-931 Fort St, Victoria, BC V8V 3K3, Canada |
Be sure to check Infinity Law, Victoria for all your immigration needs. Their knowledgeable immigration lawyer works on a range of immigration matters to help each client create a complete plan to achieve their financial, professional, or personal objectives.
They firmly believe that immigrants bring fresh perspectives, distinctive methods, and crucial experience and expertise that may improve Canada's culture, economy, and labour market.
In addition to providing advice on the best course of action for applications for permanent or temporary status in the economic, business, and family categories, their multicultural, multilingual team is also qualified to address any underlying immigration issues that may arise under the Immigration and Refugee Protection Act, the Citizenship Act, and related laws.
Business Hours
Monday

9:30 AM – 5:00 PM

Tuesday

9:30 AM – 5:00 PM

Wednesday

9:30 AM – 5:00 PM

Thursday

9:30 AM – 5:00 PM

Friday

9:30 AM – 5:00 PM

Saturday

Closed

Sunday

Closed
Things We Like
Experienced lawyers serving Victoria, Mill Bay, and Nanaimo, BC
Practical and strategic approach to all legal immigration needs
Local Reviews
"I have worked with Infinity Law for personal and business matters, and I am always impressed by their professionalism and level of expertise and knowledge. Thank you Nav and team for always being there for us and our clients." – Balraj
4. JC Immigration Law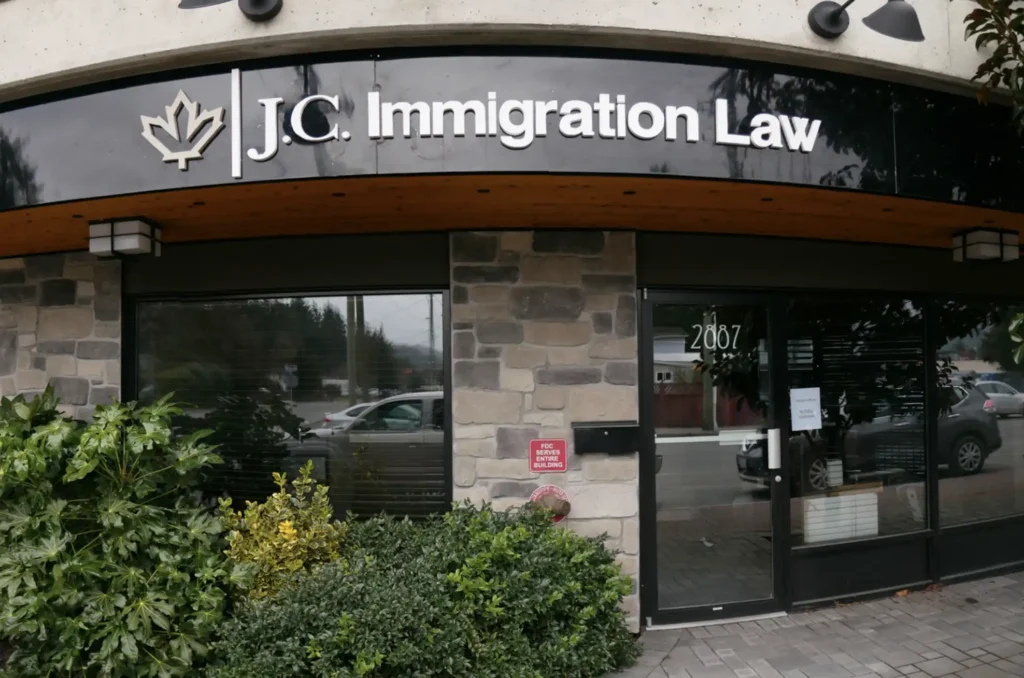 Julia Coombe has practiced law for over 15 years and specializes in Canadian Immigration Law, with an office in Victoria, British Columbia.
Julia has always been interested in immigration law because she went through the procedure herself to first get a work visa and a study permit for her and her family, then get permanent residency and then get citizenship as soon as she was able.
Julia especially enjoys assisting couples and families reunite and reside permanently in Canada through available sponsorship programs.
Business Hours
Monday

8:30 AM – 4:00 PM

Tuesday

8:30 AM – 4:00 PM

Wednesday

8:30 AM – 4:00 PM

Thursday

8:30 AM – 4:00 PM

Friday

8:30 AM – 4:00 PM

Saturday

Closed

Sunday

Closed
Things We Like
Half-hour or one-hour appointments available
Have over 15 years of experience in immigration law
Handle all communication with IRCC from beginning to end
Local Reviews
"Looking back, we are so lucky to have chosen Julia Coombe as our immigration lawyer. Thanks to her, our Out-of-Canada permanent residence application got approved within half a year! Our case was somewhat unique but ended up going through really smoothly. We needed help getting our papers in order and were in constant contact with Julia by e-mail.
She responded quickly and we always appreciated her detailed, helpful answers and information on what exactly to do next. We felt like she truly cared and took her time on the case. Julia was serious when needed, fun the rest of the time, always thorough, detail oriented and made the whole immigration experience a lot less stressful. Even without meeting Julia in person, we built a connection and trusted her 100%. We could not have done it without her and would choose her again anytime without blinking an eye. Thank you for your great help, Julia!" – Andrew
Our Final Thoughts
To cut a long story short, if you're looking for established immigration law firms in Victoria, BC and nearby, these 4 Immigration Lawyers are one of the best.
---
Are you one of the lawyers we've been talking about? Congrats on being featured. Feel free to download and proudly showcase this badge on your website, demonstrating your esteemed recognition as one of the top immigration lawyers in Victoria, British Columbia.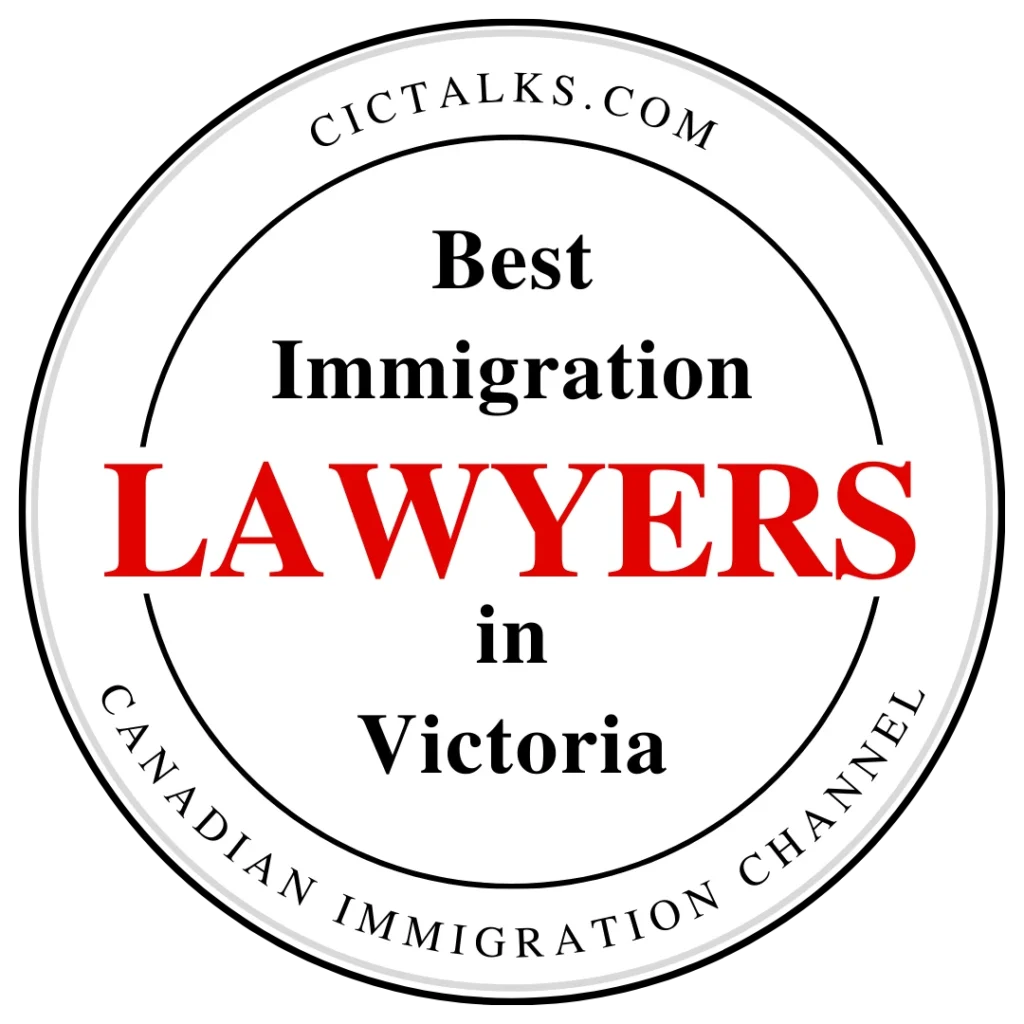 Want your immigration firm to stand out and attract more clients in today's competitive market? Give your business the spotlight it deserves with our exclusive Featured Listings.

For less than $7 a day, you can secure a prime spot at the top of our organic listings for a month, ensuring that your firm is the first thing potential clients see when searching for immigration services in Victoria. This premium placement will increase your visibility and credibility, driving more traffic to your firm's website and ultimately leading to increased client inquiries.

Reserve your Featured Spot today by sending us an email, and make a lasting impression in the minds of those seeking expert immigration assistance!