IELTS Writing Test 2022 Beginners Guide- Pattern & Tips
In this article, I will tell you about the types of IELTS Writing, exam pattern and share some most important tips to get band 7+ in the Writing section.
After all, you may be good at writing Facebook stories but is it enough ??
In reality, it's quite a mammoth task to get band 7+ in IELTS Writing test.
IELTS Writing Test Pattern
The exam is broadly classified into two categories :
IELTS Writing Academic
IELTS Writing General Training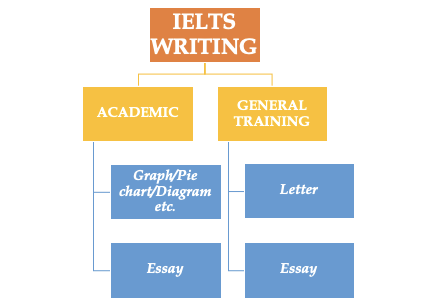 Both test categories are further divided into two tasks – Task 1 & Task 2.
In Academic Writing Task 1, the candidates need to describe the information available in the form of a line graph, bar chart, table, pie chart or diagram. They need to summarise the information in 150 words. In Task 2, the candidates need to write an essay in response to a point of view, problem or an argument. This minimum word limit for this task is 250 words.
The General Training Writing is also further divided into similar two tasks. But the real difference lies in Task 1, where the candidates are asked to write a letter requesting information or explaining a situation. The Task 2 is an essay just like the IELTS Academic version. The minimum word limit for both the tasks is 150 & 250 words respectively.
Remember, Task 2 contributes twice as much as Task 1 in both IELTS versions. So, you should be thorough with Essay Writing.
IELTS Writing Assessment criteria
The assessment of IELTS Writing exam 2022 is based on the following four factors –
Answering the question
The examiner will assess to what extent a candidate has answered different parts of the question and in how much detail the information has been summarised (e.g. correct representation of charts, trends, main features, detailed essay ideas/arguments etc.).
Coherence & Cohesion
Your answer should follow a structured format rather than just a series of unrelated sentences. This requires you to apply sequencers, linking words and substitution, in order to arrange the information logically. (e.g. use paragraphs to write a coherent response, with one main idea per paragraph).
Vocabulary
The examiner give special emphasis on the range of vocabulary used by a candidate. Any of the US or UK English vocabulary can be used to demonstrate paraphrasing, but it should be consistent with the type of writing.
Grammar & Accuracy
A candidate is assessed on a wide range of grammatical structures used in the tasks and how accurate they are. A pro tip, you can get high band scores if you use complex structures with subordinate clauses rather than only short, ordinary sentences. Also, Punctuation is vital part of the grammar and assessed accordingly.
Basic tips to get band 7+ in IELTS writing test
Timing
IELTS Writing exam has a total duration of 60 minutes.
Allocate about 20-25 minutes for Task 1 and 35-40 minutes for Task 2.
As Task 2 is worth more band scores than Task 1; you should first complete Task 2
Spend the last remaining minutes to check for any spelling or grammatical errors before submission.
Practice writing with a clock under strict exam conditions, and stick to the 1 hour time limit.
Planning
Make a brief layout of your response to the task.
You can use question sheet to write your plan.
Spending couple of minutes on a plan will produce more logically structured response and in other words, increase coherence.
Question response
Read the task questions carefully.
Make sure you write a relevant answer and you stick to what has been asked.
Read the question statement several times while writing your answer to generate detailed arguments.
Address all parts of the question.
Paragraph structure
Task 1 should usually contain at least 3-4 paragraphs.
Task 2 should usually contain at least 4-5 paragraphs.
Leave a line blank between two adjacent paragraphs so as to clearly mark the separation between ideas.
Use complete sentences and avoid using slangs – notes or bullet points are penalised.
Length
The minimum words for each task are clearly defined by the organisations conducting IELTS, you will be penalised for not writing the minimum number of words.
While practising, you can get an overall judgement of approximately how long a written response of 150 or 250 words is.
Do not write question statement on the answer sheet. It is not counted under the prescribed word limit.
Writing 200 and 300 words are ideal for Task 1 & Task 2 respectively.
IELTS writing Task 1 (Academic) – Tips
A candidate has to describe the information contained in a table, pie chart, diagram or a bar/line graph.
In case of diagram, you may be required to illustrate the stages in a process or how something works.
It may contain more than one table, chart, graph or diagram.
Always try to write down the main features and explain the trends, summarise the content logically.
Also mention comparisons, connections, and stark differences between different scenarios.
You must use a formal style of writing.
Look carefully to see whether the data provided is in percentages, thousands, billions etc.
IELTS Writing Task 2 (Academic/GT) – Tips
Task 2 needs more planning and brainstorming as it is longer and carries more weight than Task 1.
A candidate has to present his argument, give his opinion or describe a cause and solution for something.
Your introductory paragraph should present an outline of your response.
Your main body paragraphs should provide detailed explanation on your ideas, covering one core idea in each paragraph.
Above all, don't forget to complement your idea with a suitable example.
Be specific to the information required according to question statement, avoid going off on a tangent.
Conclusion
The Writing task is the most complex component among the four modules of the test. It needs a lot of consistent practice to hit 7+ band score.
Before appearing for the IELTS Writing test in 2022, make it a habit of reading newspaper editorials, this will immensely help you to orient your ideas while subsequently enrich your vocabulary.
I hope you find this article "Beginners guide to IELTS Writing exam 2022 – Pattern & Tips" useful. If you have any doubts, please write down in the comment section below or mail us at help@cictalks.com.
Wish you best of luck in your exam.
Happy learning !!