IELTS Speaking Test Beginners Guide – Pattern & Tips
IELTS Speaking Test can sometimes be difficult, but if you know the exam pattern and magical tips it's going to be a cakewalk for you.
In this article, we will discuss exam patterns, parts of the exam, assessment criteria and some important tips to achieve high band scores on the test.
IELTS Speaking Exam Pattern
The speaking exam is usually the final part of the test. There had been interruptions in conducting IELTS Speaking test due to Covid-19 but now things are coming back to normal. It is now being conducted as a face-to-face interview between an examiner and a candidate and is recorded.
The examiner asks a series of questions relevant to the test requirements while adhering to a defined format. Additionally, the themes covered in the various test sections are selected in a way that makes them accessible to the typical individual.
The total time duration of the test is 11 – 14 minutes.
To test candidate's spoken English proficiency, the test is divided into three parts: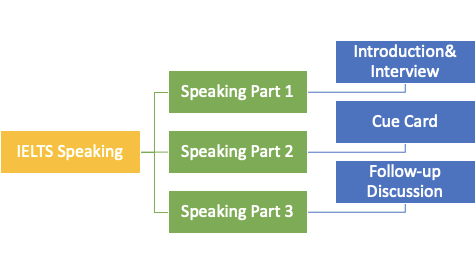 First, the examiner welcomes the candidate and verifies his identification. The examiner will then ask the candidate a few general questions, such as where the candidate lives, works, studies, has interests, and where they currently reside.
The Part 1 focuses on the ability to share personal information and opinions on everyday life.
There is no fixed quota and its upto the examiner to ask any number of questions. The Part 1 of the speaking test lasts for around 4-5 minutes.
This portion of the exam is renowned as the "Individual Long Turn". The candidate will receive a task card (Cue Card) from a pack of cards chosen at random, along with some paper and a pencil to take notes.
The candidate speaks for a continuous period of 1-2 minutes about his personal experience as it relates to the task. After the candidate has spoken for two minutes, the examiner will halt them and ask them one or two questions about the cue card.
Part 2 lasts for around 3-4 minutes, including 1 minute of preparation time.
This section mainly focuses on candidate's ability to speak at a length on a given topic and therefore organising thoughts coherently.
The third and final section of the test is a lengthy conversation between the candidate and the examiner. Discussion topics are more conceptual in nature and relate to Speaking Part 2.
It lasts for around 4-5 minutes.
This section test the candidate's ability to express opinions and analyse general issues in a concrete manner.
Assessment Criteria
Here, certified IELTS examiners assess the candidate's spoken English proficiency based on the following criteria:
1) Fluency & Coherence
The candidate is assessed on his ability to talk, link ideas and language together to form coherent and connected English speech. The fluency focus areas for the examiner are Speech rate and Talk continuity. In addition, the coherence is assessed based on sequencing of sentences, clear narration and use of linkers and conjunctions.
2) Grammatical Range
This criterion refers to the range and appropriate use of sentence structures. The length and complexity of spoken sentences are also carefully examined by the examiner.
3) Lexical Resource
The candidate will be assessed on his use of vocabulary and his choice of words. It is always advisable to utilise fillers and connectors to fill the vocabulary gap i.e the ability to circumlocute.
4) Pronunciation
This assessment criterion checks candidate's ability to produce comprehensible speech in order to fulfil test requirement.
Tips to get band 7+ in the IELTS Speaking test
Pro tips (Part 1)
It is an opportunity for you to demonstrate your spoken English proficiency, so it's better to give detailed answers rather than short ones.
It's quite normal to feel desperate or nervous during the test interview, but do not show your desperation or nervousness to the examiner.
Listen carefully to the examiner and try to give relevant responses.
If you don't understand any question, politely ask the examiner to repeat it.
If you fail to understand any words in the question, politely ask the examiner to briefly explain it.
Pro tips (Part 2)
In Part 2, carefully listen to the examiner as she reads out your topic.
You have to still talk about the topic, whether you like it or not.
Use the time to prepare few notes about what you are going to say in Part 2.
While you talk, you can briefly look at your notes to stay relevant to the topic.
Don't worry about the time – the examiner will stop you after the time is up.
Pro tips (Part 3)
In Part 3, there are series of long turn questions but remember, examiner will assess your English and not your knowledge.
If you say things that are untrue of factually incorrect, Don't worry you will not be penalised.
Try to speak without any hesitation as it may ruin your speaking.
Connect sentences and ideas logically so that there is smooth flow of conversation from both sides.
Be flexible and accurate in your choice of words during the test.
Idiomatic and paraphrasing language always add spice to your conversation. In short, always make use of it.
You can have 7+ band score if you go beyond basic vocabulary and use some less common words.
The complex sentences with subordinate clauses are MUST to put into test conversation if you are aiming high band scores.
Speak clearly and make use of stress, intonation and rhythm to pace your communication.
If you speak too quickly, you will be hard to comprehend for the examiner, which will affect tour test scores.
If you speak too slowly, you will overshadow your good pronunciation as there will insufficient connected speech.
Final Thoughts
"Speaking a language" is as important as writing, listening, reading it or perhaps even more important. IELTS speaking test assess the candidate on multiple fronts i.e vocabulary, grammar, lexical resources, fluency etc. so don't take it for granted.
Finally, try to switch from your native tongue to English a few days prior to the test in order to boost your confidence and go through the hesitation stage.
Wish you best of luck in your exam.
Happy learning!!