10 Best Immigration Consultants in Mississauga, ON (2023)
Take a glimpse at our top picks for the 10 Best Immigration Consultants in Mississauga, Ontario providing reliable and trustworthy immigration consultancy services near you.
People from various ethnic and cultural backgrounds, including skilled immigrants with distinctive global experiences, call Mississauga home. This diversity's richness can be largely attributable to immigration, which has been on the rise for many years.
These certified Canadian immigration consulting firms have been handpicked exclusively based on Business History, Public Reviews, Location, Range of Services, Fees, Paid or Free Consultation, Special Offers, Client Engagement, Awards & Recognition and other rating factors.
But before you check out the list, you should look at how much an immigration consultant will charge you in Mississauga.
Cost of Hiring an Immigration Consultant in Mississauga
Finding the top immigration consultant in Mississauga that can provide expert advice at affordable prices is crucial.
While some immigration specialists give a free initial consultation, the majority of others will offer great advice in exchange for a consultation charge of $250 to $399.
The professional fee for various consultant services in Mississauga are tabled below:
| Application Types | Consultant Fees |
| --- | --- |
| Sponsorship (Parents & Grandparents) | $2,000 – $3,000 |
| Child Sponsorship | $1,500 – $3,000 |
| Spouse Sponsorship | $3,500 – $5,000 |
| CEC (Express Entry) | $2,500 – $3,500 |
| PNP | $3,000 – $6,000 (depends on the province) |
Mississauga's Top 10 Immigration Consultants
Searching for an immigration consultant near me? Here's the list of ten top-rated immigration advisors that you could find in Mississauga, ON, Canada:
| S. No. | Immigration Consulting Firms | Ratings |
| --- | --- | --- |
| 1 | Time Immigration Consultants Inc. | 4.6/5 |
| 2 | Way2Can | 3.9/5 |
| 3 | Trust Cosmic Immigration | 4.7/5 |
| 4 | ICC Immigration Inc. | 4.4/5 |
| 5 | Jeremie Misquitta Immigration | 4.8/5 |
| 6 | Asteco Canada | 4.2/5 |
| 7 | Settle North Immigration | 4.0/5 |
| 8 | CANUS Immigration Consultancy Inc. | 4.6/5 |
| 9 | GEPSI Immigration Services | 4.5/5 |
| 10 | Punj Consultants Inc. | 4.9/5 |
10 best immigration consultants near me
1. Time Immigration Consultants Inc.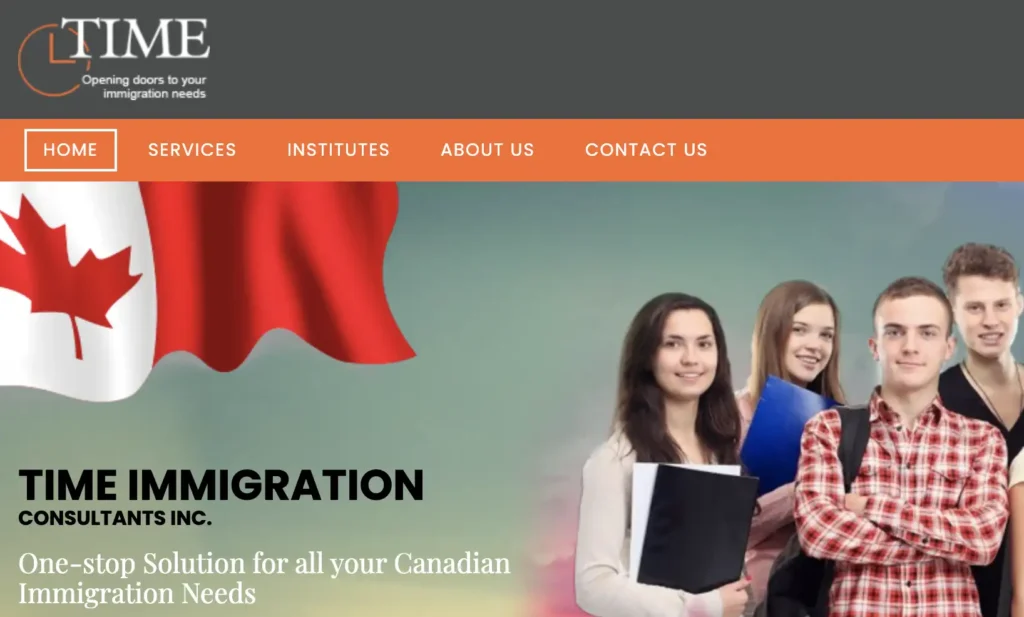 | | |
| --- | --- |
| BEST KNOWN FOR | Student Visa, Spousal Work Permits, Family Sponsorships, Express Entry |
| IMM CONSULTANT | Kanwardeep Singh |
| WEBSITE | https://timeimmigration.com/ |
| EMAIL | navneet@timeimmigration.com |
| TELEPHONE | +1 416-419-9258 |
| LOCATION | 218 Export Blvd Unit 310, Mississauga, ON L5S 0A7, Canada |
Time Immigration Consultants Inc. has long been regarded as among the best immigration consultants in Mississauga. They are renowned for their unique methodology and wide range of immigration options. To improve your chances of receiving a visa, their consultants carefully review your application and provide practical suggestions that adhere to the established protocols.
All forms of visas, including those for visitors, students, federal skilled workers, permanent residents, and spouses with open work permits, are handled by this company. Another plus is that they have a proven track record of approving visas and a wealth of experience with challenging circumstances.
Looking for a knowledgeable immigration advisor in Canada? This might become your go-to location.
Highlights
Offer a broad range of services related to immigration for qualified workers and students
Vast experience in managing complicated cases
offer clients solutions that are affordable
Consultation Reviews
I have used their services twice. Once for my study permit and once for my wife's open work permit.

They handled both the cases very professionally. The team was very helpful, they answered our queries very well and I got both the visas in a time bound manner.

Preet Mann
CHECK THIS OUT – 10 OF MISSISSAUGA'S BEST IMMIGRATION LAWYERS
ALSO READ – 10 OF TORONTO'S BEST IMMIGRATION CONSULTANTS
2. Way2Can
| | |
| --- | --- |
| BEST KNOWN FOR | Temporary Applications, Permanent Applications, Refugees, Inadmissibility |
| IMM CONSULTANT | Sheriff Abul-Ela |
| WEBSITE | https://www.way2can.com/ |
| EMAIL | info@way2can.com |
| TELEPHONE | +1 647-490-4646 |
| LOCATION | East Tower, 77 City Centre Dr Suite 501, Mississauga, ON L5B 1M5, Canada |
With 15 years of expertise in immigration law and its intricate processes, Way2Can is a top-notch immigration consultancy based in Mississauga, ON. Some of Canada's top immigration law firms provided them with their Regulated Canadian Immigration Consultants (RCIC) training. Those looking to immigrate to Canada will find this experience to be priceless.
Furthermore, Way2Can provides services to visitors, students, and temporary workers as well as applicants seeking permanent residency including but not limited to skilled workers, businesses, and refugees.
Highlights
Offer Immigration Services across Mississauga, Oshawa, London, Kitchener, Niagara Falls, Markham, Scarborough, and the GTA
Welcome all types of potential applicants
Offer one-on-one personal confidential consultation
Consultation Reviews
My Experience with Way2can was a great experience , Sherrif was very helpful, Thankfully there were zero mistakes , they followed up with me on everything, their responses were in a timely manner ( very fast), accurate, kept me posted on the progress and kept me up to date! I was sponsoring my wife and I went through the application with them from start till the end. Thank you so much Way2can for this great experience! Always recommended!!

Hisham
CHECK THIS OUT – 10 OF BRAMPTON'S BEST IMMIGRATION CONSULTANTS
ALSO READ – 5 OF OTTAWA'S BEST IMMIGRATION CONSULTANTS
3. Trust Cosmic Immigration
Now one of Mississauga's most seasoned immigration consultants, Trust Cosmic Immigration Consultancy (TCIC) offers a full range of Canadian immigration services for international students, temporary foreign workers, employers, and their families.
Being a Regulated Canadian Immigration Consultant (RCIC), they keep abreast of the most recent modifications to immigration law and ongoing standards for professional licensure. TCIC professionals adhere to a strong code of conduct that is rigorously upheld to ensure the protection of the public interest.
Whether you are coming to Canada to Study, Work, have Family reunification, or seek new opportunities, TCIC can have you covered!
Highlights
Has a cumulative experience of 20 years in assisting a diversified global clientele
Specialized in creating personalized immigration strategy
Can address the inadmissibility concerns and can appear at immigration interviews
Consultation Reviews
I want to thank Trust Cosmic Immigration Consultancy. Our case was so complex, yet we got PR in 5 just months. They helped us right from the preparation stage until we received PR. It was comforting to know that our application was in skilled and professional hands. Special thanks to Aditi Mam. She was communicative and more than happy to answer all our queries.

Karandeep
4. ICC Immigration Inc.
| | |
| --- | --- |
| BEST KNOWN FOR | Immigration, Work, Study, Citizenship |
| IMM CONSULTANT | Manu Datta |
| WEBSITE | https://iccimmigration.ca/ |
| EMAIL | enquiry@iccimmigration.ca |
| TELEPHONE | +1 905-461-2424 |
| LOCATION | 1137 Derry Rd E, Mississauga, ON L5T 1P3, Canada |
The fourth name on our list of top immigration consultants in Mississauga is ICC Immigration Inc. This local consulting firm is dedicated to offering clients in Canada and abroad honest, expert, and result-driven service.
They put a lot of effort into offering assistance, establishing trustworthiness, and encouraging achievement by advising and representing them in a variety of immigration situations.
Moreover, their sizable clientele in other countries enables a global network across several industries, ensuring that they can meet all of your needs.
Highlights
One of the most trusted Immigration consultants in Canada
14+ years of experience in personalized Canadian immigration service and support
Adherence to high professional standards and confidentiality
Consultation Reviews
My experience with them has been great throughout. I highly recommend icc immigration and their amazing staff. Thank you so much Navneet ji, Harsimran and Loveneet. Please keep up the good work that you guys are doing. Best consultants ever!

Waqar Khan
5. Jeremie Misquitta Immigration
Jeremie Misquitta, a renowned Canadian immigration consultant based in Mississauga, Ontario, assists and counsels individuals and families by recognising each client's uniqueness and treating them with respect.
He will talk to you about your situation and let you know how much it would cost to process your application with the help of his team. They will provide you with a cost estimate and a breakdown of the pricing.
Most importantly, they charge fair fees for their expertise.
Highlights
Practices in all areas of Canadian immigration law
Provides FREE assessment within 24-hours
Offer FREE consultations to walk you through your needs
Consultation Reviews
In my experience, Jeremie has been very warm and friendly, and his knowledge and insights add a lot of clarity and calm to the many questions and concerns you may have about your Canadian PR application and the process.

He is extremely prompt and responsive, and he will go above and beyond to assess the specifics of your case and make appropriate recommendations.

If you are confused and require hands-on guidance, I would strongly recommend JM Immigration Consultancy for all matters pertaining to Canada PR Immigration.

Royston Walder
6. Asteco Canada
| | |
| --- | --- |
| BEST KNOWN FOR | Study/Work Permit, Express Entry, Family Sponsorship |
| WEBSITE | https://www.astecocanada.com/ |
| EMAIL | contact@astecocanada.com |
| TELEPHONE | +1 905-277-4411 |
| LOCATION | 55 City Centre Dr Suite 302, Mississauga, ON L5B 1M3, Canada |
The consultants at Asteco Immigration Consulting, Mississauga have successfully represented clients in a variety of challenging and high-profile matters involving a wide spectrum of Canada visas and citizenship applications.
The major highlight is that they provide both online and in-person consultations. Individuals and companies from all around the world can visit our office in Mississauga for exclusive consultations.
If you have plans to visit, reside, or extend your stay in Canada, Contact one of their consultants right away for assistance!
Highlights
Has an exemplary track record in permanent resident and temporary resident visa applications
Bespoke consultation packages are available
Highly qualified and fully accredited immigration advisors
Consultation Reviews
I would say best immigration consultant in town is Asteco Immigration Consultation for immigration matters as well as some other advice if you need. I started my application from work permit and finally got my PR yesterday. Karan Sir and Mam assisted me throughout the process. It was very helpful and knowledgeable experience with them. They always got back to me quickly whenever i had questions. I have just received my approval for PR yesterday. Thank you so much for all your help and advice. ❤️🙏

Satnam Singh
7. Settle North Immigration
All of your Canada visas/permit and citizenship-related consulting needs can be met at Settle North Immigration Consultant in Mississauga. They offer the highest calibre services with the utmost professionalism, expertise, knowledge, and discretion.
The Director of Settle North Immigration Inc., Gobinda Ahuja, is a Regulated Canadian Immigration Consultant (RCIC) in Mississauga, a licensee in good standing with The College of Immigration and Citizenship Consultants (CICC), and is authorised to offer expert advice on Canada immigration and citizenship issues.
Highlights
Offer a full service for clients who choose to pay a single flat fee
Also help you prepare for your interview if the need be
15-minute FREE meet-and-greet appointment
Consultation Reviews
They have helped me with all the information in detail and guided me to the right path. I would really recommend them as a consultant. They are very knowledgeable and they never provide you with wrong information.

Amarbir Singh
8. CANUS Immigration Consultancy Inc.
With an outstanding customer satisfaction record, CanUS Immigration Consultancy Inc. continues to offer foreign nationals the best Canadian Immigration consultation services right here in Mississauga.
Since 2015, they have provided exemplary immigration consulting services as they help immigrants settle in Canada without any problems. Because they cater to the needs of their clients, they have been able to uphold such standards throughout time.
You may relax knowing that CanUS Immigration Consultancy Inc. has immigration specialists on staff who are trained to assist you with your immigration requirements. Both individual and family immigration are areas of expertise for their team of immigration specialists.
Highlights
Experienced & Licensed Immigration Consultants
Offer distinct immigration solutions related to job opportunities, education, citizenship, sponsoring, and business visa processing
Open to all suggestions from their clients
Consultation Reviews
I had really a good experience here. Everyone is really helpful and cooperative. Proper guidance is provided in every aspect. The consultation provided here is really appreciable. My brother had also applied from here around 5 years back. The environment here is also very good. All the staff is there to help when needed. And everything is made clear regarding visa information and information about the universities.

Randhawa
9. GEPSI Immigration Services
| | |
| --- | --- |
| BEST KNOWN FOR | Canada Immigration, US Immigration |
| WEBSITE | https://www.gepsi.ca/ |
| EMAIL | info@gepsi.com |
| TELEPHONE | +1 416-843-6686 |
| LOCATION | 750 – 2 Robert Speck Pkwy, Mississauga, ON L4Z 1H8, Canada |
GEPSI Immigration Services company's majestic presence in Mississauga has accomplished a great target by assisting thousands of people from all over the world in attaining their educational and career goals. Its directors have very powerful and unique profiles and have a combined experience of 25 years.
Moreover, GEPSI Immigration Services Pvt. Ltd., has assisted thousands of individuals by advising them honestly, precisely, and with high moral standards.
Highlights
20+ years of experience in the field of Education and Immigration matters
Only company in Mississauga to have helped over 15,000 clients
Also provide FREE initial assessment
Consultation Reviews
I would highly recommend this Immigration consultancy due to their efficiency and work ethic. They make sure that enough time and attention is devoted to every client. Very professional, prepared and transparent service provided! Gepsi has highly qualified staff who are willing and ready throughout your immigration process.

They give you a clear idea of what the process will be, a document checklist, a timeline and an estimate of fee at various stages of the file. Additionally, they are recognized consultants by ICCRC. Special thanks to Mr. Nanavati, who took out time himself to give consultation and solve my queries. He is very knowledgeable and knows the Canadian immigration laws inside out. I would recommend their services anytime.

Samarth Bhambri
10. Punj Consultants Inc.
BEST KNOWN FOR
Skilled Immigration (Express Entry), Super Visa for Parents and Grandparents, Sponsoring your family
Sponsorship for Dependent and Orphan Children, Work Permits, Provincial Nominees
IMM CONSULTANT
Rajesh Kumar Sharma
WEBSITE
http://www.punjimmigration.com/
EMAIL
info@punjimmigration.com
TELEPHONE
+1 647-648-8235
LOCATION
7025 Tomken Rd #257, Mississauga, ON L5S 1R6, Canada
Since November 2011, the Canadian immigration firm Punj Consultants Inc. has provided services to clients all around the world. Punj Immigration has a track record of successfully sponsoring spouses (both inside and outside of Canada), partners, and family members from all over the world.
Mr. Raj Sharma is competent and very professional and has expertise of 10+ years. He has dealt with more than 1,000 cases successfully.
Plus, he is a Member of the Immigration Consultants of Canada Regulatory Council (ICCRC) and is a certified Immigration Consultant.
Highlights
Confidential consultation – assessment options in the office, by phone or on Skype
Selective approach to accepting immigration cases
Affordable fee for all Immigration Services
Consultation Reviews
Punj immigration showed exemplary patience, knowledge and professionalism in assisting with my application. They were informed about every step. And they made sure to keep me informed and calm during what can be a period of anxiety for many. From documentation till getting my confirmation of PR, the team guided me in the right direction and answered all my questions.

Sourav
FAQs on Immigration Consultation Near Me
How do I get the help of a Mississauga immigration consultant if my application has been refused?
You may reapply, but you must include updated information this time.

However, in order to determine your prospects of having a second application granted, we suggest speaking with an authorised immigration consultant in Mississauga. He is the one who can evaluate your situation and put forth your application accordingly.
Do I need a Temporary Resident Visa (TRV) to visit Canada?
It depends on the nation of which you are a citizen. For a list of nations that need a temporary residence visa to enter Canada, click here.
What is a "Business Visitor" in terms of Canadian immigration?
A person who travels to Canada to do international business without first gaining employment there is referred to as a business visitor.
Final Thoughts on Mississauga Immigration Consultant
The process of Canadian immigration may feel complicated. So it is best to hire a licensed immigration expert for a smooth transition. Approach these 10 Top Immigration Consultants in Mississauga to get your needs addressed.
Always make sure to verify that your immigration consultant is authorized—they are licensed and "active"—by using the public search register.
Disclaimer:
The above post is intended for general information only and does NOT constitute legal advice or a solicitation for investment. The information from this website must NOT be taken as personal advice given to the readers. This site or its owners are NOT affiliated, approved or endorsed by IRCC, the Canadian government or any immigration law firm. The official IRCC website is www.cic.gc.ca.