5 Top-rated Immigration Lawyers in Surrey, BC
Looking for the best immigration lawyers in Surrey, British Columbia? If yes, this article contains everything you need!
Surrey is British Columbia's second-largest city by population, and it's about twenty kilometres from downtown Vancouver. Housing is also less expensive than in Vancouver. As a result, Surrey attracts thousands of immigrants every year.
However, moving to a new city like Surrey is a challenging procedure that entails dealing with a lot of paperwork for visa applications and residency permits. To help you with this, we have handpicked 5 immigration law firms near you that can help you put your immigration case like a pro!
Surrey's 5 Best Immigration Lawyers
Searching for the best immigration lawyer near me? Here are the five top-rated immigration attorneys that you could find in Surrey, BC, Canada:
| S. No. | Immigration Law Firms | Ratings |
| --- | --- | --- |
| 1 | Sedai Law Office | 4.6/5 |
| 2 | Brij Mohan & Associates | 4.7/5 |
| 3 | Sandhu Law Office | 4.2/5 |
| 4 | Mark & Company Law Corporation | 3.9/5 |
| 5 | Neha Bains Law Corporation | 4.5/5 |
5 best immigration lawyers near me
1. Sedai Law Office
Our articling student, Audrey Chen, is giving limited free consultations to low-income persons on family class #sponsorship, #visitor status, InternationalExperienceCanada #WorkPermits, #citizenship grants, and #PermanentResidentCard renewals. https://t.co/ErJcwnhB12 pic.twitter.com/9Pw55fkJKV

— Marina Sedai (@MarinaSedai) September 7, 2022
Sedai Law Office is a name that's synonymous with top-notch Canadian immigration and citizenship lawyer in Surrey. They advise individual clients and corporates around the globe who are destined to live and work across Canada.
Marina L. Sedai served as both the provincial chair of the CBA BC Immigration Law Section and the national chair of the Canadian Bar Association Immigration in the past. Since 2005, Marina has focused only on the practise of immigration and citizenship law. Employers, families, employees, students, and tourists are among her diversified set of clients. She acts as counsel on a variety of immigration and naturalisation petitions. Apart from this, she could be frequently seen speaking in public on related subjects.
Another thing is that you collaborate directly with attorneys who are aware of the impact your immigration application or a legal dispute will have on your family, business, finances, and general well-being.
Highlights
Focuses exclusively on Canadian Immigration and Citizenship Law
Also deals with Criminal Rehabilitations for persons with criminal convictions
Marina is an eloquent public speaker locally, nationally, and globally
Reviews
I met Marina 14 years ago when beginning the immigration process to Canada. I was about to marry a Canadian, my second marriage, and felt overwhelmed by the prospect of immigrating. Marina was amazing. I cannot speak highly enough of the personal attention detail she gave to both myself and my now Canadian husband. Marina is very personable in her approach, but extremely professional, knowledgeable and trustworthy. I had reason to contact her recently for some advice. Marina not only remembered me all these years later, a remarkable feat in itself, but had the time to listen and advise me. I highly recommend this remarkable woman and her team.

Kathleen
CHECK THIS OUT – LIST OF 10 BEST IMMIGRATION LAW EXPERTS IN VANCOUVER
ALSO READ – LIST OF 10 BEST IMMIGRATION CONSULTING EXPERTS IN SURREY
2. Brij Mohan & Associates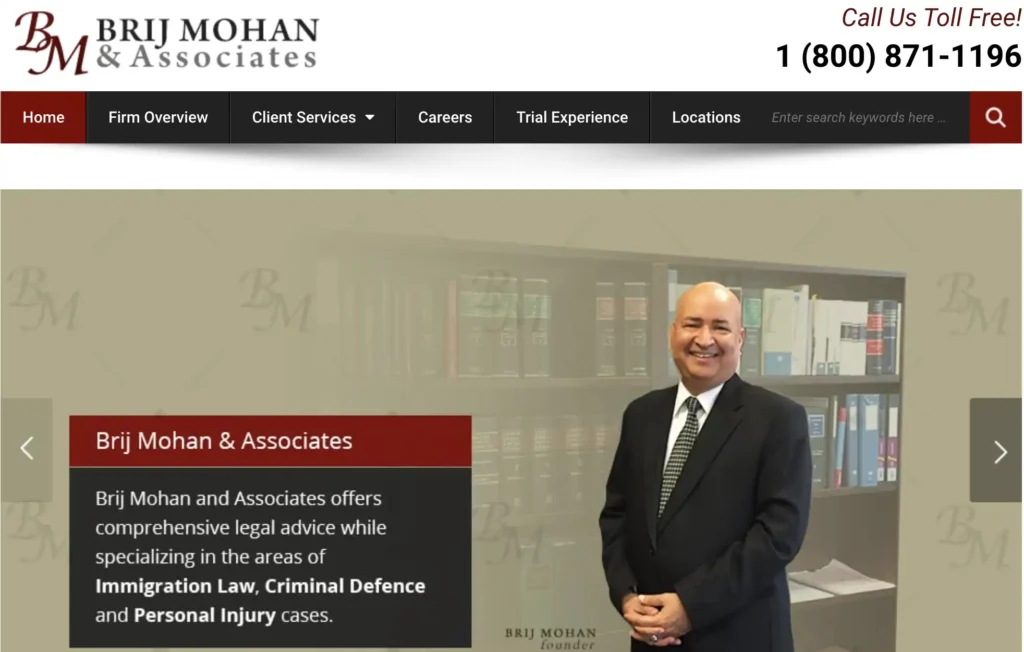 | | |
| --- | --- |
| BEST KNOWN FOR | Immigration Law, Criminal Law, Personal Injury |
| IMM LAWYER | Brij Mohan |
| WEBSITE | https://www.brijmohan.com/ |
| EMAIL | admin@brijmohan.com |
| TELEPHONE | +1 604-598-0988 |
| LOCATION | 12830 80 Ave #205, Surrey, BC V3W 3A8, Canada |
The next best immigration lawyer on our list is Mr Brij Mohan. With the Head Office in Surrey-Vancouver, BC and branch offices in Edmonton and Calgary, Alberta, Brij Mohan & Associates offers legal solutions and representation to clients across Canada.
Brij Mohan earned his law degree from London Guildhall University in the United Kingdom. With almost three decades of courtroom trial expertise and numerous well-known published judgements, Brij Mohan is an accomplished attorney. The Supreme Court of Canada is the highest level of court in Canada, and Brij Mohan has been honoured to argue cases on behalf of his clients there. Moreover, he is a legitimate member of several Canadian law societies.
Whether you need assistance in Immigration Law, Criminal Defence, or Personal Injury cases; this law firm is your go-to place.
Highlights
Conveniently located nationally at multiple locations across Canada 
High success rate in handling immigration cases
Skilled in the application of the Charter of Rights and Freedoms and its application to various immigration issues
Reviews
Amazing services. Wonderful, Knowledgeable and experienced lawyers. I strongly recommend them for immigration legal issues.

Inderpal
3. Sandhu Law Office
Since 2003, Sandhu Law Office has been offering exceptional Criminal, Immigration, and Family Law services in Surrey with lots of recognition under the hood. Their skilled lawyers will work alongside you to ensure that you receive the best solution to your immigration problem regardless of the size of the matter.
In 2010, Bikramjit Sandhu graduated from Simon Fraser University with a Bachelor of Arts. In 2014, he graduated from St. John's University School of Law in New York City with a Juris Doctor degree after being awarded the renowned St. Thomas Moore Academic Scholarship. Furthermore, Bikramjit Sandhu has appeared in courts at all levels, including the Federal Court of Canada, British Columbia's Provincial Court, and the British Columbia Supreme Court handling immigration issues
Every case is different and if you want a highly-skilled, experienced Surrey immigration lawyer, Sandhu Law Office is the one you may consult.
Highlights
More than 15 years of immigration law experience
Provide clients with effective, professional and skilled legal representation
Has appeared in various levels of court including Provincial Court of BC, Supreme Court of BC, and Federal Court of Canada
Reviews
Best immigration Lawyers out there! Made my spousal application simple. Mr.Sandhu is experienced, intelligent and always comes through. Kept me updated and they have great staff, friendly fluent in Punjabi and they genuinely care! Also used Bik for ICBC case and he was very good! Highly recommend.

Kuldip
I had consulted so many lawyers before handling my uncle's refugee claim to Baldev Sandhu. Under his guidance, we have had a positive result in refugee hearings. He went through all the details of the basis of the claim and touched on all the facts during the preparation. His staff Raj and JP are very courteous and professional. Mr. Sandhu never asked us for money at the front. We have made successful refugee claim all because of Baldev Sandhu and his team. I thank Sandhu law firm personally and strongly recommend their services

Hardev
CHECK THIS OUT – LIST OF 4 BEST IMMIGRATION LAW EXPERTS IN ABBOTSFORD
4. Mark & Company Law Corporation
| | |
| --- | --- |
| BEST KNOWN FOR | Canadian Citizenship, Permanent Residence, Temporary Residence, Appeals & Enforcement Matters |
| IMM LAWYER | Linda Mark |
| WEBSITE | https://www.markandcolaw.ca/ |
| EMAIL | canada@lindamark.com |
| TELEPHONE | +1 604-588-9800 |
| LOCATION | 10808 130 St, Surrey, BC V3T 0A7, Canada |
Need help to achieve permanent residence and Canadian citizenship? or Struggling with study permits and temporary resident visas? Mark & Company Law Corporation has the solution for you. By providing you with a complete understanding of the legal system, their staff works hard to get you ready for the case.
Since the firm's founding in 1990, Linda Mark, LL.B., Barrister and Solicitor, has served as its lead attorney and has been responsible for managing all facets of the legal services it offers. With over 30 years of experience, Linda Mark has helped clients from all over the world with their immigration needs. She is an active member of the Canadian Law Society of British Columbia.
She will discuss your needs and guide you in preparing for immigration. Normally, the consultation can take anywhere from 5 to 10 minutes. But they also offer in-depth consultations which last for approximately 60 to 90 minutes.
Highlights
Member in good standing of the Law Society of British Columbia, Canada.
Has over 30 years of experience in Immigration Law
Legal team offers personalized solutions with a locally-based representation 
Reviews
Great experience and feel very comfortable when I use the service here.

Strongly recommend when you need someone with a lot experience in immigration.

Thank you so much, Linda (Best lawyer in Surrey)!

Vycang
5. Neha Bains Law Corporation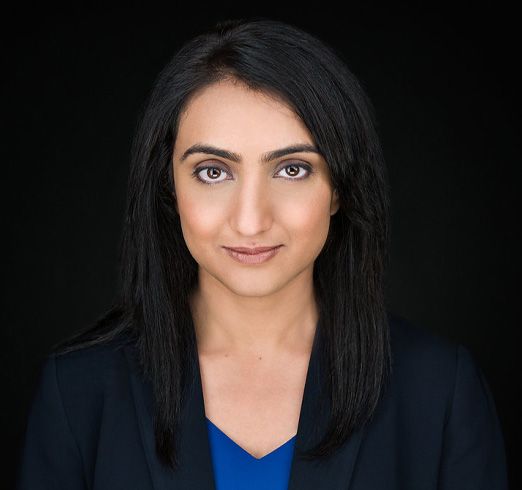 | | |
| --- | --- |
| BEST KNOWN FOR | Immigration Law, Family Law, Wills & Estates |
| IMM LAWYER | Neha Bains |
| WEBSITE | http://bainslaw.ca/ |
| EMAIL | info@bainslaw.ca |
| TELEPHONE | +1 778-564-0411 |
| LOCATION | 12830 80 Ave Unit 109, Surrey, BC V3W 3A8, Canada |
Lastly, we have Neha Bains, another amazing immigration lawyer in Surrey. Neha has years of family and immigration law experience that she has gained while working at several businesses.
She specialises in immigration law and gives her clients competent and reasonably priced counsel in all aspects of immigration law, including but not limited to visitor visas, work permits, study permits, and spousal sponsorships, not only in the Lower Mainland but across the nation.
Moreover, to engage temporary foreign workers, she also helps clients acquire Labour Market Impact Assessments (LMIA).
Highlights
Specialize in all aspects of Canadian immigration and citizenship law
Helpful, friendly, hard-working, and knowledgeable attorney
Also assist employers in obtaining Labour Market Impact Assessment (LMIA) and conducting employer compliance
Reviews
I had a very pleasant experience with Neha, she is a well versed lawyer and gives the right advice when it comes to immigration matters. I would highly recommend her if you're looking for an immigration lawyer to assist you.

Sohail
CHECK THIS OUT – LIST OF 4 BEST IMMIGRATION LAW EXPERTS IN VICTORIA

Canadian Govt. Immigration Fees
The Canadian government levies various fees for the submission of applications. Depending on the visa programme you are applying for, the size of your family, and your age, the fees might range from a few hundred to thousands of dollars.
Payment is normally made when you send in your application and documentation, although it actually depends on the exact visa or programme. You can pay the cost in Canadian dollars, or with a credit card, bank draft, cheque, or money order.
You can find updated information on fees in the application guides.
Why should I hire a Surrey Immigration Lawyer?
Hiring an immigration lawyer is not a prerequisite as part of the immigration process. However, there are several reasons why someone would employ a lawyer in Surrey to help them with their immigration issue:
Firstly, immigration issues are frequently complicated by a person's circumstances
Secondly, some people have difficulties when it comes to their command of the English language or their capacity to create the documents needed for their application
Thirdly, some individuals lack the necessary time or motivation to create their own applications
So this would not be wrong to say that an experienced immigration attorney has the knowledge and experience to help with the preparation and assembling of the necessary papers and can assist in navigating the complexities of the challenges.
Frequently Asked Questions
What is permanent residence in Canada?
An individual who has been awarded permanent resident status through immigration to Canada has the right to live and work there, but they do not have Canadian citizenship.
How to check if my legal agent is authorized?
You can check with the Immigration Consultants of Canada Regulatory Council to make sure your Registered Canadian Immigration Consultant (RCIC) is a licenced advisor (ICCRC).

All of the individuals who are qualified to be Canadian Immigration Consultants are listed on the website of the ICCRC. Any person who makes the claim to be a legal advisor will have an RCIC code. If a person's RCIC code yields no results, they are not a legitimate Canadian immigration consultant.
What happens if my Canadian citizenship application is denied?
If your application for Canadian citizenship has been rejected, you have three options which can be exercised with the help of an immigration lawyer:

(1) appeal the decision to the Federal Court of Canada
(2) submit a new application for Canadian citizenship
(3) request a judicial review of the decision from the Federal Court of Canada
Final Thoughts on Immigration Lawyers in Surrey
To sum things up, if you're in dire need of an immigration law firm in Surrey and nearby, these 5 Immigration Lawyers could be your best bet.
Disclaimer:
The above post is intended for general information only and does NOT constitute legal advice or a solicitation for investment. The information from this website must NOT be taken as personal advice given to the readers. This site or its owners are NOT affiliated, approved or endorsed by IRCC, the Canadian government or any immigration law firm. The official IRCC website is www.cic.gc.ca.