TOP 4 Best Immigration Lawyers in Abbotsford, BC
Last updated on January 3rd, 2023 at 04:41 am
Take a glimpse at our top picks for the 4 best immigration lawyers in Abbotsford, BC who can help you navigate the roadblocks with expert assistance.
These BC immigration law firms have been handpicked exclusively based on Business History, Public Reviews, Location, Range of Services, Fees, Special Offers, Client Engagement, Awards & Recognition and other rating factors.
Abbotsford's Top 4 Immigration Lawyers
Searching for an immigration lawyer near me? Here are the four top-rated immigration attorneys that you could find in Abbotsford, BC, Canada:
| S. No. | Immigration Law Firms | Ratings |
| --- | --- | --- |
| 1 | Liberty Law Corporation | 4.1/5 |
| 2 | Lawgical Law Corporation | 4.5/5 |
| 3 | Dhanu Dhaliwal Law Group | 4.6/5 |
| 4 | RDM Lawyers | 4.4/5 |
4 best immigration lawyers near me
1. Liberty Law Corporation
A Fraser Valley-based law firm, Liberty Law Corporation, offers prompt and affordable immigration law services in Abbotsford. They appreciate the confidence customers take in their immigration attorneys, and they go above and beyond to offer strong and efficient counsel to satisfy their various legal needs.
Their legal staff frequently appears before the Federal Court of Canada, British Columbia Supreme Court, British Columbia Provincial Courts, and Canadian Immigration and Refugee Board.
Highlights
Team of lawyers regularly appear before the Federal Court of Canada, Supreme Court of British Columbia, Provincial Courts of British Columbia and Immigration and Refugee Board of Canada
Delivers timely and cost-effective solutions
Can represent and defend you concerning any complaints or disciplinary proceedings before the ICCRC
Reviews
Well-experienced, knowledgeable and trustworthy immigration lawyers – hired them when my immigration matter got complex and I was hopeless. They helped me to stay in Canada and get my permanent residency and now I have my family here. Thank you.

Inderpreet
2. Lawgical Law Corporation
Sundeep Singh Grewal is another top-rated immigration lawyer in Abbotsford who has represented clients at both the Supreme and Provincial levels of court.
He has successfully represented his clients in a variety of cases, from contested trials to Chambers petitions. Sundeep has extensive experience working with opposing counsel as well as unrepresented opposing parties and is aware that various immigration legal strategies. As a strong supporter of his clients, Sundeep believes in developing a thorough awareness of their history and issues.
As someone who has had to navigate the immigration system of a foreign country, Sundeep is able to use this experience to humanize the complex immigration system for his clients.
Reviews
I would like to thank Mr. Grewal for all of the help that he gave my family. Mr. Grewal provided assistance above and beyond what other lawyers would provide in similar situations. Mr. Grewal was responsible for reuniting my family after years of separation and for that, we are all very grateful for his help. I would recommend Mr. Grewal to anyone who is looking for an immigration lawyer who is both compassionate and professional.

Anveer
3. Dhanu Dhaliwal Law Group
| | |
| --- | --- |
| BEST KNOWN FOR | Family Class (Including Sponsorship Appeals), Economic Immigration, Humanitarian & Compassionate Applications (H & C) |
| IMM LAWYER | Rob Dhanu |
| WEBSITE | https://ddlaw.ca/ |
| EMAIL | rob@ddlaw.ca |
| TELEPHONE | +1 604-746-3330 |
| LOCATION | 2459 Pauline St, Abbotsford, BC V2S 3S1, Canada |
Dhanu Dhaliwal Law Group is a full-service law firm providing legal advice, assistance and advocacy for thousands of families, business owners and individuals wanting the best immigration lawyers in BC for their complex matters.
Dhanu Dhaliwal Law Group has offices in Abbotsford and Surrey to assist clients all throughout the courts of British Columbia. Whether it is an Immigration issue, a Refugee law case or Citizenship law services, they represent individuals and businesses at every stage of the process including appeals in Federal Court as well.
Highlights
Service area includes Abbotsford, Surrey, Vancouver, North Vancouver, Pemberton, New Westminster, Richmond, Chilliwack, Port Coquitlam, Prince George, Kelowna, Kamloops, Victoria, Nanaimo, Cranbrook, and beyond into Alberta and the Yukon
Provide services in English, Punjabi, Hindi and Urdu
Reviews
Absolutely cannot say enough good things about Sonia. Was a pleasure to deal. Reassuring, knowledgeable and an expert at what she does. Felt like the situation was under control right from the start. She took the time to explain everything and kept me in the loop. Highly recommend Sonia.

Tony
4. RDM Lawyers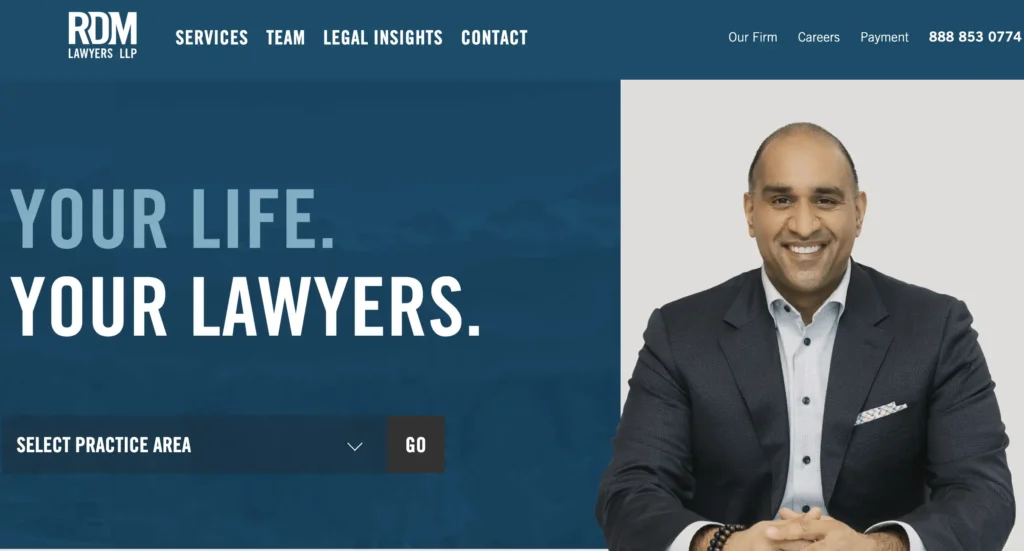 It can be difficult to manage the complicated and constantly-changing immigration processes in Canada, whether you're hoping to live, work, study, or visit family.
When you deal with RDM Lawyers, we'll provide you with professional guidance to get over those obstacles. The best options for achieving your immigration goals will be laid out for you, and you will receive step-by-step guidance as you complete your application. There are numerous ways to immigrate to Canada and gain permanent residency there, but they are dedicated to making the process straightforward.
The major highlight of their business is that they strive to be transparent in their billing. Immigration matters are billed based on the hourly rate of the lawyer(s) involved, which ranges from $200-$275 depending on skill, experience and speciality.
Highlights
Help you navigate those hurdles with expert assistance
Transparent billing, based on the hourly rate of the lawyer(s)
Welcome all inquiries and assist clients who are eligible for Canadian immigration in English, Punjabi or Spanish
Reviews
Jeevan Hundal went above and beyond to help us with a permanent residency application. It was a very stressful process, but Jeevan helped guide us the entire way

I recommend him if you are looking for an immigration lawyer.

Mark
Conclusion
To sum it up, if you're in dire need of reputable immigration law firms in Abbotsford, BC and nearby, you may rely on these 4 Top Immigration Lawyers.
Disclaimer:
The above post is intended for general information only and does NOT constitute legal advice or a solicitation for investment. The information from this website must NOT be taken as personal advice given to the readers. This site or its owners are NOT affiliated, approved or endorsed by IRCC, the Canadian government or any immigration law firm. The official IRCC website is www.cic.gc.ca.