10 Best Immigration Consultants in Vancouver, BC (2023)
Take a glimpse at our top picks for the 10 Best Immigration Consultants in Vancouver, BC offering Canadian immigration-related visa services and guidance with a good record of success.
The City of Vancouver is one of Canada's most well-liked immigration hubs. The bustling city, which is part of the western province of British Columbia is surrounded by stunning natural scenery and experiences some of the hottest weather in the nation.
These certified Canadian immigration consulting firms have been handpicked exclusively based on Business History, Public Reviews, Location, Range of Services, Fees, Paid or Free Consultation, Special Offers, Client Engagement, Awards & Recognition and other rating factors.
But before we dig deeper into the list, let's first have a general idea of how much an immigration consultant will charge you in Vancouver.
Cost of Hiring an Immigration Consultant in Vancouver
Whether you're planning to move to Vancouver from elsewhere in Canada, or are planning to immigrate to Vancouver from abroad, you'll be overwhelmed by the choice of immigration consultants.
The cost of immigration consultant services in Vancouver often varies by programme and hovers between $300 to $5,000. Although the fees are high, almost all immigration experts divide the whole cost into several instalments, making it simpler for you to pay.
The professional fee for various immigration consultancy services are detailed below:
| Application Types | Consultant Fees |
| --- | --- |
| CEC (EE) | $2,500 – $3,000 |
| FSW | $3,500 – $4,500 |
| FST | $3,500 – $4,000 |
| PNP | $4,000 – $6,000 (depends on province) |
| Study Permit | $1,500 – $3,000 |
| Study Permit Extension | $350 – $500 |
| Temporary Resident Visa | $500 – $1,500 |
| Family Sponsorship | $2,000 – $5,000 |
Note: These figures are indicative figures only and do not constitute government charges. You can find information on fees in the application guides.
Vancouver's Top 10 Immigration Consultants
Searching for an immigration consultant near me?
Here's the list of ten top-rated immigration counsellors that you could find in Vancouver, BC, Canada:
| S. No. | Immigration Consulting Firms | Ratings |
| --- | --- | --- |
| 1 | CICS Immigration Consulting Inc | 4.7/5 |
| 2 | One Immigration Consulting | 4.8/5 |
| 3 | Chitra & Associates Immigration Consultants Inc. | 4.5/5 |
| 4 | Megrez Consultants | 4.2/5 |
| 5 | North Horizon Immigration | 4.6/5 |
| 6 | LSF Immigration Consultants | 4.4/5 |
| 7 | My Visa Partner | 4.1/5 |
| 8 | CWR Immigration Consulting Ltd. | 4.0/5 |
| 9 | ImmigrateNow | 4.3/5 |
| 10 | e-Visa Immigration Consulting Services | 4.5/5 |
10 Best Vancouver Immigration Consultants Near Me
1. CICS Immigration Consulting Inc
| | |
| --- | --- |
| BEST KNOWN FOR | Immigration Consultation, Representation, Application Review, Post Immigration Settlement |
| IMM CONSULTANT | Alex Khadempour |
| WEBSITE | https://www.cicsimmigration.com/ |
| EMAIL | info@cicsimmigration.com |
| TELEPHONE | +1 888-502-9525 |
| LOCATION | 997 Seymour St Unit 250, Vancouver, BC V6B 3M1, Canada |
CICS Immigration Consulting Inc., renowned immigration and consulting business situated in Vancouver, Canada, is headed by Dr. Mo H. Khadempour and Alex Khadempour.
With nearly two decades of experience and specialised visa and relocation services, they can complete your application quickly and precisely. In addition, they adhere to a meticulous procedure to guarantee that nothing is missed, that evidence is needed up front, and that applications may be completed quickly.
Large multinational organisations and average persons who wish to relocate to Canada temporarily or permanently or who want to stay there are both among their clients as a Canadian immigration consultancy service.
Highlights
Over two decades of immigration consulting experience
Listen to your individual needs and develop tailored migration solutions
Provides FREE immigration assessment
Consultation Reviews
I want to thank you Alex and Marjan (CICS) for doing such a wonderful job in getting our family visas for Canada. They are a fantastic team and the best part is that they do not leave any stone unturned in getting deep into every aspect of the application and the required documents. They carry very good experience and have lots of insights into Canada's immigration processes. I feel pleasure to recommend their name to anyone who is seeking assistance with a Canadian visa and immigration.

Naresh
CHECK THIS OUT – VANCOUVER'S 10 BEST IMMIGRATION LAW FIRMS
ALSO READ – SURREY'S 10 BEST IMMIGRATION CONSULTING FIRMS
2. One Immigration Consulting
One Immigration is able to closely monitor how immigrants from all over the world are finding professions in the dynamic Canadian job market thanks to its office's convenient downtown Vancouver, British Columbia location.
The best thing about One Immigration Consulting is that their Immigration consultants are themselves immigrants, so they are familiar with the procedure both personally and professionally. Whether you want to study, work or live in Canada, they will analyze your candidacy and goals to find the best pathway for you.
And for those who already have their documents ready to start the Candian immigration process, they offer a file review service as well!
Highlights
Offer assistance to all qualified individuals from all around the world
Helped 25,000+ people to successfully immigrate to Canada
Provides Full Representation Service to handle the entire visa process
Consultation Reviews
I applied for PR in Canada under a temporary TR-to-PR pathway, which is to say, I had a tight time constraint to apply. I decided to contact OneImmigration after a group of friends recommended their services. My experience with the Company can only be described as perfect. This is a 100% serious Company. Olga and her team are very helpful, understanding, quality-oriented. They guided me through my whole PR application process and tracking, from document review, form filling and submission to the decision from IRCC with no issues at all, in addition to making me feel sure it was being handled the best way possible. I'm thankful I chose their services. 100% will recommend to anyone looking for PR consulting.

Gustavo
CHECK THIS OUT – KELOWNA'S 5 BEST IMMIGRATION CONSULTING FIRMS
3. Chitra & Associates Immigration Consultants Inc.
The BC Provincial Nominee Program (BC PNP) provides high-demand foreign workers and experienced entrepreneurs the opportunity to settle in the beautiful province of #britishcolumbia and gain permanent residency in #Canada.

Contact Chitra & Associates today to learn more! pic.twitter.com/goGn9bgXk7

— Chitra & Associates Immigration Consultants Inc. (@CanadaXperts) October 25, 2021
Having trouble understanding all the requirements for immigration? For information on where you fit in, contact Chitra & Associates.
Chitra & Associates Immigration Consultants Inc. is a Canadian immigration consulting company with its main office in Vancouver, British Columbia. They provide one of the best immigration counselling and representation services in the region.
Their skilled Regulated Canadian Immigration Consultants are entirely committed to boosting your chances of success by giving you advice on the evidence you need to collect to produce a strong file with facts and evidence. The team can also use their years of experience and assist you in planning and strategizing your case.
Highlights
Serving clients in 30+ countries including the USA, India, UAE, Australia, and the UK
Provides FREE initial consultation
Flat Fee, with no hidden charges or hourly billing
Consultation Reviews
I needed this consultancy firm because I was extremely busy with work and I knew that I needed help following through with the process. I needed someone who understood the process and would guide me through it. Chitra was absolutely amazing every step of the way. She was extremely thorough, professional, and made sure that every possible detail was attended to. I'm happy to say that my application was finally approved and I will be making my way to Canada in August. Without a doubt, I highly recommend Chitra and Associates.

Remiska
4. Megrez Consultants
 If you are looking to immigrate to Canada, Megrez Vancouver Immigration Consultants would be happy to guide you through the process from start to finish.
Mr. Jose Godoy Toku is the Founder and Senior Immigration Consultant for Megrez Consultants. He is best known for his immigration services to corporations, businesses and prospective new immigrants.
Furthermore, his practice also involves filing a broad range of Business class applications, Provincial Nominee Program applications, Humanitarian and Compassionate applications and Temporary Resident Permit applications.
Highlights
Has been working in the Immigration field for over sixteen years
Provides FREE initial Consultation
Obtained national attention while representing the Cedeno brothers along with Rasik Shah in a successful refugee claim process
Consultation Reviews
Excellent service and attention, the reception staff is very helpful and friendly . Since I started the process with they have given me all the possible suggestions and recommendations for the process to be successful.

Yash Preet
5. North Horizon Immigration
North Horizon Immigration Consulting specializes in Canadian immigration for Business owners, Entrepreneurs, Professionals and Students. They offer a boutique immigration service that'll provide you with a personal strategy to immigrate to Canada.
RITA BENKHALTI ​is a Regulated Canadian Immigration Consultant Member #R512761 with several years of experience working in different countries with people from all over the world.
She devotes her professional career, voluntary work, and personal time to helping immigrants who want to make a positive impact on the economy and culture of Canada.
Highlights
Individualised and trustworthy counsel, support, and assistance throughout the entire process
Provide services in Spanish, Arabic, French and English
Offer a subscription-based Newsletter to give all latest immigration news and updates
Consultation Reviews
Rita and her team were amazing in helping us with our Canadian PR application. We started the process while we were still outside Canada. Rita guided us through our video chats and email correspondence to prep for the PR application. She was very responsive and supportive throughout the whole process. We received our invitation to apply before we even stepped into the country and got our PR approved within 3 months of submitting the application, which was surprisingly fast. I highly recommend Rita and the team at North Horizon.

Sucheta
6. LSF Immigration Consultants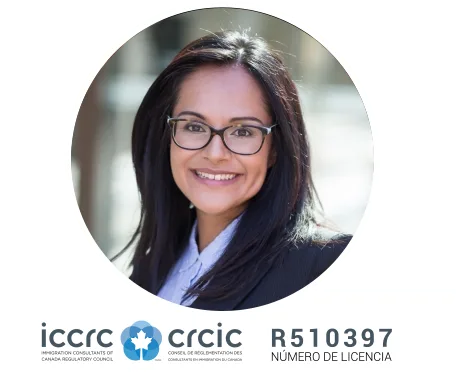 | | |
| --- | --- |
| BEST KNOWN FOR | Temporary, Economic, and Family Immigration Consultation |
| IMM CONSULTANT | Linda Salas |
| WEBSITE | https://canadaimmigrate.ca/ |
| EMAIL | lindas@canadaimmigrate.ca |
| TELEPHONE | +1 778-928-9090 |
| LOCATION | 885 W Georgia St 14th floor, Vancouver, BC V6C 2G2, Canada |
Be sure to check in at LSF Immigration Consultants in Vancouver to experience hassle-free immigration support that's second to none!
Linda Salas supervises the temporary, economic, and family immigration programs to enter Canada, in both private and corporate areas.
If you wish to get personal immigration advice depending on your profile, know more about the Canadian permanent immigration programs, or request a temporary residency to live in one of the best cities in the world, don't hesitate to contact her.
Highlights
More than a decade of experience solving immigration cases
Has helped thousands of immigrants from around the globe
Adjustable payment plans to offer prices within reach of your budget 
Consultation Reviews
We had a meeting with Linda Salas. To be honest, firstly, she took the time to understand the case and my personality to talk to me in a way I was comfortable with. I don't like going into circles to get to a point, I prefer a straight up conversation no matter how good or bad the topic, and she understood that and made the conversation flawless. We've had great results and with Covid it's all online! They have a great process in place to communicate and pay for their services. I can trust they do what's within the law and guide me to understand my options and duties with each, and I appreciate that.

Angie Torres
7. My Visa Partner
My Visa Partner is a Canadian Immigration Consulting firm that provides top-quality legal and support services in the wonderful city of Vancouver, Canada.
If you choose to have them represent you in your immigration journey, be rest assured you're in safe hands. They are fully committed to their clients, and treat any application as their own.
So, start by speaking directly with their consultant, or taking their online assessment.
Highlights
Has a vast array of experience in Canadian visas and permits, as well as economic and family class immigration
Large existing client base from around the world
Provides expert counsel and representation for all matters before Immigration, Refugees and Citizenship Canada (IRCC), Canada Border Services Agency (CBSA), and the Immigration and Refugee Board (IRB)
Consultation Reviews
We had a great conversation with Gabriel about our US/Canadian Immigration questions. He was super personable, helpful and thoughtful about our options. We felt like we received all the information we needed to craft a plan for my immigration status. Thank you so much and would definitely recommend.

Ann
8. CWR Immigration Consulting Ltd.
| | |
| --- | --- |
| BEST KNOWN FOR | Business Immigration, Economic Immigration, Study/Work Visa, Sponsorship, Refusals & Appeals |
| IMM CONSULTANT | Denis Korobov |
| WEBSITE | https://www.cwrvisa.ca/ |
| EMAIL | info@cwrvisa.ca |
| TELEPHONE | +1 604-564-9994 |
| LOCATION | 890 W Pender St Unit 600, Vancouver, BC V6C 1J9, Canada |
CWR Immigration Consulting is on a mission to assist people in realising their ambition of settling in Vancouver, Canada's stunning and developed neighbourhood. They are proud of our in-depth understanding of Canadian immigration law and the entire immigration process. They address each client individually and offer the highest calibre service with honesty and passion.
Denis Korobov is a Regulated Canadian Immigration Consultant (RCIC), a member of the College of Immigration and Citizenship Consultants with 10+ years of experience in the field of Canadian immigration.
Highlights
30+ years of combined legal experience
Experts of Canadian Immigration Law, Members of the College of Immigration and Citizenship Consultants
Undertake Refusals & Appeals to represent clients before the Immigration and Refugee Board (IRB)
Consultation Reviews
I recently worked with CWR Immigration Consulting to get immigrant visa for my mother. I appreciated professionalism of the company's friendly and supportive stuff. From filling out the forms, to communication with the immigration authorities and providing clear instructions to me as my mother's sponsor Denis and his team made the whole process easy and effortless.

I highly recommend CWR Immigration Consulting Ltd to anyone looking for worry free immigration experience and personable approach. They really care!

Yana
9. ImmigrateNow
With unparalleled support, backed by years of expertise; ImmigrateNow has one of the best teams of consultants in Vancouver, BC. Together, they will walk you through the Canadian immigration process with utmost clarity, transparency and legal know-how.
Karan Singh is the CEO of ImmigrateNow. He is fully authorized and is able to represent his clients with IRCC as well as Immigration Courts/Tribunals such as the Immigration Appeal Division. Besides this, he is a Commissioner of Taking Affidavits in BC and is also a licensed TFW Recruiter as per Provincial Law.
Looking for a seasoned consultant? This is it!
Highlights
Highly competent and experienced immigration counsel
Patient and precise with clients
Provide consultations in English, Punjabi, Russian, Hindi and Spanish
Consultation Reviews
Karan and his team are very knowledgeable and supportive of all immigration-related matters. They listened to all my concerns and responded with the best possible option for my permanent residency application. They promptly answered all my emails/calls. They always put me at ease and reassured me when I had any doubts regarding the process. Both Karan and Tatyana were amazing to work with. I highly recommend using their service for any immigration-related needs.

Zainab
10. e-Visa Immigration Consulting Services
Last but not least, for everybody who envisions a better life in Canada, the e-Visa Immigration Consulting Services is the go-to place.
They have developed a one-stop shop that not only provides you with a method to enter Canada but also successfully guides you through the procedure.
Since 2014, they have assisted thousands of individuals from more than 50 nations with their Canadian immigration processes, assisting them from the beginning stages of planning up to the acquisition of Canadian citizenship.
Highlights
Offices in Toronto, Vancouver, Sao Paulo & Tehran
Provide service in 4 languages (English, Portuguese, Spanish and Farsi)
More than 10,000 successful immigration cases
95% approval rate for visa applications
Consultation Reviews
Once again I come here to thank all the support I had from the e-Visa team. I did all my processes with them, Visa, Education, Visa Extension, and PR. After 2 years and 6 months, we achieved our dream of becoming permanent residents. I thank everyone but especially Nicolle and Renata who took great care of everything, you are the best. And to you Marilene, for orchestrating so well and for everything you did for me and my family.

Jenise
FAQs on Immigration Consultation Near Me
Can I immigrate to Vancouver?
There are various ways to immigrate to Canada by obtaining different visas for individuals intending to settle in Vancouver. For example, you can live and work in Canada with a work visa or a skilled residency visa. International students can move to Vancouver to study with the help of a student visa. For entrepreneurs and investors, business immigration is another great option.
What type of services do Vancouver immigration consultants offer?
Foreign nationals wishing to apply for a Canadian immigration visa might benefit greatly from consultant's advice and representation services such as:

1. Free evaluation of your immigration eligibility
2. Streamline the application procedure
3. Address your issues and offer remedies
4. Provide you with tools and resources
5. Assist you with any doubts related to immigration
6. Assist you with the settling procedure in Vancouver
Why should I retain the services of a representative after consultation?
It can be difficult and frustrating to try to understand and gather the enormous quantity of data and information that is required of you. Additionally, it might be challenging to keep up with the changes as new rules and regulations are continually being introduced in Canadian immigration.

The Vancouver immigration advisers that we've listed above will relieve you of all the uncertainty, annoyance, and needless additional effort. So if you feel like having peace of mind while taking a backseat, you may retain the services of a representative.
Final Thoughts on Vancouver Immigration Consultant
With approximately 42% of its population made up of first-generation immigrants, Vancouver is one of Canada's most attractive cities for immigrants. More and more foreigners are able to relocate to Vancouver thanks to rising immigration goals.
So if you're looking for a reputable immigration consultancy in Vancouver and nearby, look no further than these 10 Top Immigration Consultants.
Always make sure to verify that your immigration consultant is authorized—they are licensed and "active"—by using the public search register.
Disclaimer:
The above post is intended for general information only and does NOT constitute legal advice or a solicitation for investment. The information from this website must NOT be taken as personal advice given to the readers. This site or its owners are NOT affiliated, approved or endorsed by IRCC, the Canadian government or any immigration law firm. The official IRCC website is www.cic.gc.ca.