5 Best Immigration Lawyers in Windsor, ON (2023)
Windsor, Ontario, is a thriving city known for its diverse population and welcoming attitude towards immigrants worldwide. For those seeking assistance with immigration matters in Windsor, it's crucial to have access to expert legal guidance.
In this article, we'll introduce you to the top five immigration lawyers in Windsor, ON, who have established themselves as trusted and accomplished professionals in the field. These legal experts bring their extensive knowledge, experience, and dedication to helping individuals navigate the complexities of Canadian immigration law, ensuring that clients can pursue their dreams of living and working in this vibrant and culturally rich city.
Whether you're applying for a visa, seeking asylum, or facing deportation proceedings, these immigration lawyers in Windsor are well-equipped to provide you with the best possible legal representation and support.
RELATED:
Windsor's Top 5 Immigration Lawyers
Here are the five immigration attorneys we've determined to be the best ones near you in Windsor, Ontario, Canada:
Kadri Law (4.8/5)
Sisu Legal (4.2/5)
Fernandes Law Offices P.C. (4.0/5)
Scarfone Law Firm (4.4/5)
Elsayed Law (4.1/5)
1. Kadri Law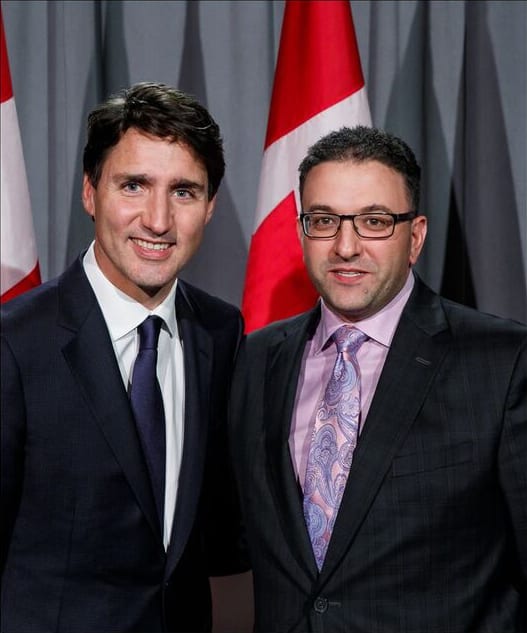 | | |
| --- | --- |
| BEST KNOWN FOR | Business Immigration, Personal Immigration |
| IMMIGRATION LAWYER | Eddie H. Kadri |
| WEBSITE | https://kadrilaw.com/ |
| EMAIL | info@kadrilaw.com |
| TELEPHONE | +1 519-258-8188 |
| LOCATION | 110 Tecumseh Rd E #200, Windsor, ON N8X 2P8, Canada |
Eddie H. Kadri is a brilliant immigration lawyer in Windsor with 16+ years of legal experience in the Province of Ontario. He is committed to offering customers the best legal services while achieving outstanding results. He is certified by the Law Society of Ontario as a specialist in Citizenship and Immigration Law.
Another highlight is that Eddie Kadri has worked with clients from more than 60 nations for over 20 years. He has acted as a representative for several of the top institutions and international corporations operating in North America. So, he is aware of the interconnectedness of the global economy and the necessity for businesses worldwide to use talent that transcends national boundaries.
Genuine choices for Canadian Permanent Residency and worldwide labour mobility are provided by Eddie Kadri and his team of experts at Kadri Law to prospective immigrants from all around the world.
Highlights
Has been practicing law in the Province of Ontario for over 16 years
Successfully represented clients on 10,000+ immigration applications
Also represented the worlds leading multinational companies and institutions
Reviews
"I am thankful to the entire team at Kadri Law for helping me and my husband in our immigration process. It has been a great experience working with Eddie and Rolla, they have excellent knowledge and have an extremely helpful attitude towards their clients.
Rolla was so helpful throughout the whole process and kept me updated with every single detail until everything was taken care of. Even though she was so busy she will call back, and any time I needed her she was available to help quickly and showed a high level of professionalism. I highly recommend Kadri Law for their immigration assistance." – Lin
2. Sisu Legal
Just like their name resembles determination and courage; Sisu Legal practices immigration law with resilience. It is a global immigration law business with locations in Michigan and Ontario. Although it also serves clients worldwide, the firm primarily serves clients in Essex County and Metro Detroit. Helping Canadian and American citizens reunite with family members who live abroad is a significant part of the firm's activity, for instance through family sponsorship applications or marriage petitions.
Additionally, Sisu Legal provides immigration assistance to people and families wishing to enter Canada or the United States under economic immigration schemes like employment and student visas. Apart from this, Value pricing provides you with added certainty and allows you to focus on your goals and achieve results. Contact them to learn more about their fixed-price packages.
If your goal is to visit, work, study, or live in Canada, Sisu Legal has you perfectly covered!
Highlights
Two offices in Windsor, Ontario and Troy, Michigan
Flat-fee legal services are offered wherever possible
Provides legal services in English, Spanish and Portuguese
Reviews
"My partner and I could not have been happier with the service we received at Sisu Legal. When we had first looked into the process of having my partner immigrate to Canada, it was completely overwhelming. The legal services at Sisu Legal are worth every penny for the peace of mind you will receive throughout the entire process. Emilia organizes everything so well and creates lists where we can keep track of our progress. She was always an email or a call away any time we had questions. Emilia is very thorough and double, even triple checks all the documentation to make sure there are no errors before submitting. I would definitely recommend Sisu Legal to anyone who is looking for support in their immigration process." – Erika
3. Fernandes Law Offices P.C.
| | |
| --- | --- |
| BEST KNOWN FOR | Immigration Law, Family Law, Criminal Law |
| IMMIGRATION LAWYER | Maria Fernandes |
| WEBSITE | https://fernandeslaw.ca/immigration-law/ |
| EMAIL | maria@fernandeslaw.com |
| TELEPHONE | +1 519-977-8414 |
| LOCATION | 111 Riverside Dr E, Windsor, ON N9A 2S6, Canada |
Looking for a seasoned immigration lawyer in Windsor? Let Fernandes Law Offices help you. These specialists have been helping people immigrate to Canada for over a decade now. Their legal team can help with matters related to Express Entry, Federal Skilled Worker, Canadian Experience Class, Federal Skilled Trades, Provincial Nominee Program (PNP), Spousal, Common-Law and Conjugal Partner Sponsorship, Inadmissibility hearings, Judicial Reviews etc.
Maria is knowledgeable in both immigration law and family law. She has the expertise to effectively defend the interests of her clients thanks to her years of experience in both the Ontario Court of Justice and the Superior Court of Justice, as well as the Ontario Court of Appeal.
She can sort through even the most complicated set of problems and decide the best line of action within the first 20 minutes.
Highlights
More than 10 years of immigration law experience
Offer FREE 20-minute consultation
Specialises in the most complex set of immigration cases
Reviews
"I retained Fernandes for immigration matters, and she was genuinely friendly and committed. However, Fernandes did not promise miracles, but she handled my case professionally and got the best results. I highly recommend Fernandes Law Services for any immigration matter. So, thanks to Fernandes and her team for the excellent work." – Yahya
4. Scarfone Law Firm
| | |
| --- | --- |
| BEST KNOWN FOR | Family and Business Immigration |
| IMMIGRATION LAWYER | JAMES A. SCARFONE, ESQ. |
| WEBSITE | https://www.scarfonelaw.com/ |
| EMAIL | jamesscarfone@on.aibn.com |
| TELEPHONE | +1 519-252-1453 |
| LOCATION | 1500 Ouellette Ave #400, Windsor, ON N8X 1K7, Canada |
Scarfone Law Firm is composed of top-rated immigration lawyers and specialists. It offers Windsor clients efficient, high-quality legal services in the areas of citizenship law, US immigration law, and Canadian immigration law.
James has over 20 years of experience in immigration law and is qualified to represent both business and individual clients who wish to immigrate, work, or visit Canada or the United States and to offer good legal counsel. With such an attorney dedicated to achieving success, you can receive the direction and wise legal counsel you need.
The major highlight of this law firm is that it is situated close to immigration processing ports and the international border between Canada and the United States in the centre of Windsor, Ontario. Because of this, they can quickly decide on visa petitions for both their business and private clients. They provide businesses and individuals with advice on all facets of Canadian and American immigration laws and procedures.
Highlights
Has over 20 years of experience in Immigration Law
Member in good standing with the American Immigration Lawyers Association (

AILA

)
Also handle cases pertaining to Canadian citizenship
Reviews
Both Mr. Scarfone and Tracey provided exceptional assistance to my spouse and me regarding our immigration concerns. They were both incredibly informed, trustworthy, and prompt in their responses to questions and updates. My spouse and I were able to understand the Sponsorship procedure more readily thanks to Mr. Scarfone, who also helped to dispel any confusion that could arise from reading the IRCC's internet material.
I heartily endorse him, particularly to couples and spouses in Detroit-Windsor who wish to finish the immigration procedure. Tracey was incredibly thorough, responsive, and knowledgeable about the necessary paperwork and the application process. She was really helpful in getting our application ready to submit. She constantly ensured we knew about the application." – Rocky
5. Elsayed Law
Elsayed Law is a renowned name in Windsor that provides legal services to Essex County and the surrounding areas in the areas of immigration and real estate. The lawyer, Hagar Elsayed is the backbone of the firm. She has represented individuals through a wide variety of immigration issues and is passionate about policymaking.
Due to our size, Elsayed Law is more approachable to our clients. So, you can be confident that a lawyer will represent you throughout the entire transaction. Before meeting or speaking with a lawyer, there are no protracted wait times. Hagar is fluent in both English and Arabic, and she gives every file her full attention.
Highlights
High-quality legal representation
Free consultations are available
No long wait times before meeting or speaking with a lawyer
Reviews
"Very professional lawyer. She gives enough time for each case. She prepares the documents very well. Thank you Hagar Elsayed for all your effort. I totally recommend her for all immigration matters." – Iffat Farhat
FAQ on Windsor Immigration Lawyers
1. What qualities should I look for in the best immigration lawyers in Windsor, Ontario?
Choosing the right immigration lawyer is important. Look for someone with lots of experience, a good record of helping people, and who can explain things well. It's also helpful if they know about the specific immigration challenges in the province of Ontario.
2. How can an immigration law firm in Windsor help with my application?
A good immigration law firm in Windsor will help you fill out all the paperwork correctly and make sure you have all the right documents. They know a lot about the local rules, so we believe they can help you avoid problems and make the whole process easier.
3. What's special about immigration lawyers?
Windsor's immigration lawyers know a lot about the unique challenges here. Whether it's dealing with things across the border or understanding local rules, they know how to navigate the complex ecosystem.
4. How do I know if I need a legal specialist in Windsor for my immigration procedure?
Well, Not every case needs a lawyer! But if your situation is complicated or if you had problems before, we think it might be a good idea. A talk with a Windsor immigration lawyer can help you figure out what's best for your situation.
Our Final Thoughts
In conclusion, the five immigration lawyers in Windsor, ON, featured in this article are a testament to the city's commitment to inclusivity and support for individuals seeking a better life in Canada. Their dedication to their clients, deep understanding of immigration laws, and successful track records in resolving complex immigration issues make them the top choices for anyone in need of legal assistance in Ontario.
These professionals are here to help you navigate the complexities of the immigration process, whether you are considering immigration, a refugee, or about to be deported. They will give you the best chance of fulfilling your dreams in this vibrant and diverse city.
---
Are you one of the lawyers we've been talking about? Congrats on being featured. Feel free to download and proudly showcase this badge on your website, demonstrating your esteemed recognition as one of the top immigration lawyers in Windsor, Ontario.
Want your immigration firm to stand out and attract more clients in today's competitive market? Give your business the spotlight it deserves with our exclusive Featured Listings.

For less than $7 a day, you can secure a prime spot at the top of our organic listings for a month, ensuring that your firm is the first thing potential clients see when searching for immigration services in Windsor. This premium placement will increase your visibility and credibility, driving more traffic to your firm's website and ultimately leading to increased client inquiries.

Reserve your Featured Spot today by sending us an email, and make a lasting impression in the minds of those seeking expert immigration assistance!