5 Best Immigration Lawyers in Scarborough, ON (2023)
Take a glimpse at our top picks for the 5 best immigration lawyers in Scarborough, ON who provide a novel strategy for immigration legislation that encourages cooperation and openness.
These Ontario immigration law firms have been handpicked exclusively based on Business History, Public Reviews, Location, Range of Services, Fees, Paid or Free Consultations, Special Offers, Client Engagement, Awards & Recognition and other rating factors.
RELATED: Top 5 Immigration Consultants in Scarborough, ON
Scarborough's Top 5 Immigration Lawyers
Here are the five immigration attorneys we've determined to be the best ones near you in Scarborough, Ontario, Canada:
Law Office of Zeeshan Ullah (4.7/5)
SP Law Office (4.5/5)
Accord Law (4.8/5)
LeadRight Law (4.9/5)
Nihang Law (4.6/5)
1. Law Office of Zeeshan Ullah
The Law Office of Zeeshan Ullah is there to assist if you require the services of an immigration lawyer in Scarborough. The staff has received extensive training in immigration law and understands the ins and outs of the procedure. Moreover, they have access to a huge number of resources as they research the case law to get ready for your case.
Zeeshan has extensive experience in all facets of immigration law as a lawyer for immigrants in Toronto, and you can rely on him to handle your case with the utmost skill and knowledge. Plus, he has handled cases before the Ontario Superior Court of Justice and Ontario Court of Justice. 
When you retain the Law Office of Zeeshan Ullah to represent you in your immigration matter, you will have chosen professionals who will take care of your best interests at all times. Their skill and expertise will ensure that you are applying for the category that best represents your needs.
Business Hours
Monday

9:00 AM – 6:00 PM

Tuesday

9:00 AM – 6:00 PM

Wednesday

9:00 AM – 6:00 PM

Thursday

9:00 AM – 6:00 PM

Friday

9:00 AM – 6:00 PM

Saturday

Closed

Sunday

Closed
Things We Like
Highly acclaimed in the practice of immigration law
Have the knowledge and skills to fight for your legal right to remain in Canada
Represented clients in a wide range of legal matters
Local Reviews
"The best lawyer I have dealt with. He did my permanent residency application and I got an approval in just 5 months. I have never met him. And, I don't know how he looks like but all was done over the phone and email. In the end everything came out so perfect. Zeeshan Ullah is the best lawyer in town." – Muwanika Samuel
2. SP Law Office
The next on the list of best immigration law firms in Scarborough is SP Law Office. They provide legal services mainly in Immigration and Criminal defense. Their legal experts have successfully assisted thousands of people with their citizenship and immigration requirements over the years.
Saidaltaf Patel has successfully assisted numerous families in Scarborough and the Greater Toronto Area as a licensed immigration specialist recognised by the Law Society of Ontario. Saidaltaf's objective is to continually stay on top of the evolving trends in immigration in order to offer you the finest option.
The Canadian Bar Association, the Refugee Lawyers Association, the Canadian Immigration Lawyers Association, and the Criminal Lawyers Association are all organisations that Saidaltaf currently belongs to.
Furthermore, with immigration stakeholders, SP Law Office has a long history of being highly regarded. In fact, they are one of the few remaining law offices that specialise in citizenship and immigration to Canada. They serve international customers and have made a significant difference in people's lives by reunifying them with their families.
Business Hours
Monday

10:00 AM – 6:00 PM

Tuesday

10:00 AM – 6:00 PM

Wednesday

10:00 AM – 6:00 PM

Thursday

10:00 AM – 6:00 PM

Friday

10:00 AM – 6:00 PM

Saturday

Closed

Sunday

Closed
Things We Like
Successfully helped thousands of people with their immigration and citizenship requirements
Serving clients across Scarborough, North York, Toronto, Pickering, Richmond Hill, Markham, Ajax, Whitby, Oshawa, and the surrounding areas
Represent clients from all over the world
Local Reviews
"SP Law office helped me getting my immigration process. They explained me about the whole process with timeline. Staff is so helpful and ready to work out all possible ways specially mr. Mudadsar. Mr.Altaf Patel is very kind and soft spoken. His broad knowledge about immigration laws made the whole thing easy for me. Thank you sir. I will strongly recommend SP Law office to my friends and relatives." – Bakar Ali
RELATED:
3. Accord Law
With genuine collaboration and open communication between the client and the legal team, Accord Law Professional Corporation takes a distinctive approach to providing legal immigration services. At Accord Law, they make sure that clients are actively involved in and informed about the legal process as well as that the best possible legal outcomes are obtained without having to pay exorbitant legal fees or unintentional charges.
Angat Saini is a seasoned lawyer in Scarborough, with in-depth expertise in the areas of real estate, wills and powers of attorney, immigration, and business law. He is best known for offering immigration legal services to a variety of clientele, ranging from individual applicants to big multinational organisations, having worked at a prominent Bay Street company in downtown Toronto.
For more than 14 years, this Scarborough immigration law team at Accord Law has offered reliable legal counsel on citizenship and business disputes. If you or a member of your family requires corporate, business, or immigration services, they provide specialised solutions to facilitate the procedure quickly.
Business Hours
Monday

9:00 AM – 6:00 PM

Tuesday

9:00 AM – 6:00 PM

Wednesday

9:00 AM – 6:00 PM

Thursday

9:00 AM – 6:00 PM

Friday

9:00 AM – 6:00 PM

Saturday

Closed

Sunday

Closed
Things We Like
Dedicated to providing personalized and professional legal services in a timely and seamless manner 
No excessive legal fees or hidden costs
Services offered in English, Hindi, Punjabi, Polish, Telugu, Urdu
Local Reviews
"I was recommended to Angat by one of my relative and he did not disappoint. Very knowledgeable and thorough, easy to talk to and reasonable pricing. He's really accommodating and will schedule my meeting around my work hours." – Jenny
4. LeadRight Law
LeadRight Law is yet another top-rated full-service law firm in Scarborough providing clients with affordable legal services. With a flexible fee structure that includes flat fees and limited scope retainers, they provide comprehensive legal services in a variety of practice areas. All of their clients receive work of the highest calibre from their team. In addition to English, they also provide services in multiple languages. So, communication can no longer be a barrier!
Sreejith is an internationally acclaimed lawyer with over a decade of experience within the legal industry. He has devoted a large portion of his practise to issues including criminal law, family law, immigration law, real estate, and wills & estates. Sreejith works closely with each client to understand their immigration needs as the firm's Principal Lawyer.
His strategy is centred on establishing enduring business connections with clients and giving them the best possible work.
Business Hours
Monday

10:00 AM – 6:00 PM

Tuesday

10:00 AM – 6:00 PM

Wednesday

10:00 AM – 6:00 PM

Thursday

10:00 AM – 6:00 PM

Friday

10:00 AM – 6:00 PM

Saturday

Closed

Sunday

Closed
Things We Like
Offer flexible fee structure including flat fees and limited scope retainers
Provide services in English, Hindi, Urdu, Tamil, Telugu, Kannada, and Malayalam
Local Reviews
"Excellent legal advice and always very approachable, Srejith is a thorough professional with immense knowledge of immigration law. I surely recommend his service to those who need any assistance." – Abdul
5. Nihang Law
Last but not least, Nihang is also among the best immigration lawyers in Scarborough. They provide personalized immigration services in all areas of Canadian Immigration law.
Canadian immigration laws are complex and constantly updated. They walk you through the crucial legal requirements needed to meet Canadian government standards. Qasim Ali as a seasoned immigration specialist provides the hassle-free path to entering Canada and establishing a life there.
Need a free evaluation of your profile? Complete the questionnaires to receive a free assessment of your qualifications for temporary or permanent immigration to Canada.
Business Hours
Monday

9:00 AM – 5:00 PM

Tuesday

9:00 AM – 5:00 PM

Wednesday

9:00 AM – 5:00 PM

Thursday

9:00 AM – 5:00 PM

Friday

9:00 AM – 5:00 PM

Saturday

Closed

Sunday

Closed
Things We Like
One-stop shop for all your legal needs
Offer services in English, Urdu, Hindi, Pashto, Punjabi and Korean
Provide FREE immigration assessment
Local Reviews
"I am an immigrant entrepreneur. They helped me with my application. The immigration team is very friendly and skilled. Highly recommend their service." – Asif
Our Final Thoughts
Now you've seen that Scarborough is a hub of some amazing immigration law firms in Canada. So, if you're looking for the one that may best address your needs, approach one of these 5 Immigration Lawyers.
---
Are you one of the lawyers we've been talking about? Congrats on being featured. Feel free to download and proudly showcase this badge on your website, demonstrating your esteemed recognition as one of the top immigration lawyers in Scarborough, Ontario.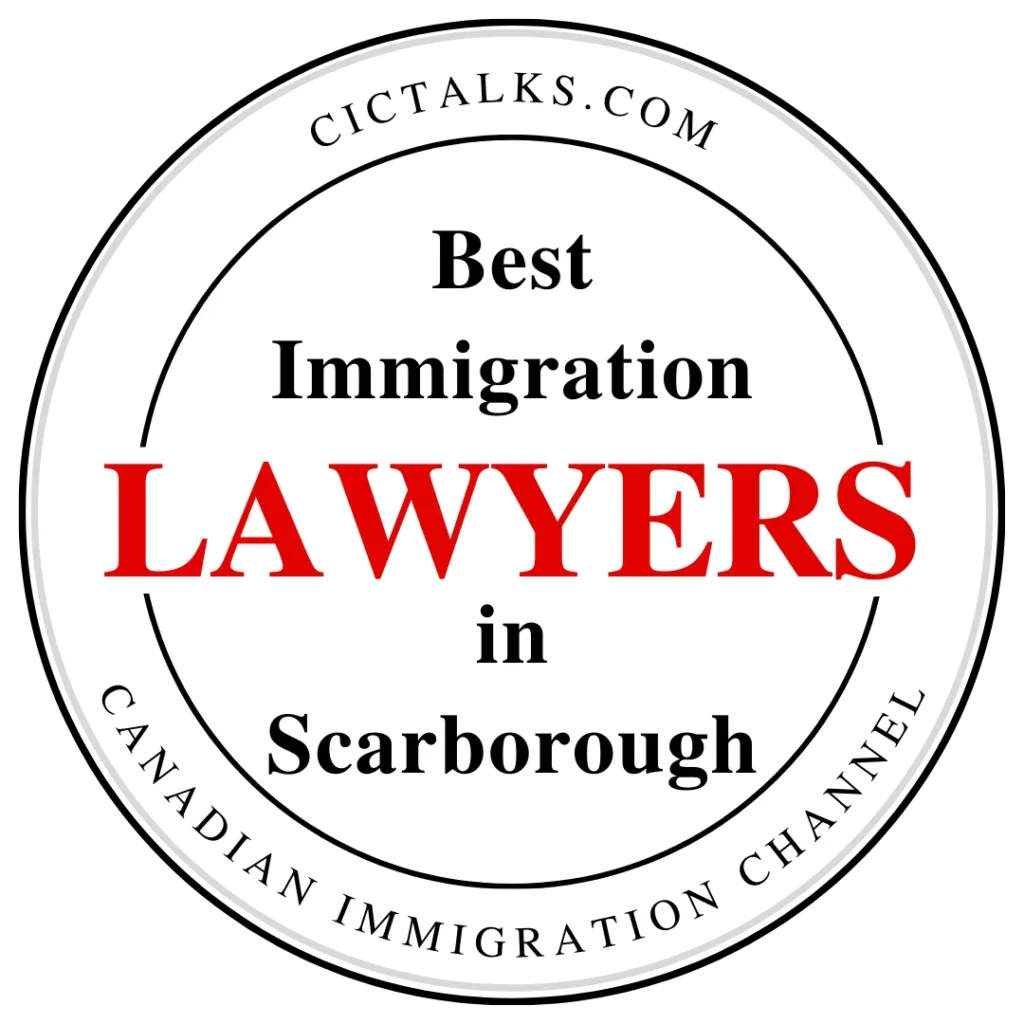 Want your immigration firm to stand out and attract more clients in today's competitive market? Give your business the spotlight it deserves with our exclusive Featured Listings.

For less than $7 a day, you can secure a prime spot at the top of our organic listings for a month, ensuring that your firm is the first thing potential clients see when searching for immigration services in Scarborough. This premium placement will increase your visibility and credibility, driving more traffic to your firm's website and ultimately leading to increased client inquiries.

Reserve your Featured Spot today by sending us an email, and make a lasting impression in the minds of those seeking expert immigration assistance!