5 Best Immigration Lawyers in Regina, SK (2023)
Take a glimpse at our top picks for the 5 best immigration lawyers in Regina, SK who have the skills and expertise to deal with all kinds of Canadian immigration needs.
These immigration law firms have been handpicked exclusively based on Business History, Public Reviews, Location, Range of Services, Fees, Special Offers, Client Engagement, Awards & Recognition and other rating factors.
RELATED: The 5 Best Immigration Consultants in Regina, SK
Regina's Top 5 Immigration Lawyers
Here are the five top-rated immigration attorneys we've determined to be the best ones near you in Regina, SK, Canada:
Uppal Pandher LLP (4.1/5)
Matt M. Sirois (4.6/5)
A.R.E. Law (4.3/5)
Capstone Law Office (4.2/5)
MLT Aikins LLP (3.9/5)
1. Uppal Pandher LLP
Uppal Pandher is a top-rated immigration law firm based in Regina in the province of Saskatchewan. The business has outstanding professional competence to satisfy customers' needs. Their immigration attorneys are committed to offering clients prompt, effective legal answers.
Every case is given great treatment, and every resource available is employed to ensure the client achieves favourable results. Through a mix of knowledge, experience, and dedication, the highest standard of service is offered to guarantee the highest level of customer satisfaction.
If you're unsure? Be relaxed. They offer free consultations to help you make a decision that is as honest and high-quality as possible.
Business Hours
Monday

9:00 AM – 5:00 PM

Tuesday

9:00 AM – 5:00 PM

Wednesday

9:00 AM – 5:00 PM

Thursday

9:00 AM – 5:00 PM

Friday

9:00 AM – 5:00 PM

Saturday

Closed

Sunday

Closed
Things We Like
Make sure to provide personalized service and affordable representation
Deliver to their clients sensible and original solutions
Provide legal or immigration service in English, conversational French, Punjabi, Hindi, Gujarati and Urdu
Local Reviews
"The staff is professional and have great understanding of immigration. They will listen to you and invest time in your case to understand and help you in getting better results." – Muskan
RELATED:
2. Matt M. Sirois
A creative and adaptable law practice, Willows Wellsch Orr & Brundige LLP has the potential to provide its customers with a breadth of knowledge and devoted experience. WWOB LLP handles a wide range of immigration law concerns in terms of immigration law.
Matt M. Sirois is a member of the Law Society of Saskatchewan as well as the Canadian Bar Association and the Immigration Law South Section of the CBA Matt primarily focuses his practice on matters related to estate planning, wills, and immigration. His immigration law practice incorporates applications for spouse sponsorships, SINP, temporary and permanent federal residence, and other categories.
He is among the most qualified immigration lawyers in Regina who can assist with applications for permanent residency through the Saskatchewan Immigrant Nominee Program (SINP). Additionally, WWOB LLP provides immigration law services in the areas of humanitarian and compassionate applications, labour market impact applications, refugee claim applications and appeals, spousal appeals, Canadian immigration appeal and litigation services, and citizenship appeals.
Business Hours
Monday

8:00 AM – 5:00 PM

Tuesday

8:00 AM – 5:00 PM

Wednesday

8:00 AM – 5:00 PM

Thursday

8:00 AM – 5:00 PM

Friday

8:00 AM – 5:00 PM

Saturday

Closed

Sunday

Closed
Things We Like
Previous members of the firm have been appointed as judges to the Saskatchewan Bench
Over 50 years of immigration law experience
Known for a tradition of legal excellence and quality service
Local Reviews
"Matt handled my spousal sponsorship case where I was the primary applicant. I had been living in Canada for 14 years as a failed refugee claimant. The immigration consultant that I dealt with before Matt was horrible to deal with and should not be in the industry. When I initially met Matt to discuss my case, I was taken aback by how knowledgeable and insightful he was with immigration law. He had a very calm and friendly demeanour which makes it that much better to deal with.
Furthermore, he not only handled my spousal sponsorship case but also helped me to deal with the CBSA office regarding my unenforced removal order. He has great communication and gives good timelines and insights. I got my PR in just one year since he submitted my application. Being in my situation for almost 15 years and dealing with multiple immigration lawyers, I have absolutely no doubt in my mind that Matt is the best immigration lawyer in Regina and one of the best in the country.
I would absolutely recommend anyone to him for immigration law no matter how complex it is. I was just grateful to find his office." – Mantasha
3. A.R.E. Law
A.R.E. Law is a professional law firm based on Mcara St, Regina providing legal services in the field of real estate, corporate, family law, immigration, criminal and estate planning. They have got a great team of lawyers who are always ready to take up any legal challenge.
The major highlight of A.R.E Law is that it is a flat fee law firm. This means that their clients can budget for legal fees and not be afraid of any additional costs.
Business Hours
Monday

8:00 AM – 5:00 PM

Tuesday

8:00 AM – 5:00 PM

Wednesday

8:00 AM – 5:00 PM

Thursday

8:00 AM – 5:00 PM

Friday

8:00 AM – 5:00 PM

Saturday

Closed

Sunday

Closed
Things We Like
Offer a FREE initial consultation
Years of successful legal practice
Provide timely response to any immigration query whatsoever
Committed to the best client experience
Local Reviews
"The service I received was great and impressive. The immigration lawyer (Kolade) was very understanding and explained the case to me step by step. I would recommend them happily." – Adi Patel
4. Capstone Law Office
The goal of the Capstone Law Office is to make it simple for clients to work with a nearby immigration attorney. Their team offer a plethora of services to consumers in Regina and the neighbouring areas. Because navigating the complexities of the legal system can be challenging, they make a special effort to provide outstanding legal help.
In addition to this, they are flexible with appointment scheduling and as such clients can meet with them when they want. Moreover, they offer new clients a free immigration consultation about their case and allow them to ask questions about the course of action.
Business Hours
Monday

8:30 AM – 5:00 PM

Tuesday

8:30 AM – 5:00 PM

Wednesday

8:30 AM – 5:00 PM

Thursday

8:30 AM – 5:00 PM

Friday

8:30 AM – 5:00 PM

Saturday

Closed

Sunday

Closed
Things We Like
Serve clients throughout Regina and the surrounding areas
Flexible with their appointment scheduling
Offer new clients a FREE consultation about their case
Local Reviews
"Akinola Olayemi was a great lawyer to work with. He made the transaction go smooth and was very responsive." – Tyler
5. MLT Aikins LLP
No matter what your needs are, the immigration lawyer at MLT Aikins can help, offering start-to-finish immigration application services for employers and ongoing support to ensure you're compliant with regulatory obligations.
Whether you're expanding your business into Canada, bringing in employees from overseas, or looking to send your employees to work in the United States, they're based in Regina to help.
Business Hours
Monday

8:00 AM – 5:00 PM

Tuesday

8:00 AM – 5:00 PM

Wednesday

8:00 AM – 5:00 PM

Thursday

8:00 AM – 5:00 PM

Friday

8:00 AM – 5:00 PM

Saturday

Closed

Sunday

Closed
Local Reviews
"Fantastic immigration service, always helpful and prompt." – Jared
FAQ's on Regina Immigration Lawyer
Do I have to be fluent in English or French for immigrating to Regina in Canada?
The Express Entry process requires either English or French as a requirement. The government lays a strong focus on the applicant's proficiency in both English and French, and those who are bilingual will obtain the most language points.

However, the total number of points will be reduced by varying points for a lack of fluency in either speaking, writing, or reading. So, it's better to be fluent in at least English or French to smoothly start a new life in Regina.
Do I have to secure a job before coming to Regina?
Your immigration chances are increased by having a job lined up in Regina using the Express Entry system.
What if I only want to work in Regina and not live there permanently?
Workers on temporary contracts are welcome in Canada, according to the Immigration Act and Regulation. There are some professions that are currently in exceptionally high demand in Regina. Moreover, there are numerous avenues via which you can apply for a work permit to come to Canada.
Our Final Thoughts
To sum things up, if you're looking for specialized immigration law firms in Regina, SK and nearby, look no further than these 5 Top Immigration Lawyers.
---
Are you one of the lawyers we've been talking about? Congrats on being featured. Feel free to download and proudly showcase this badge on your website, demonstrating your esteemed recognition as one of the top immigration lawyers in Regina, Saskatchewan.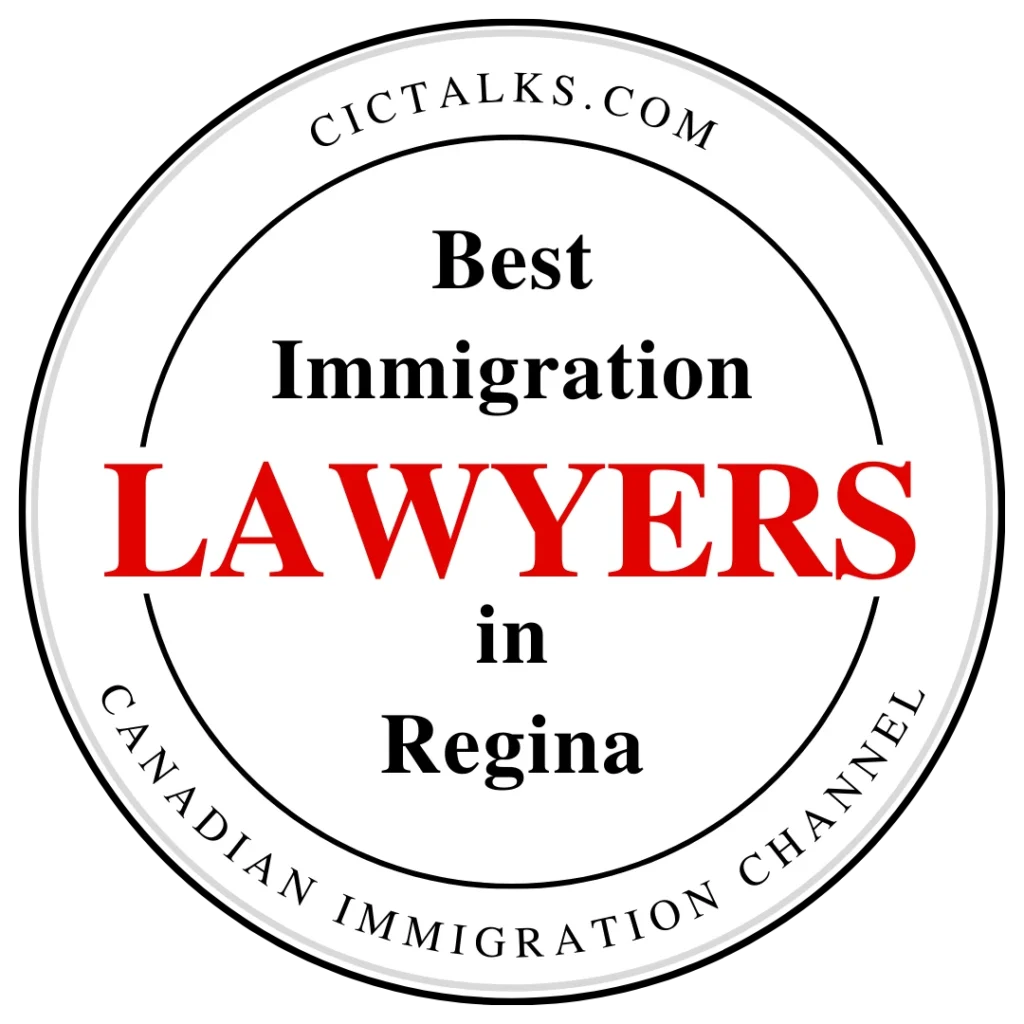 Want your immigration firm to stand out and attract more clients in today's competitive market? Give your business the spotlight it deserves with our exclusive Featured Listings.

For less than $7 a day, you can secure a prime spot at the top of our organic listings for a month, ensuring that your firm is the first thing potential clients see when searching for immigration services in Regina. This premium placement will increase your visibility and credibility, driving more traffic to your firm's website and ultimately leading to increased client inquiries.

Reserve your Featured Spot today by sending us an email, and make a lasting impression in the minds of those seeking expert immigration assistance!