5 Best Immigration Consultants in Saskatchewan, CA (2023)
Thinking about making Saskatchewan, Canada, your new home? Exciting times! But we all know immigration stuff can be a bit tricky. No worries, though – we're here to help you out.
In this article, we've pulled out the 5 Best Immigration Consultants in Saskatchewan known for providing immigration consulting services including Express Entry, Citizenship, Family Sponsorship, SINP, Work Permit applications etc.
So, they'll be your go-to guides, ready to make your move to this awesome Canadian province smooth and successful. Stick with us as we introduce you to these pros who know the ins and outs of Canadian immigration.
RELATED: 5 of the Best Immigration Lawyers in Saskatchewan, CA
Saskatchewan's Top 5 Immigration Consultants
Here's the list of five immigration counsellors we've determined to be the best ones near you in Saskatchewan, Canada:
GreenTech Resources (4.7/5)
International Immigration & Business Consulting (4.3/5)
Edge Immigration (4.4/5)
MyCana Immigration Consultants Inc. (4.7/5)
Pioneer Immigration (4.5/5)
1. GreenTech Resources
In order to help people have a simple and straightforward immigration procedure, GreenTech Resources is regarded as one of the most reputable foreign worker recruiting agencies and immigration consultants based in Saskatchewan, Canada.
By providing services pertaining to the range of jobs and education, they assist their clients who have made the decision to move to the country of opportunities.
In order to help immigrants feel at home, GreenTech Resources makes sure to provide visa consulting services specific to Canada in the best manner possible. Moreover, they help a diverse group of clients from all over the world and work to develop their talents and confidence so they can thrive in the nation.
Highlights of the Firm
Provides FREE online assessment
Also offers worldwide relocation & settlement Services
Consultancy Reviews
"Best immigration counselling that I've ever had. Manoj Goswami and his team are very positive, helpful and efficient. Amazing service and great experience. Would really recommend." – Milon Patel
RELATED:
2. International Immigration & Business Consulting
| | |
| --- | --- |
| BEST KNOWN FOR | Express Entry, PNP, Global Talent Stream, Sponsorship, Citizenship |
| WEBSITE | https://iibc.ca/ |
| EMAIL | info@iibc.ca |
| TELEPHONE | +1 306-954-9799 |
| LOCATION | 116 Research Drive Suite #127C, Saskatoon, Saskatchewan S7N 3R3, Canada |
International Immigration and Business Consulting (IIBC) is a top-rated immigration and business consulting firm based in Saskatoon, Saskatchewan. This local consulting and naturalization firm provides consulting services for all types of Federal immigration applications and Saskatchewan Immigration Nominee Program applications through a streamlined approach.
The company is owned by Dirk Propp, a licensed immigration consultant ICCRC #R417407, a member of the Canadian Immigration Consultants Regulatory Council, (The Immigration Consultants of Canada Regulatory Council).
Highlights of the Firm
Provide information sessions internationally about the SINP options for immigration
Has strategies and avenues for achieving business immigration using business tours
Also provide relocation services to new immigrants to Canada
Consultancy Reviews
"IIBC is an exceptional immigration consultant. IIBC has handled my PR and work permit extensions with exceptional care. Every step of my immigration process has gone well. It is with great pride that my family and I tell others about our incredible journey with IIBC. Outstanding work by Dirk and his group." – Kuvi
3. Edge Immigration
| | |
| --- | --- |
| BEST KNOWN FOR | Study & Work Permits, Residency & Citizenship |
| IMMIGRATION CONSULTANT | Gaurav Sharma |
| WEBSITE | https://www.edgeimmigration.com/ |
| TELEPHONE | +1 306-343-1555 |
| LOCATION | 230 22 St E #405, Saskatoon, Saskatchewan S7K 0E9, Canada |
Since 2008, EDGE Immigration has assisted thousands of deserving individuals in achieving their objectives of obtaining permanent residency, status renewal, sponsoring family, and Canadian citizenship.
As a Regulated Canadian Immigration Consultant office in Saskatchewan, they work to expeditiously and economically help you reach your objectives. They behave ethically and bring clarity to what might appear to be a hazy and enigmatic immigration process.
Highlights of the Firm
Has consistently high success rates due to their careful consultative process
Specializes in providing honest options and leading applicants to success
Affordable rates and no hidden fees
Consultancy Reviews
"When I called the office, Mr. Ryan was very kind and eager to assist. He just provided me with professional, fee-free answers to my questions, numerous solutions for various situations, and the suggestion to obtain and handle a crucial document on my behalf. This office will undoubtedly be my first pick." – Mutaz Alhyari
4. MyCana Immigration Consultants Inc.
MyCana Immigration, a Regina, Saskatchewan-based company, takes pleasure in working directly with clients to create workforce solutions that are customised to your specific immigration consulting needs.
Marlou Poquiz holds membership #R512951 in good standing with both the Immigration Consultants of Canada Regulatory Council and the Canadian Association of Professional Immigration Consultants.
He has helped numerous immigrants achieve their temporary resident status, student visas, work permit renewals, and permanent residence status. He has helped hundreds of immigrants of all nationalities.
Highlights of the Firm
High approval rates for Canadian Citizenship and Immigration applications
Specialists in Temporary Foreign Workers Program
Cost of 1-hour Consultation: $200 CAD
Consultancy Reviews
"THANK YOU SO MUCH! Especially to Mr. Marlou Poquiz for the best service. No more LDR now, no more days to spend apart. Thanks for all the help. Now, we can live a life together here in Canada. GOD BLESS!!!" – Trixie
5. Pioneer Immigration
With a team that has been trained rigorously to guide overseas aspirants, Pioneer Immigration has set a mark of immigration consultation success in Saskatchewan and the whole of Canada.
Dr. Ravi Kumar Garg is a renowned name in the immigration consulting industry. He is a Senior Director, Pioneer Immigration & Education Consultancy Pvt. Ltd., and also a Member of the College of Immigration and Citizenship Consultants (CICC) & Canadian Association of Professional Immigration Consultants (CAPIC).
Highlights of the Firm
A team of Qualified and highly professional individuals
Office network is present all across India and Canada
Can also help people who are already in Canada and want to change their status or extend their stay in Canada
Consultancy Reviews
"Pioneer immigration is the best immigration consultant for all types of visas. I got my 7 different applications approved through Pioneer Immigration, including a Visitor Visa, Student Visa, Permanent Residence, and Spousal Sponsorship. If you need help with any type of visa Dr. Ravi Garg and Pioneer Immigration is the best place to consult for." – Jagvir
FAQ on Saskatchewan Immigration Consultants
Do some consultants in Saskatchewan specialize in helping families come together?
Yes, there are consultants here who are really good at helping families be together in Saskatchewan. They know all about the process and can make sure everything goes smoothly.
Can these consultants help me become a permanent resident through Saskatchewan's SINP program?
These consultants in Saskatchewan are well-versed in provincial nominee programs (PNPs) like SINP, which can be a pathway to permanent residency. They can guide you through the application process, helping you understand the specific requirements and steps involved in securing a provincial nomination.
What support do immigration consultants offer for newcomers in terms of settlement services in Saskatchewan?
Some consultants go the extra mile. They don't just help with paperwork; they can also help you settle into life in Saskatchewan. This might include finding a place to live, knowing about schools, and finding healthcare – all the stuff you need when you move to a new place.
How do immigration experts stay informed about changes in immigration policies and programs in Saskatchewan, Canada?
Good question! Immigration policies and programs can change, so it's crucial for consultants to stay updated. Reputable consultants often engage in continuous education, attend relevant workshops, and actively participate in professional networks to ensure they are well informed about the latest developments in Saskatchewan's immigration landscape.
Our Final Thoughts
And there you have it, our guide to the "5 Best Immigration Consultants in Saskatchewan, Canada". These people are like your personal helpers in the big task of moving to a new place. If you're in dire need of a reputable immigration consultancy in Saskatchewan and nearby, you may count on these immigration experts.
Your journey just got a whole lot smoother!
Always make sure to verify that your immigration consultant is authorized—they are licensed and "active"—by using the public search register.
---
Are you one of the consultants we've been talking about? Congrats on being featured. Feel free to download and proudly showcase this badge on your website, demonstrating your esteemed recognition as one of the top immigration consultants in Saskatchewan, Canada.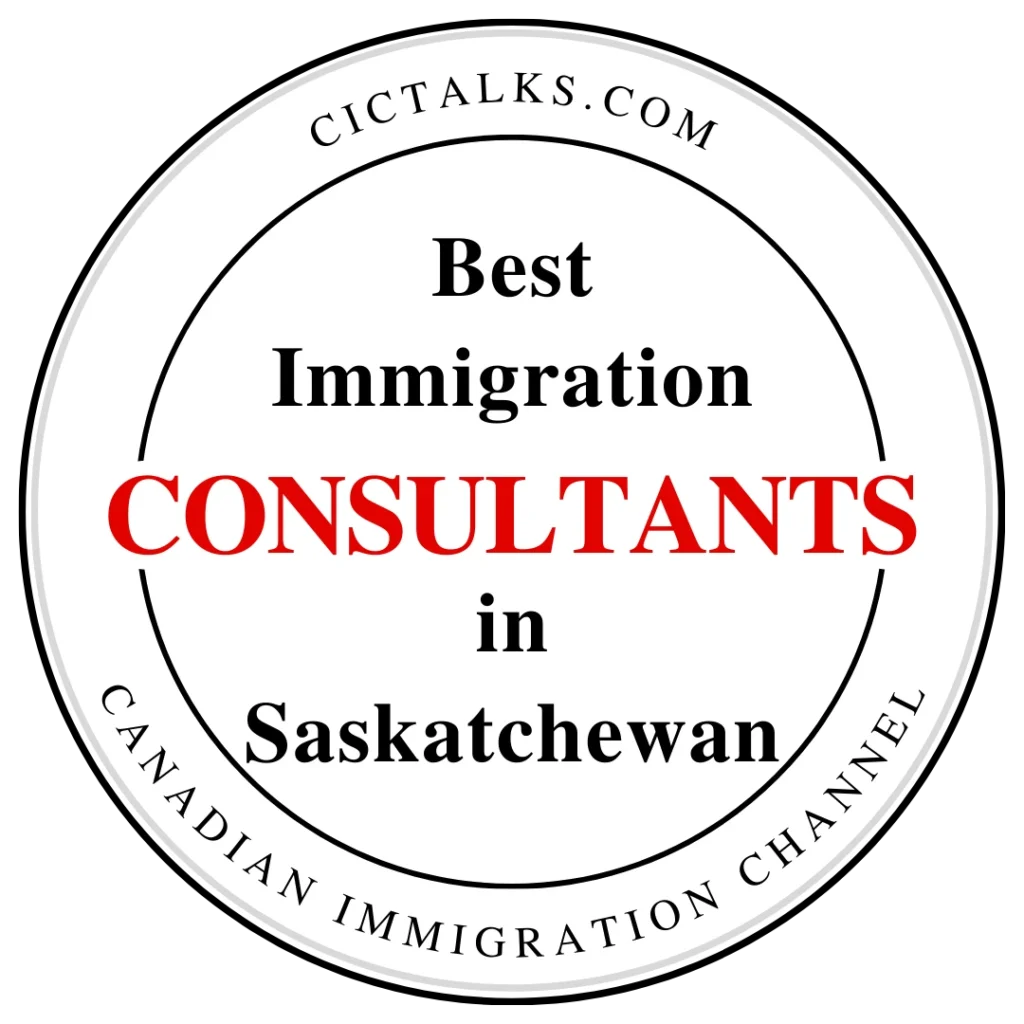 Want your immigration firm to stand out and attract more clients in today's competitive market? Give your business the spotlight it deserves with our exclusive Featured Listings.

For less than $7 a day, you can secure a prime spot at the top of our organic listings for a month, ensuring that your firm is the first thing potential clients see when searching for immigration services in Saskatchewan. This premium placement will increase your visibility and credibility, driving more traffic to your firm's website and ultimately leading to increased client inquiries.

Reserve your Featured Spot today by sending us an email, and make a lasting impression in the minds of those seeking expert immigration assistance!