IELTS Listening Online Practice Test – 10 [2023]
IELTS Listening Online Practice Test 2023: This is the 10th test of our 'LISTENING Practice Test Series. All tests are based on real exam patterns and correspond to the actual difficulty level you may find in the IELTS.
This 2023 Listening test is divided into four sections – 1, 2, 3 and 4.
Section 1 is a telephone conversation between a customer and a receptionist at a courier company.
Section 2 is a museum guide talking to her tour group.
Section 3 is a discussion between a couple and a real-estate agent.
Section 4 is part of a talk about how to attract birds to a garden.
Always check your spelling for errors in the IELTS Listening 2023 Exam. If you make a spelling mistake, you'll be penalised as your answer will be marked wrong.
---
SECTION 1
Questions 1-8
Complete the details missing from the delivery form below.
Write NO MORE THAN TWO WORDS AND/OR A NUMBER for each answer.
ROURKE'S COURIER SERVICE – DELIVERY FORM
☑️ Ordering Customer: Joanne

JEFERSON


☑️ Ordering Customer Address: 22 Bluelane Close, Old Malden, Surrey, KPT 530



Recipient


☑️ Name: Michael

(1)

………………………
☑️ Delivery Address: 97 Birkdale Road, Ashford,

(2)

………………………
☑️ Postcode:

(3)

………………………
☑️ Contact Number: 011 876 99671
☑️ Delivery Date: 22nd May



Delivery Notes


☑️ Michael is

(4)

……………………… and works from home; can deliver at

(5)

……………………… although

(6)

……………………… is preferable.



Package Details


☑️ Contents: Photo frame and Man's Watch
☑️ Estimated Value: £200
☑️ Reason for sending gift:

(7)

………………………
☑️ Payment Method:

(8)

………………………
Questions 9-10
Choose the correct letter – A, B or C
9. According to a recent change in law, who is responsible if a product is lost in transit?
A) the courier company
B) the ordering customer
C) the recipient of the product
10. Based on what you have heard, what total amount will Joanne be charged?
A) £50
B) £48
C) £52
SECTION 2
Questions 11-15
Label the map below.
Choose FIVE answers from the box and write the correct letter, A-H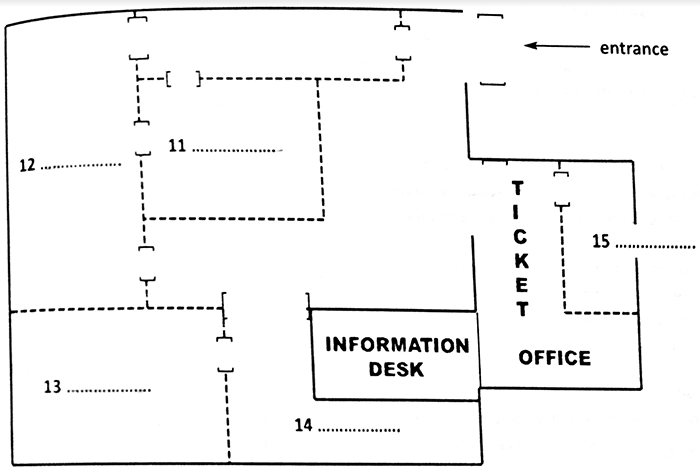 A. Albert Gallery
B. Classical Period Exhibition Centre
C. Entrance Hall
D. Main Corridor
E. Renaissance Period Hall
F. Restoration Office
G. Toilets
H. Café
Questions 16-20
Choose the correct letter – A, B or C
16. Alberti was …
A) primarily a portrait artist
B) an advocate of new methods and ideas
C) the subject of a famous portrait by another artist
17. It is implied that …
A) Alberti regarded art & science as incompatible
B) Alberti believed art should attempt to accurately depict reality
C) Alberti could not paint perspective
18. Alberti …
A) had a narrow range of artistic interests
B) was disinterested in theory
C) was proficient in many fields
19. Alberti had…
A) a traditional view of education
B) led his peers into a period of intellectual poverty
C) a desire to see the scope of the education programme broadened
20. The speaker suggests that …
A) Alberti's name is synonymous with the Renaissance period
B) Alberti was not as intelligent as Da Vinci
C) Alberti's work inspired later artists
SECTION 3
Questions 21-25
Choose the correct letter – A, B or C
21. The property being discussed is …
A) for sale
B) available to let now
C) available to rent soon
22. The couple like the fact that the property is …
A) close to an area where they can dine out in the evening
B) located in a busy area where lots of other people live
C) located in an area that is not too noisy
23. The landlord …
A) is looking to rent a larger family home
B) has moved into a three-bed centre house
C) views the flat as a way to earn extra income
24. At first, when they see the kitchen, the couple are …
A) not much impressed
B) terribly disappointed
C) very enthusiastic
25. The house …
A) is brand new and was only completely fitted out the previous week
B) will be professionally cleaned and redecorated before the tenants move in
C) boasts a very modern and fresh-looking bathroom
Questions 26-30
Complete the sentences below.
Write NO MORE THAN TWO WORDS AND/OR A NUMBER for each answer.
☑️ The couple are prepared to offer to pay a maximum of

(26)

……………………….. per month for the flat.

☑️ There is a

(27)

……………………….. in the contract allowing tenants to leave after six months.

☑️ Before vacating the flat, tenants must give

(28)

……………………….. advance notice.

☑️ Interested applicants are required to pay a

(29)

……………………….. of £500.

☑️ The estate agent will charge the couple £240 for (30) ……………………….. and reference checking.
SECTION 4
Questions 31-40
Answer the following questions.
Write NO MORE THAN THREE WORDS AND/OR A NUMBER for each answer.
☑️ A bird's three basic needs are the need for water, the

(31)

……………………….. and the need for food.

☑️ Maximum depth:

(32)

………………………..

☑️ Birds are prevented from accessing their natural food supply during winter when an ice-crust forms (33) ………………………..

☑️ If you start feeding birds from late autumn onwards, they will become accustomed to locating food in a

(34)

……………………….. in your garden.

☑️ If you do not want to attract the unwanted attention of rodents, then your feeder should only be accessible from a

(35)

………………………..

☑️ Suet is an advantageous bird food because not only is it nourishing, but is also useful for not

(36)

……………………….. during very cold spells.

☑️ If boiled eggs or potatoes are used for

(37)

……………………….. birds, these should be finely chopped.

☑️ Birdhouses should be painted a dull colour so that they blend in with their

(38)

………………………..

☑️ Birds of the same

(39)

……………………….. do not like to nest in close proximity to one another.

☑️ Birdhouses are usually occupied from early

(40)

……………………….. each year.

IELTS Listening Test for 2023 Ans. Key
MURIARTY
KENT
KT9 ZY8
SELF-EMPLOYED
ANY TIME
(THE) EVENING
WEDDING ANNIVERSARY
CREDIT CARDS
B
C
E
B
A
G
F
B
B
C
C
C
C
C
C
A
C
£1300
BREAK CLAUSE
TWO MONTHS
(HOLDING) DEPOSIT
ADMINISTRATIVE COSTS
NEED FOR SAFETY
6.5 CENTIMETERS
OVER THE GROUND
CERTAIN SPOT
RAISED LANDING AREA
FREEZING
FEEDING
SURROUNDINGS
SPECIES
SPRING
---
About 2023 IELTS Listening Online Practice Test
This IELTS Listening Online Practice Test for 2023 falls under the 'Moderate' category. So, if you are scoring 32+/40 in this practice test you are highly likely to get band 7 and above in the real exam setting.
Also, check out our other 2023 IELTS LISTENING PRACTICE TEST PDF.
Wish you best of luck in your exam.
Happy learning !!