[Band 7.5] Describe a time you used your Cellphone/Smartphone to do something important IELTS Cue-Card
In Describe a time you used your Cellphone/Smartphone to do something important Cue Card, you should say:
1. What happened?
2. When it happened?
3. How important the Cellphone/Smartphone was?
4. Explain How you felt about the experience?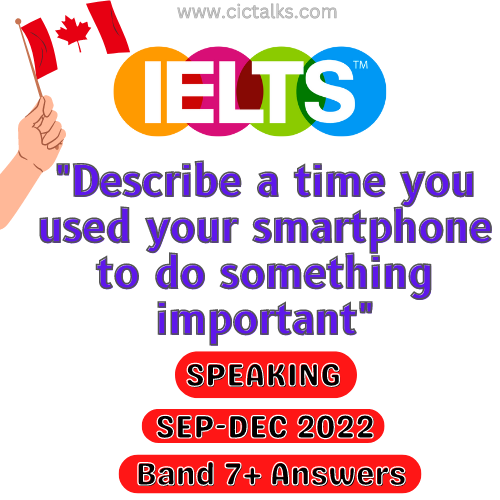 Here's the first sample answer to Describe a time you used your Cellphone/Smartphone to do something important IELTS Speaking Cue Card:
Introduction
We are living in an era where every piece of information is readily available on our cell phones. With the rapid advancement in technology, smartphones have indeed become an important tool. So today, I would take this opportunity to talk about a time when I used my cell phone to search for important information.
What happened? & When it happened?
I searched for information last year in October. And mainly, I looked at product review websites. October is a month of the festive season in India and as such, I was looking to buy a new laptop. I checked out sites like Flipkart and Amazon to find deals but instead, they put me in a conundrum. There were so many MacBook models making it hard to select one.
So I opened another tab on my cell phone to browse PCmag, which is a great gadget review website, to help me out.
How important the Cellphone/Smartphone was?
My old laptop screen was broken and I had a work emergency. Therefore I needed to search for a new one. Since I could not access the internet without a laptop, my smartphone somehow put me at ease. I had both e-commerce apps installed on my phone. And I ordered the laptop with scheduled delivery in 24 hours.
Explain How you felt about the experience?
I never gave a thought that a smartphone could be so useful in situations like these. People may now find the information they need at any time of the day or night thanks to cell phones. These searches are frequently for goods and services that users are interested in. Before smartphones, people like me had to physically visit the store, speak with a salesperson, and trust their salesperson's judgement in order to make a purchase.
Concluding the Cue Card
So in this speaking topic, that's all I had to say about a time when a smartphone came to my rescue to search for information.
————
MODEL ANSWER 2
It is difficult to deny the significance of cell phones in the modern world. They are powerful tools utilised for a variety of purposes other than mere communication.
Recently, I did something with my phone that I never would have thought to do. So, today I would like to talk about that.
Last Sunday, I was travelling via Shatabadi Express from Ludhiana to Delhi. I discovered my compartment's AC wasn't operating when I boarded. I inquired as to whether the coach's caretaker might have it adjusted.
He claimed there was nothing that could be done because it had just stopped operating. Only at the destination would it be repaired.
Usually, I'm fairly adaptable, but it was incredibly hot. I, therefore, made the decision to lodge an official complaint with the Indian Railways.
I had watched videos on the internet where people discussed how they had experienced rapid relief by following the same course of action. But I had seen them as government publicity gimmicks.
I wasn't holding out much hope. But as soon as I posted the complaint, an electrician showed up in my compartment. He fixed the AC in another ten minutes. He also reprimanded the AC technician in charge of my coach and demanded to know why he hadn't gotten in touch with him right away when I highlighted the concern.
The worker apologised and informed me that he didn't believe the issue could be resolved. The prompt reaction caught me off guard, but more than that, it made me proud of the administration.
Four or five years ago, I could never have envisioned it occurring. Although cell phones serve a variety of functions, I believe they could be real saviours in circumstances like this. Due to Cellphones, I feel that the responsiveness and accountability of government officials have largely increased.
————
FOLLOW-UP QUESTIONS
Following are the probable set of IELTS Speaking Part-3 follow-up questions for Describe a time you used your Cellphone/Smartphone to do something important cue card:
1) What do you usually do with a cellphone?
In addition to contacting and texting my buddies, I use my smartphone for a variety of other things. I use it to navigate around cities, watch Youtube videos, listen to music on Spotify, and write reviews about the best lawyers in my city.
Apart from this, I use it for photography as well.
2) What are the differences between young people and old people when using a cellphone?
Youngsters are born with a mobile device in their hands. So they would use their cell phones in a variety of ways, including internet browsing, gaming, utilising the GPS, and of course, making phone calls. However, the majority of elderly people only make phone calls on their cell phones.
3) Which one is more important, using a cellphone to make phone calls or to read messages?
I believe it actually boils down to individual choice. While some people prefer calling, others prefer chatting, which for them entails sending and receiving messages.
4) Do you think there should be a law to stop people from making phone calls in public?
Frankly speaking, I see a phone call put on the loudspeaker as a form of noise pollution that seriously undermines the ability to focus and pay attention. However, there can be instances when making calls is important, especially in an emergency. So a way forward could be to encourage individuals to put their phones down in a public place instead of an outright ban.
————
OTHER LATEST CUE CARDS YOU MUST READ BEFORE EXAM:
Join our IELTS community: Subscribe to our Youtube channel ▷
I hope it gives you some realistic idea on how to carry a conversation around Describe a time you used your Cellphone/Smartphone to do something important IELTS Cue card topic. However, it is strongly advised not to reproduce the same answer during the exam. You should rather reformulate and personalize your answer.

If you still need any help, don't be shy to comment below.

ALL THE BEST!

Rajit