Describe something that was broken in your home and then repaired (Score 8+)
IELTS Speaking Part-2: Describe something that was broken in your home and then repaired cue card and follow-up with band 7-9 answers
You should say:
What it is?
How it was broken?
How you got it repaired?
And how you felt about it?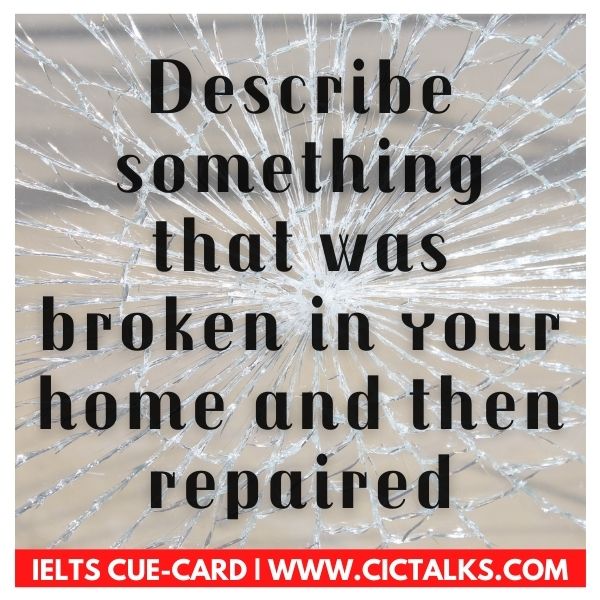 9 Band Answer
Let's dive into the 'Describe something that was broken in your home and then repaired' IELTS cue card (2022) with Band 7-9 sample answers & Follow up questions:
Introducing something that was broken
My home is filled with so much stuff that things break now and then. But today, I would like to talk about an event that changed my whole perception of product service.
What it was?
It was the 55 inches 4K OLED TV which I bought in October last year.
Due to the festive season, doorbuster deals were running on the product and I saved more than 20,000 Rs on television alone.
How it was broken?
One day I was sitting on my couch watching House of Cards when suddenly the television screen started flickering and turned off by itself.
I checked the input cable and satellite receiver but all connections were secure.
I inspected the remote control settings, disconnected the television from wi-fi and even performed a factory reset manually. But, all were in vain.
Then, I realized that the device has broken.
How you got it repaired?
I quickly searched for the company website and called their after-sales department to get it fixed.
I was then told by Samsung Customer Care that a service engineer would visit me in 24 hours as this was a high valued item.
Next day, the technician arrived at our house and performed a power supply check with the ohmmeter but nothing was shorted or open.
After that he pressed the power ON button for about 10 seconds; I could hear the audio amplifiers working through the speakers.
He figured out after a while that something in the television chassis was loading the power supply down. Meanwhile, he arranged for the part replacement.
Within a few minutes of replacing the faulty chipset, the TV started functioning well.
Fortunately, the product was under warranty and the company covered all the costs associated with the repair. That was a huge relief.
How you felt about it?
Initially, I was furious and felt cheated by the television manufacturer for selling a defective product.
I didn't anticipate this fault in the device within just one year of operations.
However, the technician told me that it was a common electric malfunction that could happen with any device.
So, I felt somewhat relieved.
Concluding the cue card
In the end, I would say that things could have easily spiralled out of control if Samsung had not acted promptly. That day, it was a life lesson to be learned.
7-8 Band Answer
These days, I typically purchase a more up to date model rather than getting old things fixed. However, recently, our Dishwater got broken and as it was under guarantee, we called the company service to get it fixed.
It was all of a sudden that the machine stopped working. When we switched it ON, it didn't start. Right away, we imagined that there may be an issue with the electrical attachment of the house. But, in contrast, when we connected one more electronic gadget to the plug it worked. So then we realized the machine was broken.
I think it was voltage fluctuation that had burnt the electrical unit inside the dishwasher. We had bought the machine only a couple of months ago, so it was under guarantee when the incident happened. We called Samsung care and they planned a professional visit to our home.
The technician found out that the primary circuit was scorched by heat, yet he was uncertain what caused that. He told us that the part was imported, so it would take some days for him to arrange the replacement. The utensils just stacked up as we paused washing. After anxiously waiting for an entire week, the technician came back to our house and repaired the machine. However, the time we needed to stand by to get it fixed was significantly more than we had anticipated.
The repairman advised us to install a voltage stabilising device so that any such incidents could be prevented in the future. The next day after the mechanic came and fixed our dishwasher, a Samsung executive called us for feedback. Overall, we were happy that the company took care of their unblemished reputation. So we responded positively.
That day, I truly felt that times are changing. Companies are becoming more and more consumer-centric.
Also Read: Describe an ambition that you haven't achieved IELTS Cue-Card
Follow-up (9 Band)
IELTS Speaking Part-3 Describe something that was broken in your home and then repaired follow up questions:
1. Are IT-related jobs valued more by society?
Information technology careers are greatly valued by society due to their widespread applications. People depend on Information Technology (IT) for communication, banking, social media, investments, research & development, and so much more. Businesses cannot exist today and expect to stay competitive without adequate IT systems.
2. Is the quality of products worse than before?
The product quality is declining for several reasons:
NO PROPER TESTING: Most products these days are driven by software that is complex and rushed to market without the appropriate testing.
STAY COMPETITIVE: Most companies chase profits while minimising cost, so they focus on short turnaround of new products and produce low-quality goods in the market.
I think the products of the past were of higher quality in terms of longevity, reliability and impact on the environment. 
3. What kinds of things do people like to repair by themselves?
People can repair all kinds of things like:
Fixing a leaky Bathroom or Kitchen pipe
Repair broken Christmas tree lights
Painting the house exterior
Repair broken eyeglasses
Fixing a clogged garbage disposal
Replacing a faucet
Fix a running toilet
Installing a new light fixture
or
4. Why do people like to get their mobile phones repaired in specialised stores?
Most people nowadays take their mobile phones to authorised service centres because of the trust factor. Specialised repair stores always work as a part of the large manufacturing processes of any commodities. Thus, the parts available with them are completely genuine and safe. They may be slightly expensive but the quality and trust can not be compromised.
Describe something that was broken in your home and then repaired Follow up (7 band)
| Question(s) | Answer(s) |
| --- | --- |
| 1. Are IT-related jobs valued more by society? | Information Technology careers have grown both in importance and value in recent years. Automation, digital platforms, and other innovations are changing the fundamental nature of work in modern society. That's why there is special emphasis on IT-related professions today. |
| 2. Is the quality of products worse than before? | No, the quality of the products has rather improved considerably than before. I think today's products are of higher quality in terms of their utility, usability or usefulness for their consumers. There are many reasons for that – better understanding of actual customer needs, better design methodologies, lower cost of manufacturing are just a few examples. |
| 3. What kinds of things do people like to repair by themselves? | There are plenty of DIY things that people can repair at home such as fixing a sewing machine, sealing a leaky pipe, fixing a mobile charger etc. I think online platforms like YouTube and Google have made it very easy for people to fix absolutely everything by themselves. Recently, I have fixed my MacBook overheating problem by following a digital guide shared by Apple inc. |
| 4. Why do people like to get their mobile phones repaired in specialised stores? | I think the principal reason is that they would not want to rather void the telephone's warranty. Most cellphone manufacturers take the services of an authorised expert to repair their devices, so any unauthorised repair will nullify the warranty. |
Describe something that was broken in your home and then repaired
Follow up
Also Read: Describe a time when you organized a happy event successfully IELTS Cue-Card
————
I hope it gives you some realistic idea on how to carry a conversation around Describe something that was broken in your home and then repaired IELTS Cue card topic. However, it is strongly advised not to reproduce the same answer during a speaking examination, as it may be used by many of our readers on the site. You should rather reformulate and personalise your answer.
If you still have any doubts, post them in the comments.
ALL THE BEST !