Describe an ambition that you haven't achieved (Score 8+)
IELTS Speaking Part-2: Describe an ambition that you haven't achieved cue card and follow-up with band 7-9 answers
You should say:
What it is?
Why you haven't achieved it?
What you did?
And how you felt about it?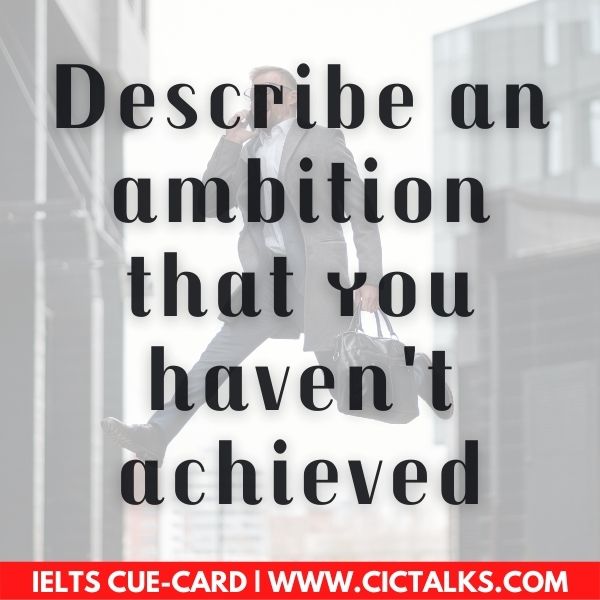 9 Band Answer
Let's dive into the 'Describe an ambition that you haven't achieved' IELTS cue card (2022) with Band 7-9 sample answers & Follow up questions:
Introducing an ambition
Almost everyone has a strong desire to obtain success, power, or wealth. After all, ambitions are the driving forces behind a meaningful life.
Here, I would love to describe an aspiration that I am hoping to fulfil soon.
What it is?
My ambition is to become a Civil servant and work at the United Nations.
The job encompasses several astounding benefits that one can aspire for in terms of prestige, a platform to serve the community, work satisfaction, salary package, an opportunity of global exposure etc.
Why you haven't achieved it?
Working at the United Nations requires a strong educational background and many years of experience, both of which I don't have right now.
I have just completed high school and looking to pursue Bachelor in Public Policy at the University of Toronto.
Only after that, I could try for an internship at the UN.
So it would take about three more years to achieve my dreams.
What you did?
Meanwhile, I studied everything about working at the UN.
I did extensive research on what are the possible job opportunities and how could I fit myself into one of them.
I also talked with a few environmentalists who worked on different missions at the UN.
They all told me to work on my basics and understand Geopolitics before undertaking a wide variety of complex tasks at the organisation.
How you felt about it?
As far as feelings are concerned, I felt extremely motivated thinking of it.
I believe that a man without any ambition is a boat without the sails. It can drift in any direction. There needs to be some point, some direction in life.
So I work painstakingly every day to move a step closer to my dream.
Next month, I am going to apply for the course and I feel determined of getting into the university.
Concluding the cue card
In the end, I would say that it will be a matter of pride to work at a global organization and addressing issues that transcend national boundaries.
7-8 Band Answer
I have many aspirations in my life. But the one ambition that I have not achieved yet is to move to Australia for my higher education. Before this, I didn't have any plans to travel abroad, yet a discussion with my sibling who went to Australia changed my viewpoint.
He enlightened me about the interesting study curriculum and the unlimited part-time work opportunities there. So after a lot of brainstorming, I concluded that it would be best if I go and study there.
There are two principal criteria's to get a confirmation in a decent Australian university – Good education background and IELTS. Though, I am the top performer at my school; IELTS is something where I need to re-work. So English is the one grey area.
Moreover, I discovered that Australian universities lean towards IELTS than any other language test. So, I ordered the bundle of Cambridge IELTS 1-16 books online and kickstarted my preparation. And for the last two months, I have been practising for the exam. Fortunately, there is a great deal of free study material available on the CIC Talks website.
I downloaded tons of free practice tests and rehearse Speaking with my sibling every day. Moreover, my father penned down a 4-hour study schedule so that I could achieve my dream. IELTS otherwise is an easy exam, but it requires a test specific approach. Academic Reading demands knowledge of language jargon which are used by newspapers, book publishers etc.
For Listening, I have made a habit of watching English drama series to get the feel of the language. Even after IELTS, foreign education ambition is a long way to go. I have to apply for an offer letter and see if I get acceptance or not. I sincerely hope, god fulfils this ambition.
Also Read: Describe something that was broken in your home and then repaired IELTS Cue-Card
Follow-up (9 Band)
IELTS Speaking Part-3 Describe an ambition that you haven't achieved follow up questions:
1. What ambitions do children usually have?
Children usually aspire to get good grades in their studies to become police officers/detectives, firefighters, and pilots in the future. Boys specifically express interest in becoming doctors, scientists, and veterinarians.
2. Why are some people very ambitious in their work?
I think some people are overambitious about their work because of:
Upbringing: Being determined is in their attitude as they have grown in a hardworking family.
Energy: Some people are full of energy which fuels their ambition towards a job.
Sense of purpose: They generally have a set of goals and they work progressively to achieve that purpose.
3. Why don't some people have dreams?
Some people lack dreams because they feel content with who or what they are. They live in the present and generally don't have any dreams for the future. I believe fear and laziness are the two factors that hold them back. People are so afraid of failing that they kill their will to try.
4. How do people balance work and life?
Maintaining a work/life balance is easy for some people because they understand how to better manage their time, when to detach from work and how to take care of themselves. I think a healthy lifestyle is quintessential to coping with stress and to achieving work-life equilibrium.
or
Describe an ambition that you haven't achieved Follow up (7 band)
| Question(s) | Answer(s) |
| --- | --- |
| 1. What ambitions do children usually have? | Kids are normally full of ambitions. Their primary desire is mainly about becoming adults quickly so that they could accomplish something respectable like turning into a pilot, an engineer or an astronaut. Some aspire to top in their class or bring laurels in the field of sports and arts. |
| 2. Why are some people very ambitious in their work? | I think some people are more ambitious due to deep-rooted insecurity about their job. They constantly feel like they must perform better to pursue bigger work aspirations. |
| 3. Why don't some people have dreams? | I think everyone has some dreams about the future. It's simply that certain individuals are too sluggish to even think about working for their goals. Then again, other people can do anything to make their dreams come true. |
| 4. How do people balance work and life? | People try all sorts of things to balance work and life. Planning the day-to-day activities at a job is one great way that they manage equilibrium between life and work. Moreover, some people strictly adopt the 'No work at home' policy so that their profession does not interfere with their personal life. |
Describe an ambition that you haven't achieved
Follow up
Also Read: Describe a time when you organized a happy event successfully IELTS Cue-Card
————
————
I hope it gives you some realistic idea on how to carry a conversation around Describe an ambition that you haven't achieved IELTS Cue card topic. However, it is strongly advised not to reproduce the same answer during a speaking examination, as it may be used by many of our readers on the site. You should rather reformulate and personalise your answer.
If you still have any doubts, post them in the comments.
ALL THE BEST !