Describe a street market in your city [IELTS cue card]
Last updated on February 26th, 2022 at 05:23 am
In Describe a street market in your city IELTS Speaking Cue Card, you'll be asked to speak about a famous street marketplace of your city which you know well. You should say:
☑️ Where is it?

☑️ What can you buy from there?

☑️ What is it famous for?

☑️ How you feel about it?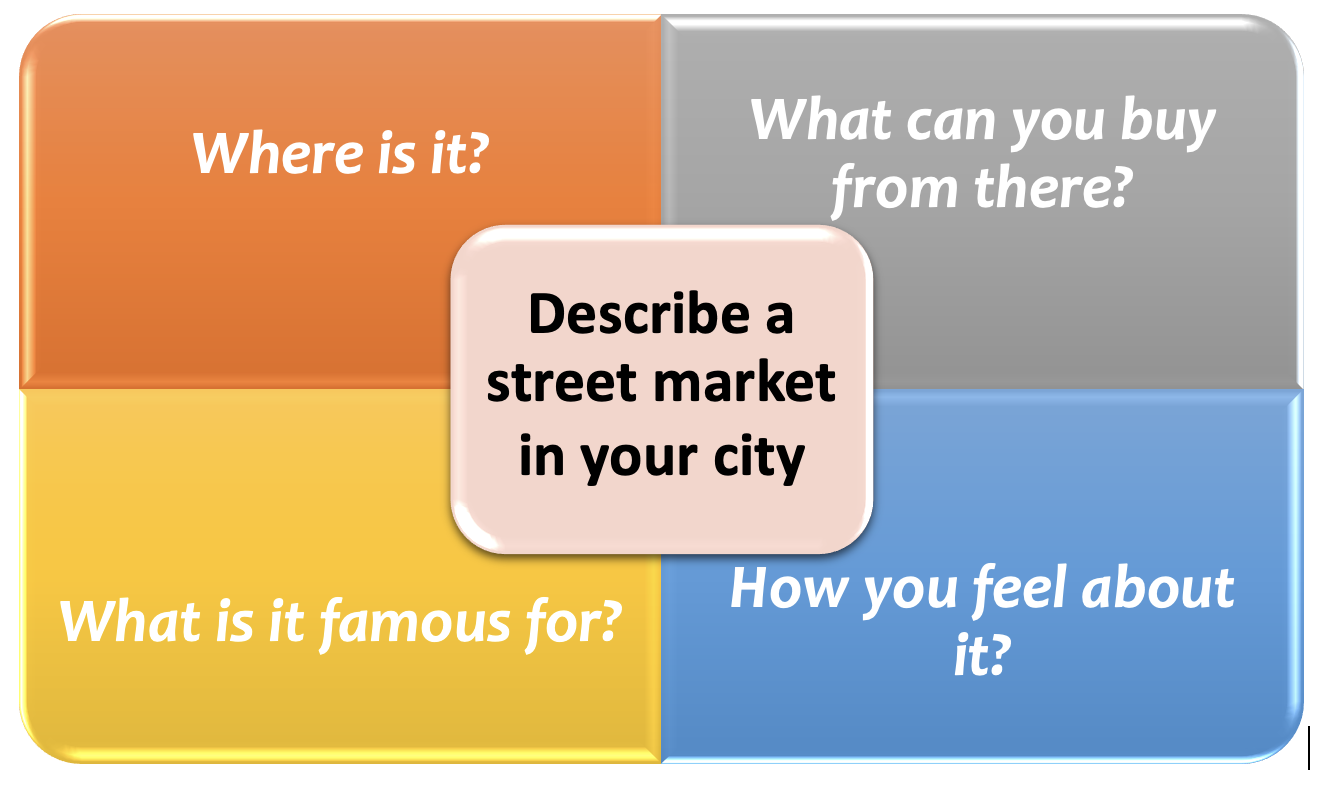 NOTE-> You have one minute to think about what you are going to say, then you'll have to talk about the topic for one-to-two minutes. A paper and a pencil will be given so that you can make some notes if you wish.
Find all the latest Cue Cards here: IELTS Speaking Cue Cards (Jan-Apr 2022) ↗
For easier understanding, I have divided this IELTS Speaking Cue Card into three parts ➡️ Introduction, Questions, and Conclusion.
Introduction
Every neighbourhood has a central place where the residents can go and shop for their needs. Similarly in my city, we've Town square.. which is quite popular among the foodies.
Where is it?
Town square market is located at the heart of Sector – 15, Pune in Maharashtra. Due to its proximity to the national highway, it can easily be accessed through public or private transport. Although, sometimes traffic may frustrate you but still it doesn't dampen the spirit of visiting the market.
What can you buy from there?
If we talk about the market, it's mainly a street food junction and offers plenty of dishes for people of all tastes. In addition, It also has two multi-retail grocery stores and they serve almost every daily need of the residents.
What is it famous for?
Largely Town square is famous for the Vada Pav – a native fast food dish of Maharashtra. You won't believe, I've seen people coming from places like Goa and Gujarat which are miles away, just to witness the delicacy of Maharashtrian Vada pav. Also, The special weekend discounts on the grocery stores are quite popular among the community and as such people rush to buy household items during these days.
How you feel about it?
I feel Town square is not just a market, it's the very basic reason why residents of my city always remain united and joyful. Apart from eating food or doing shopping, it gives us a chance to meet new people and grow our ties within the city.
Conclusion
In the end I'd just say that….Shopping is primarily a human activity and Street markets are its core. I'm glad that my city has such a wonderful street marketplace. ALSO READ: Describe a city that you think is very interesting IELTS Cue Card
Follow-ups
Following are the probable set of IELTS Speaking Part-3 follow up questions that could be asked in Describe a street market in your city cue card:
➡️ Do you like shopping on internet or shopping outside?
Well, I like shopping on-the-go. So I prefer online shopping over going out and looking for products. But, there are some things especially the food products which I mostly buy from the street shops.
➡️ What are the disadvantages of shopping in a big mall or supermarket?
According to me, the biggest disadvantage of shopping in a big mall is the price. The prices are so escalated that a common man may find it hard to purchase. Secondly, they are mostly located far from residential apartments and thus they can't be accessed in the absence of means of transport.
➡️ What is the difference between shopping with friends and shopping alone?
That's an interesting question😄! There's a huge difference between both of them when it comes to purchasing things. When shopping alone, you may end up losing money by buying a wrong product… but with friends, they provide you an extra piece of advice about what to buy and what not.
➡️ Why do people like to buy branded products?
Primarily, Branded products are perceived to be the symbols of quality. People wish to buy them because they are perfect, long-lasting and having good post-sales service.
➡️ Do you think large discounts are real or they're just an advertisement?
Mostly they're a hoax, I believe. In most of the so called large discounts advertisements, there's a thing written at the bottom called T&C apply. When you read all the terms and conditions of the discount, you'll hardly find anything discounted.
Find the whole list of latest topics: IELTS Speaking Part-1 Topics (Jan-Apr 2022) ↗
————
I hope you learnt well about how to answer Describe a street market in your city [IELTS Cue Card]. It is advised not to reproduce the same answer during examination, as it may be used by many of our readers on the site. You should rather articulate and make it look like your personal answer.
If you like this post, please say a few words in the comments and empower us.
We'd love to hear your thoughts💬
Come… Be a part of our IELTS learning community @ Youtube – SUBSCRIBE NOW
Disclosure: We sometimes use affiliate links in our content. This means if you click on the link and purchase an item, we'll receive an affiliate commission at no extra cost to you. These links help us to offset the costs of running this website. Thanks for understanding!
————
Other cue cards you may like: