Describe a famous person that you are interested in (Score 8+)
IELTS Speaking Part-2: Describe a famous person that you are interested in cue card and follow-up with band 7-9 answers
You should say:
Who this person is?
How you know about this person?
How this person became famous?
Explain why you like this person?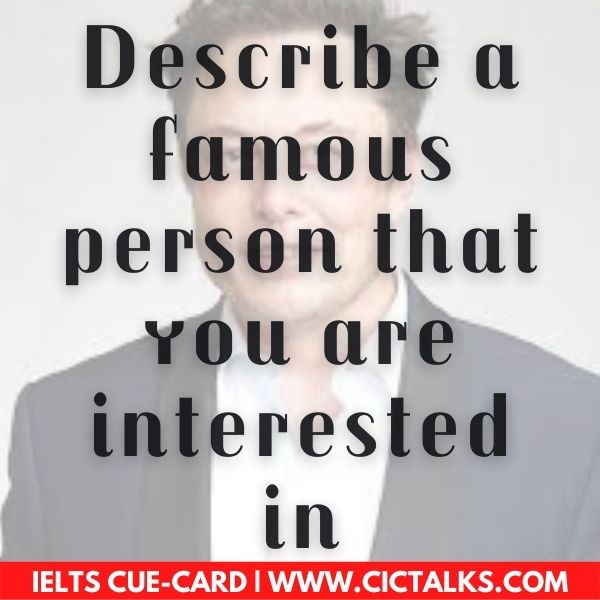 9 Band Answer
Let's dive into the 'Describe a famous person that you are interested in' IELTS cue card (2022) with Band 7-9 sample answers & Follow up questions:
Introducing a famous person
There are so many influential persons in this world who people admire across the globe.
But for me, there's one particular person who has given me goosebumps with his speed.
Who this person is?
The famous person is none other than Mr. Milkha Singh – the man who flew.
Also known as The Flying Sikh, he was an Indian track and field sprinter who has also served the Indian Army.
How you know about this person? & What sort of life they had before they became famous?
I know him because when I was a student, I got a chance to meet him in person.
After talking to him, I was anxious to know more about his larger than life personality.
Then, I watched his Farhan Akhtar starred biopic "Bhaag Milkha Bhaag" and read his autobiography "The Race of My Life".
Milkha Singh was born on 20 November 1929 into a Rajput Sikh family.
He was orphaned during the Partition when his parents were killed in the violence that ensued. He witnessed these terrible killings.
Fortunately, someone persuaded him to join the Indian army and that's where he was introduced to athletics.
All his life before becoming famous was full of challenges.
How this person became famous?
Milkha Singh became famous because he was the only athlete to win gold at 400 metres race at the Asian Games as well as the Commonwealth Games.
He has achieved what an ordinary human being can only fantasize about.
He also won gold medals in Asian Games and represented India in the different Olympic games worldwide.
Furthermore, his finishing time in the 1960 Olympics 400m final race set a national record that stood for 40 years.
So, when somebody performs miracles, popularity eventually follows.
This is what happened with Mr Singh, he was awarded the Padma Shri (India's fourth-highest civilian honour) in recognition of his legendary sporting achievements.
Explain why you like this person?
I like him because of his hard work and perseverance. He renounced all pleasures and distractions, to keep himself fit and healthy, and dedicated his life to his goal.
He overcame great adversity to become a sports hero at a time when India had just thrown off the shackles of colonialism.
Concluding the cue card
In the end, I would say that unfortunately he died of complications from COVID last year but his legacy will remain with us forever.
7-8 Band Answer
Our world is full of interesting people in every arena – be it Politics, Business, Science or Literature. So today, I would love to talk about a famous person who has an interesting personality.
He is none other than Mr Elon Musk – the man who is working tirelessly to revolutionise transportation both on Earth and in space. He is the founder of SpaceX and a co-founder of PayPal and Tesla Motors.
I know him through his documentaries and Hollywood appearances. The lead character Tony Stark in the 'Iron Man' movie played by Robert Downey Jr, is inspired by the life of Elon Musk. Indeed, his entrepreneurial spirit and the urge to change the world made his whole life so impressive.
Elon Musk was born on June 28, 1971, in Pretoria, South Africa. Around age 10, Musk developed an interest in computing and video games which he then converted into a commercial business after dropping out of Stanford. He launched several startups before actually becoming famous with Space X.
Elon musk became popular when Space X successfully launched their rocket and became the first-ever private company to do that. There are plenty of things that I love about him. Firstly, according to Forbes, his net worth is in billions, but he still enjoys an ordinary lifestyle. Secondly, he is a visionary leader who has sent a Tesla into space – a car orbiting the earth just like satellites.
Musk believes that rocket-based space travel is the key to humanity's future. And this is what makes Elon Musk a special person amongst the billionaires. He follows a higher calling and lives frugally. At last, I would quote his lines, "If something is important enough you should try. Even if the probable outcome is a failure."
Also Read: Describe an ambition that you haven't achieved IELTS Cue-Card
Follow-up (9 Band)
IELTS Speaking Part-3 Describe a famous person that you are interested in follow up questions:
1. What type of people are famous in your country?
In my country, Cricketers, Actors, Politicians, Youtube video creators and News Anchors are very famous. Moreover, Bollywood celebrities and people with an outstanding sense of humour like Kapil Sharma; are also quite famous among Indians. People treat them like gods.
2. How do people become famous nowadays?
Whether it's acting, dancing, singing or painting, people who work hard in their profession usually become famous nowadays. However, in today's digital era and sudden internet fame, people might become famous merely by posting a funny video that goes viral. But I believe talent and sincerity can rise you to the epitome of fame, no matter who you are and where you're from.
or
3. What is the difference between people who were famous earlier and who are famous now?
Most people were famous in the past because they contributed to humanity either with their humane acts or revolutionary world changing inventions. For example, Mother Teresa, Marie Curie, Martin Luther etc.
But now all it apparently takes is a certain number of followers on TikTok or YouTube subscribers, and you're a celebrity. Gone are the days of admiring someone based on their values, morality, integrity and talent like singing, dancing, comedy etc.
4. What qualities do famous people have in common?
Famous people usually have Five qualities in common. They are:
Goal-oriented.
Calculated risk takers.
Smart-working people.
Persistent.
Self-disciplined.
5. What do you think about nepotism amongst famous people?
Nepotism and famous people have a strong connection. In the past few years, nepotism seems to have become the biggest buzzword after #MeToo. Celebrities trolled mercilessly for promoting their children and making it extremely difficult for outsiders to work in the industry. Famous politicians use their influence and give party tickets to their family members. So nepotism has deep-seated roots amongst famous people.
Describe a famous person that you are interested in Follow up (7 band)
| Question(s) | Answer(s) |
| --- | --- |
| 1. What type of people are famous in your country? | In my country, cricketers and Bollywood stars are well renowned and certain athletes who have achieved medals in sports become famous as well. The majority of these individuals are good idols and youngsters follow their footsteps. Therefore, people who are crowd pullers are famous in my country. |
| 2. How do people become famous nowadays? | Nowadays there are many paths to fame. Being famous is primarily based on social media outreach today and how many views you can get on selfies, videos, art, etc. I believe you have to be the perfect balance of Smartness, Looks, and Social status to become popular nowadays. |
| 3. What is the difference between people who were famous earlier and who are famous now? | A few years ago, people were famous for a variety of different reasons ranging from accomplishments in areas such as literature, music, religion, adventure, military success, courage, and politics. Now fame is all about content creation – Not necessarily just music or art. i.e. posting a FB comment is content creation. Today everybody is busy creating content, all thanks to the internet. |
| 4. What qualities do famous people have in common? | Each person's road to success may be unique, but there are many commonalities among the world's most famous people. Sportspersons are confident and determined to pursue their goal no matter what happens. Famous politicians like Barak Obama are deprived of sleep as they have to stay awake until the following day to finish their commitment. On top of it, all the famous people are creative and emotionally connected to people. |
| 5. What do you think about nepotism amongst the famous people? | Yes, nepotism does exist among famous people. This is because many politicians or actors use their influence to give a platform to their children. The same used to happen with Kings, that's why the Western world came with the beautiful concept of democracy – by the people and for the people. |
Describe a famous person that you are interested in
follow up
Also Read: Describe a time when you organized a happy event successfully IELTS Cue-Card
————
I hope it gives you some realistic idea on how to carry a conversation around Describe a famous person that you are interested in IELTS Cue card topic. However, it is strongly advised not to reproduce the same answer during a speaking examination, as it may be used by many of our readers on the site. You should rather reformulate and personalise your answer.
If you still have any doubts, post them in the comments.
ALL THE BEST !