[7+] Describe a course that impressed you a lot IELTS Cue-Card
Describe a course that impressed you a lot IELTS cue card and follow-up with band 7-9 answers
You should say:
What the course was about?
Where you took the course?
What you did during the course?
Explain why it impressed you a lot?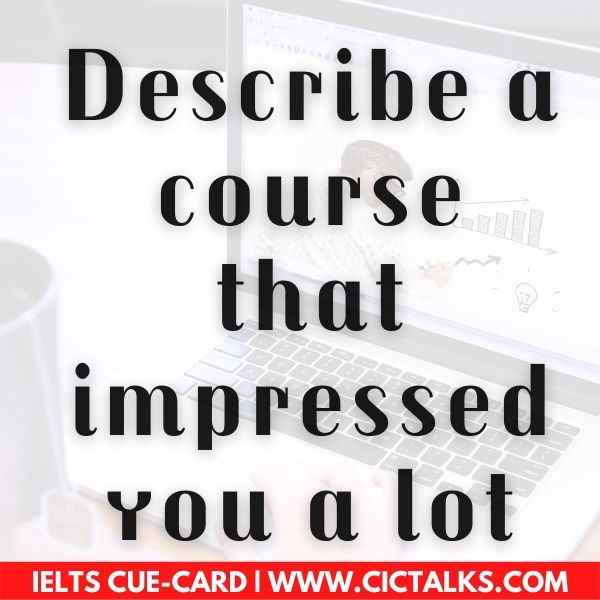 9 Band Answer
Let's dive into the 'Describe a course that impressed you a lot' cue card (2022) with Band 7-9 sample answers & Follow up questions:
Introducing a course
Learning is essential to our existence. Just like food nourishes our body, knowledge nourishes our minds.
So today, I would love to describe an impressive course that I took last year.
What the course was about?
The course was about Personality Development.
It aims to raise a basic awareness about the significance of soft skills in professional and interpersonal communications and facilitate the all-round development of personality.
I had been an introvert and had trouble communicating with people.
That's why I decided to join the course to improve my personality.
Where you took the course?
I took an online course offered by Edx in partnership with the University of California.
Sessions were conducted on 'Skype' thrice a week – Tuesdays, Thursdays and Saturdays.
What you did during the course?
The course started with a basic introduction to personality. It then went deeper into various theories of personality development, the stages of self-development, and the main influences on personality.
To master the art of expressing my thoughts and feelings, I had to deliver a presentation in every session.
I also met a lot of industry experts during the course to know how they nurtured their personalities.
By the time I completed the course I found myself happier and more content than ever.
Explain why it impressed you a lot?
It impressed me because the professors had perspicacious wisdom and earthy humour.
There had been interactive sessions that were demonstrated through personal examples.
The course also offered thousands of networking opportunities.
I was an individual with a pessimist attitude who finds a problem in every situation.
Now rather than cribbing and criticizing people around, I analyze the whole situation and try to find an appropriate solution.
This impressive course has taught me to look at the brighter sides of life and face even the worst situations with a smile.
Concluding the cue card
In the end, I would say that there is no substitute for hard work when it comes to improving your life skills. The sooner we understand it, the better for us. We should think about how to draw a road map, join a course, and work towards our goal every day.
7-8 Band Answer
I took a computer programming course last month which truly impressed me a lot.
I have forever been keen on website development and I like writing content for various educational blogs.
Things were actually changed when my sibling got me a Macbook on my birthday last year.
Before this, I was learning programming on my own mainly using my underpowered desktop computer.
But my sibling encouraged me to take a professional approach and join a course instead.
The world has significantly moved from bricks and mortar to bits and bytes due to COVID.
So I had the option to join an internet based computer programming course offered by Udemy.
I purchased the full package without any second thoughts. It had a great deal of good reviews and was suggested by various industry experts.
This course had more than 30 hours of lecture recordings and everything was clarified completely with a great deal of visual models.
Every tutor was well versed with the latest programming tools and trends.
I found out new web coding techniques and practiced every day till the end of the course.
The most impressive part of the course was first hand website development experience. I had to actually design a website and make it functional.
I was intrigued with every aspect of the programming course. All students were instructed to read a few programming books to hone their skills.
Another interesting part of the course was creating simulations and managing data.
I was always fascinated by interactive webpages which have lots of moving animations. Today it feels exhilarating to create them myself.
There are also plenty of new work opportunities ahead of me now because of this helpful course.
Also Read: Describe an interesting song IELTS Cue-Card
Follow-up (9 Band)
IELTS Speaking Part-3 Describe a course that impressed you a lot follow up questions:
1. Why do some people have a better memory?
Some people have sharp memory because they are more imaginative, pay attention to every detail and have a powerful subconscious mind. They encode more information as a result. In addition, people with better memory are more open to details and more actively process their surroundings as opposed to being psychologically absent in a situation.
or
2. Which can help people remember things better, words or photos?
Pictures are known to help people remember things better than words. Pictures are more immediately recognized, and more quickly recalled, than either the written or spoken word. This makes visual content an incredibly effective medium to produce long-lasting information.
3. Can technology help people remember things better? How?
Technology most certainly helps to advance brain functions. Technology tools such as apps and video games provide the means through which individuals engage and build their ideas. Interactive learning environments promote deep cognitive processing and result in people remembering things better.
Also Read: Describe a special cake you received from others IELTS Cue-Card

Describe a course that impressed you a lot Follow up (7 band)
| Question(s) | Answer(s) |
| --- | --- |
| 1. Why do some people have a better memory? | The key reason that people have an uncanny ability to recall every major event in their lives is that they pay attention to what is happening around them as opposed to being sidetracked by other things. Moreover, memories are what you make, so if you're living life to its best then for sure you'll be having wonderful memories to live with.  |
| 2. Which can help people remember things better, words or photos? | Indeed, pictures are undeniably more vital than words. Words are difficult to recollect because they're more complex in nature and our mind need to put significant effort to absorb them. While our cerebrums store and review pictures comparatively better without any problems whatsoever. |
| 3. Can technology help people remember things better? How? | There is no doubt that technology aids in better memory retention. Certain computer tools and video games improve memory, multitasking skills, and other cognitive abilities. Some apps and digital tools offer mental health interventions that can help in the easy retrieval of memories. |
Describe a course that impressed you a lot
Follow up
Also Read: Describe an interesting conversation you had with your friend IELTS Cue-Card
————
————
I hope it gives you some realistic idea on how to carry a conversation around Describe a course that impressed you a lot IELTS Cue card topic. However, it is strongly advised not to reproduce the same answer during a speaking examination, as it may be used by many of our readers on the site. You should rather reformulate and personalize your answer.
If you still have any doubts, post them in the comments.
ALL THE BEST !