Describe an article on health you read in a magazine or on the internet
Last updated on February 26th, 2022 at 05:19 am
In Describe an article on health you read in a magazine or on the internet IELTS Speaking cue card, you'll be asked to explain a nicely written article on health which you read in a magazine or on the internet. You should say:
☑️ What it was?

☑️ Where do you read it?

☑️ Why you read it?

☑️ How you felt about it?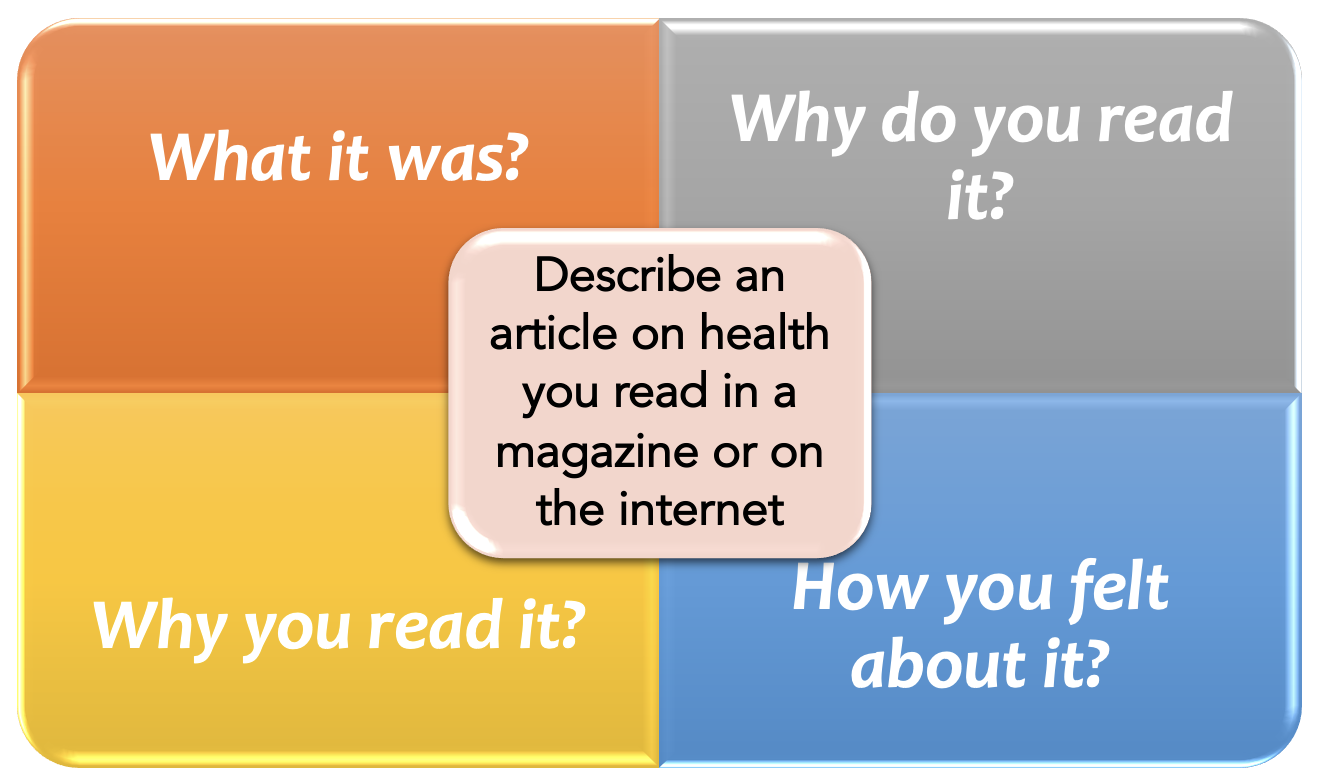 NOTE-> You have one minute to think about what you are going to say, then you'll have to talk about the topic for one-to-two minutes. A paper and a pencil will be given so that you can make some notes if you wish.
Find all the latest Cue Cards here: IELTS Speaking Makkar Cue Cards (Jan-Apr 2022) ↗
For easier understanding, I have divided this IELTS Speaking Cue Card into three parts ➡️ Introduction, Questions, and Conclusion.
Introduction
Articles are wonderful source of information and I am an avid reader of editorials published on the internet. So today I'd take this opportunity to talk about a health article that I've read few days back.
What it was?
It was an How To article about the ways we can shed some weight and look charming. It talked about the benefits of balanced diet, how to keep cholesterol under control and most importantly the article shared a 30 days diet-plan (about what to eat and what not to) to look lean & healthy. Undoubtedly, the content was powerful and engaging.
Where do you read it?
I read it on the internet! The write-up was published on healthline.com – world's largest health blog. Lisa Henry (who authored the article) has beautifully crafted all the information using charts and diagrams. And, it was so easy to fathom.
Why you read it?
As you know, we are currently reeling under the lockdowns. Because of more sedentary lifestyle, I gained more weight in the past couple of months and so I was looking for some useful tips on how to remove excess fat from my body. Luckily, I stumbled upon Lisa's health article and read it from start till the end.
How you felt about it?
I felt more confident after reading her article. Honestly, I was demotivated earlier and thought there were no easy ways to physical fitness. But her article opened my eyes. From that day onwards, I started following every single tip shared in her health column.
Conclusion
In the end I'd just say that… I am thankful to the author of the article who made me realised that I had to constantly deconstruct(change) my eating habits to take care of my body. After all, Health is wealth..!
Follow-ups
Following are the probable set of IELTS Speaking Part-3 follow up questions for Describe an article on health you read in a magazine or on the internet cue card:
➡️ Why do different people like to read different magazines?
Well..! Different people have different likings. Some find Health magazines to be useful whereas others look for entertainment portion in a magazine. Women are particularly obsessed with Fashion magazines and Men on the other hand like to read Business periodicals.
➡️ What kind of magazines do teenagers like to read?
Teenagers mostly like to read Technology and Sports magazines. Most likely about the new gadgets arriving in the market and the sports players biographies.
➡️ Do people like to read news on the internet?
Of course! People nowadays do things that can save their time and effort. Reading news on the internet give them access to what's happening in the whole world within seconds. Newspapers are nowadays supplanted by online news channels.
➡️ Do people still buy magazines in your country?
Yes, very much! Indian people are specially crazy about journals catering to their needs. They buy all different kinds of magazines such as Business Chronicle, India Today, Healthy Mantra etc.
➡️ Do you think people today are healthier than those in the past?
Well..! I think it's the opposite! People nowadays have overly comforting homes and workplaces. As such, they tend to do less manual hard work and become prey to health problems more often than their elders.
————
I hope you learnt well about how to answer Describe an article on health you read in a magazine or on the internet [IELTS Cue Card]. It is advised not to reproduce the same answer during examination, as it may be used by many of our readers on the site. You should rather modify and make it look like your personal answer.
If you like this post, please say a few words in the comments and empower us.
We'd love to hear your thoughts💬
Come… Be a part of our IELTS learning community @ Youtube – SUBSCRIBE NOW
Disclosure: We sometimes use affiliate links in our content. This means if you click on the link and purchase an item, we'll receive an affiliate commission at no extra cost to you. These links help us to offset the costs of running this website. Thanks for understanding!
Find the whole list of latest topics: IELTS Speaking Part-1 Topics (Jan-Apr 2022) ↗
————
Other cue cards you may like: