Describe an activity that you do after school/work [IELTS Cue Card]
Last updated on February 26th, 2022 at 05:26 am
In Describe an activity that you do after school/work IELTS Speaking cue card, you'll be asked to speak about a hobby that you love to do after school or work. You should say:
☑️ What it is?

☑️ When and where you do it?

☑️ Who you do it with?

☑️ How you feel about it?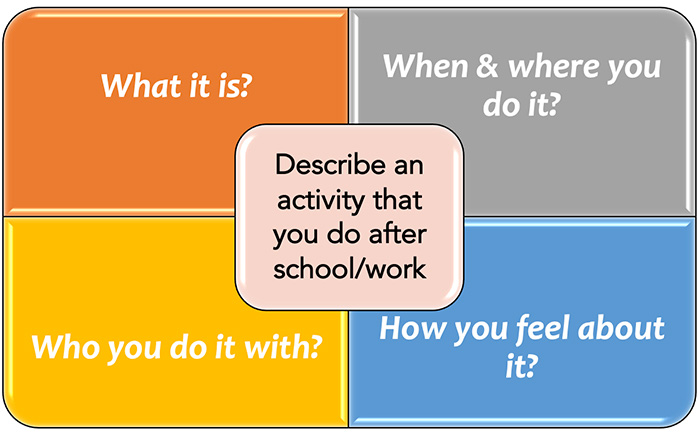 NOTE – You have one minute to think about what you are going to say, then you'll have to talk about the topic for one-to-two minutes. A paper and a pencil will be given so that you can make some notes if you wish.
Find all the latest Cue Cards here: IELTS Speaking Cue Cards (Jan-Apr 2022) ↗
For easier understanding, I have divided this IELTS Cue Card into three parts ➡️ Introduction, Questions, and Conclusion.
Introduction
Modern life is going hectic day-by-day. Hence, a pursuit after school/work has become need of the hour. So today, I would take this opportunity to talk about my favourite pastime after work.
What it is?
Well, the activity I do.. is playing Badminton! Actually, my dad taught me the game with a small plastic racket when I was just two years old and I started loving it from then on. Badminton builds good physical stamina and mental agility which consequently pays me off in the work life.
When and where you do it?
I usually get back home from office at 6.00 in the evening. Then I head straight to Badminton court located in the sports complex of our society and play Badminton. On the weekends, We play one session in the morning and another in the evening.
Who you do it with?
Badminton is a sport for 2 or 4 people. I usually play it with my sister and two distant cousins. They all are state-level players so I find it tremendously hard to beat them. However, I love the feeling of getting better and better at the game. Each stroke of the racket makes the typical whoosh sound that I relish.
How you feel about it?
Sometimes I sense that without the activity, my work would swallow my entire personal life. So this game is my saviour! I feel rejuvenated and mentally relaxed after playing it for an hour. It wouldn't be wrong if I say it's the source of my energy.
Conclusion
In the end I would just say that.. Whether it is school children or office-goers, everyone should devote at least an hour into the activity of their choice in order to break the monotony of their lives.
Follow-ups
Following are the probable set of IELTS Speaking Part-3 follow up questions for Describe an activity that you do after school/work cue card:
➡️ Why do some people enjoy extreme sports?
Well, some people are risk-takers. They tend to set new goals and to overcome them. They believe extreme sports push them to overcome fears and explore their own limits.
➡️ Are men more likely to do adventure sports than women?
No, that's not true in the present era! Both men & women nowadays equally contribute in different adventure sports. For instance, Anja Blacha, Lhakpa Sherpa and Dawa Yangzum Sherpa celebrate success in extreme mountaineering and breaking down gender stereotypes. 
➡️ What are some popular outdoor activities in India?
The most popular outdoor activity in my country is to walk or jog in the morning. Besides this, Indians are die-hard fans of Cricket. They play it every now and then in their neighbourhood playgrounds.
➡️ What do young people do in groups?
There are number of group activities that youngsters perform in a group. For example, they watch movies, go for shopping, playing indoor/outdoor sports etc.
Find the whole list of latest topics: IELTS Speaking Part-1 Topics (Jan-Apr 2022) ↗
————
I hope you learnt well about how to answer Describe an activity that you do after school/work [IELTS Cue Card]. It is advised not to reproduce the same answer during examination, as it may be used by many of our readers on the site. You should rather modify and make it look like your personal answer.
If you like this post, please say a few words in the comments and empower us.
We'd love to hear your thoughts💬
Come… Be a part of our IELTS learning community @ Youtube – SUBSCRIBE NOW
Disclosure: We sometimes use affiliate links in our content. This means if you click on the link and purchase an item, we'll receive an affiliate commission at no extra cost to you. These links help us to offset the costs of running this website. Thanks for understanding!
————
Full list of IELTS Speaking Sep-Dec 2021 cue cards is now available on our website.
Other cue cards you may like: