[7+] Describe a chocolate you didn't like IELTS Cue-Card
In Describe a chocolate you didn't like Cue Card, you should say:
What it was?
When did you taste it?
How it tasted like?
Explain why you didn't like it?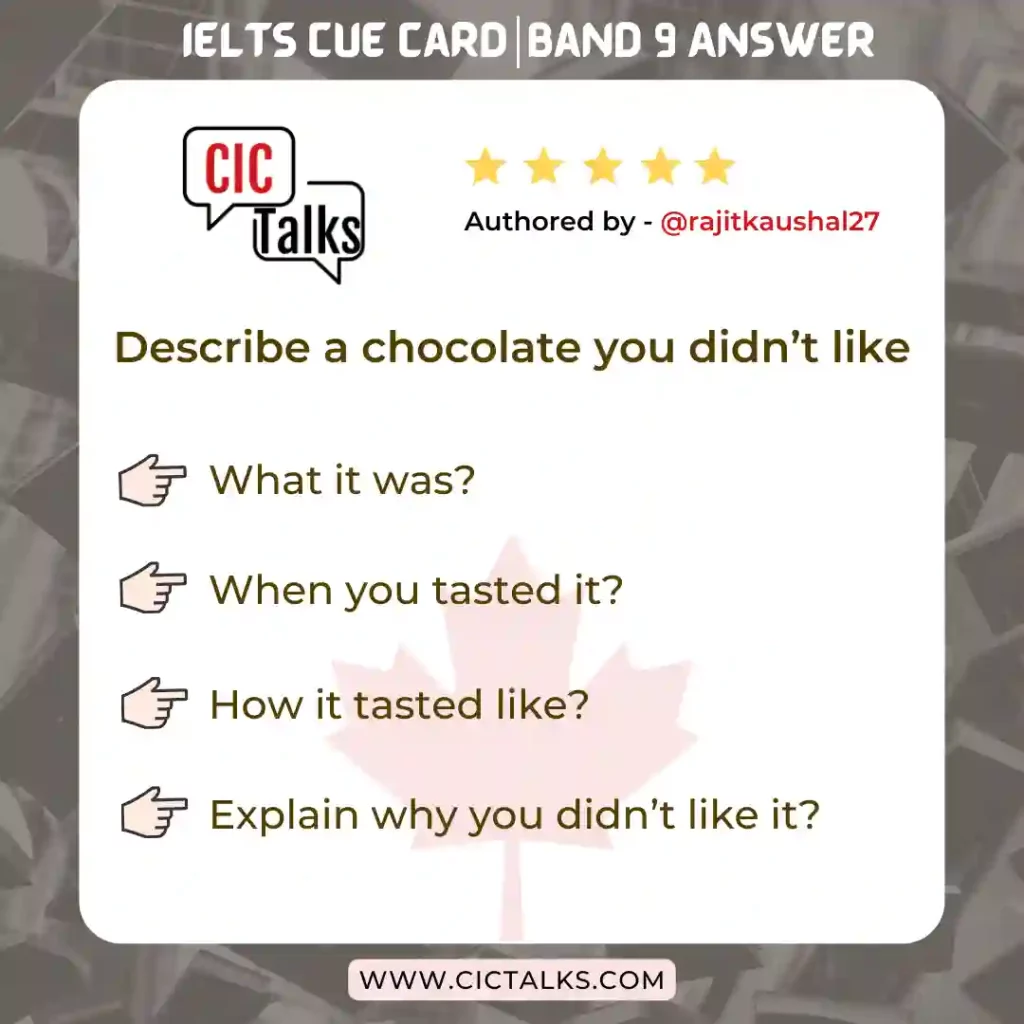 Here are the band 7+ sample answers to Describe a chocolate you didn't like IELTS Speaking Cue Card:
Sample Answer 1
Introducing a chocolate
People simply enjoy chocolate.
Nothing adds a smile to someone's face like delivering them a delicious chocolate treat, whether you're making a new friend or spending time with someone you've known for years.
Although I'm a big fan of Cadbury & Kitkat, today, I would like to talk about specific chocolate I didn't like.
What it was?
It was a bar of American chocolate that my sister specially brought from abroad.
She has been living in the US for the past 2 years. She went there on H1B for work and stayed there.
Anyway, the chocolate was wrapped in beautiful packaging and everyone wanted to have a bite as soon as it opened.
When did you taste it?
As I recall, the day was Sunday when she opened her bag and distributed the gifts.
When I got the chocolate, I felt a strong urge to eat it.
How it tasted like?
However, it tasted terrible because of the butyric acid in the chocolate. It was, in fact, more acidic than its European counterpart like Dairymilk.
It also contained higher levels of sugar than other chocolates, leading to a sour taste.
American chocolate is notorious for its slightly sour or tangy flavour.
It has this characteristic because of the stabilization process used to make Hershey's.
The chocolate didn't smell good either.
Explain why you didn't like it?
As I told you, it had an intense flavour (something that reminds me of cough medicine). This is the reason behind my dislike for the chocolate.
Most American mass-produced chocolate contains butyric acid, the chemical compound that lends it a sour taste and smell.
Though it may just be an unpleasant taste to some people like me, Americans are mostly not bothered by its strong prickling taste.
Concluding the Cue Card
There are American chocolatiers whose products are world-class, innovative, and as high quality as anything you might find in some Belgian boutique.
The chocolate that I tried was in contrast to everything I believed. And I told my sister about it.
She replied that it was a brand new flavour introduced in the US market. It might not look good in taste but it has high nutritional value.
So this was all about the chocolate I didn't like.
Sample Answer 2
Chocolate has always been one of my favourites, and I enjoy trying new types of chocolate from time to time. Milk chocolates, dark chocolates, and coconut chocolates, for example. But today I'd like to share an unusual narrative of how I developed a hate for a new type of chocolate.
It was approximately two years ago, during the winters, as I recall. My vacation had just begun in December, and my aunt Marie had flown down from London to see us. He brought many gifts for us, as well as some chocolates that were only available in the UK at the time.
There was one dark chocolate flavour that I detested. It had vivid colours and was very appealing from the exterior. I'd never heard of this chocolate company before and was eager to test it.
So I though, why not give it a shot? I was immediately bitter about the sweet after taking my first taste. In contrast to my expectations, the chocolate was very hot and bitter.
It had no sweetness to it!
Follow-ups
Following are the probable Describe a chocolate you didn't like follow up questions that may be asked by the examiner in Speaking Part-3 of the test:
1. How often do you eat chocolate?
I don't eat chocolate all that often. I eat chocolate perhaps once a month. I usually choose dark chocolate that is not overly sweet.
2. What's your favorite chocolate flavour?
With its light brown colour, creamy texture, and sweet flavour, milk chocolate is my favourite type of chocolate. Sugar, cocoa butter, milk, vanilla, and lecithin are combined to make it. These ingredients contribute to the pleasant vanilla aroma of white chocolate.
3. ls chocolate expensive in India?
Yes, chocolate is pricey in India, especially foreign-branded chocolates, which are readily available here. Moreover, I've heard in the news that the world's most expensive chocolate has been launched in India for a premium price point of Rs 4.3 lakh per kg. So, it's that expensive!
4. When was the first time you ate chocolate?
I don't recall exactly, but I've been eating chocolate since I was a child. I think I was in primary school when one of my friends brought chocolate to school and we all took a bite out of it.
5. ls chocolate popular in India?
Chocolate is extremely popular in India. The popularity of chocolate in India is also linked to its affordability. The chocolate market is dominated by global giants Mondelēz and Nestlé, which sell local favourites such as Cadbury Dairy Milk and Munch, respectively.
————
SOME RECENTLY ASKED CUE CARDS:
Join our IELTS community: Subscribe our Youtube channel ▷
————
I hope it gives you some realistic idea on how to carry a conversation around Describe a chocolate you didn't like IELTS Cue card topic. However, it is strongly advised not to reproduce the same answer during the exam, as it may be used by many of our readers on the site. You should rather reformulate and personalize your answer.
If you still have any doubts, post them in the comments.
ALL THE BEST !